Liverpool at home, and all the baggage that comes with it.
Just to be clear, the title refers to the Jam single from 1978 and not a scummy, thankfully defunct tabloid. Thank you.
Tuesday night and the eyes of the world will be on us for many reasons. Steven (not Stevie) Gerrard (not G) will be taking on his former club, and while they're the outsiders for the title they could still do with a win even though they have got other things on their mind. The way the fixtures have come together for the end of the season is ridiculous but if we're going to be at an advantage playing a team four days before they're in the cup final then it's okay by me.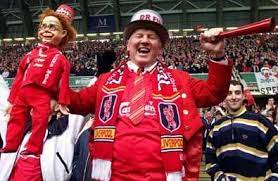 It's at this point that we usually start ridiculing the opposition, and although unfortunately there's not much you can say about their team, the supporters are another matter, although please God none of that sign on/bindippers shite, which has been done to death and never was the slightest bit funny.
Instead, wonder why it is that we talk about Manchester United supporters being from Surrey and the Far East but Liverpool still get all the Scouse jibes thrown at them when in reality they're every bit as, er, cosmopolitan as their Mancunian mates. And why is it that every BBC presenter supports them? Actually, that one's easy – when you get a job in the media these days you have to discover a lifelong affiliation to what you have to call a footie club and the Mancs are too obvious.
Anyway, on with the football. There can't be many clubs that sack a manager whose last two home games against Liverpool were won 5-0 and 7-2* but we always have liked to be a bit different. We're bang on form and just for a change we didn't get any injuries last week, Philippe Coutinho will be playing, they're falling apart we can but hope. We're going to win this one and ruin that quadruple nonsense; the headlines write themselves. Now go and Bet with 1Win.
* Before you say anything, Mark Delaney was in charge for the cup match.