Fear and loathing in Aston with our next visitors.
Maybe it should be played, maybe it shouldn't. Whatever happens, it will be interesting to see the crowd being announced on Saturday afternoon while looking round at the number of empty seats in the ground. Covid, the week before Christmas, the ongoing public transport issues, the fuss and inconvenience of having to get so much sorted and that's before you have to be checked on the way in; even if you've already got a ticket you might think that sitting at home watching the ITV Seven and the wrestling before switching over to the teleprinter is a better option.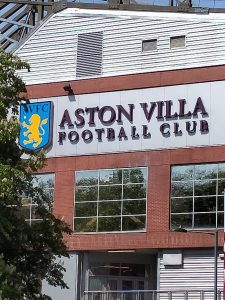 And it's Burnley. There's always one bunch of agricultural proles squatting in the palace of the Premier League and now it's Burnley. You should say fair play to them for staying in the top division without much trouble for so long with a ground that hardly holds anyone and a town that isn't much bigger, and hoping they stay up again, but it's Burnley.
Andy Lochhead started there and we signed Tony Morley from them. Ashley Westwood and Mat Lowton have proved to be perfectly adequate Premier League players, they've got Phil Bardsley who we had on loan many, many years ago winding his career down now and there's also the festering sight of Ben Mee, who any decent club would have hounded out years ago. But this is Burnley. They're probably putting up a statue of him outside the ground. They have a manager who was a Next Big Thing and looks like he should be selling cable Tv subscriptions.
Matches against teams like this, on occasions like this, have always been banana skins, stuck on top of roller skates, left on the top of the stairs, but those days are gone. This one will be a routine win for the forces of good; I doubt it'll be a match to remember although whatever team we put out should have enough to get the points, hopefully without any further casualties. If it happens.