Chris Stanley recalls a rite of passage.
What counts as your first football shirt? I don't mean to apply frustrating fine margins to this piece before I even start, but the line between replica and rip-off can sometimes be VAR-thin. There would have been plenty of young Arsenal or Everton fans walking around in the sixties and seventies for whom a simple long-sleeve jersey did the trick, and who wouldn't have felt the chill of an appraising eye until the weird and wonderful departures from those solid blocks of colour forced the issue. But the question's an important one. Is it just colour that makes your shirt, or is it the sponsor, the league badges, the intricacy of the knit? Or something more intangible woven into the fabric?
Even though it would have been slightly harder for a Villa fan to source an off-the-peg version of the famous claret and blue, any approximation would have been helped by the fact the basic home template hadn't changed since the turn of the century, the varying cut of the collar notwithstanding. But by the time of my first game in the late 1980s, the classic lines which had reached their apex in the sublime designs of the title- and European Cup-winning seasons were long gone, blurred by polyester. Our form seemed dyed into the ill-considered colours, the slide beginning with the acquired tastes of the later Le Coq Sportif-supplied kits. Any fan knew as soon as they clocked the truly horrific Henson efforts that relegation was a certainty. Even the club seemed embarrassed, removing the badge and opting for an apologetic 'AVFC' near the left shoulder.
My Villa Park debut happened to be in our first season back in division one, in the middle of a terrible run of form. I certainly didn't demand to be kitted out in the run-up, and that seems now to have been a mercy; we were in our second season with Danish company Hummel, who had supplied us with one of their infamous 'pyjama' kits. I barely remember what we ran out in or, indeed, the game, a 0-0 at home to Manchester United. Football wasn't my thing; I only went because my Granddad and Uncle George had agreed to take a couple of United-supporting neighbours keen to see their lot, and asked me along.
But within eighteen months, I was a full-on football-mad nutter. I knew all the stats, David Platt was the best player on the planet and Villa were so good we had to give our manager to England to make it fair. This sea-change was largely down to two things: Italia '90, and wanting to fit in at school, where one hundred percent of boys were football fans, ninety-nine percent of them Liverpool supporters. I remember the look on my Granddad's face when I told him I was now a Liverpool fan too. It was like I'd punched him in the stomach. He muttered something about local teams and duly dragged me along to my second match, a 1-1 against Forest.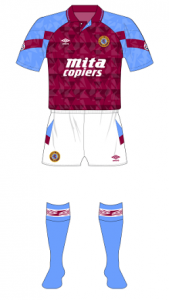 Umbro were now supplying Villa's kits, and what a kit! A claret and blue in name only, the glints and flashes embedded in the fabric complimented the action stripes across the sleeves. A busy collar that could be press-studded into place; perfect for those flying Tony Daley runs. Gordon Cowans twisting his hips, finding another of Platt's runs with an inch-perfect pass. Short or long of sleeve, from all angles it was perfect – what man-made fibres were synthesised for!
Naturally, the next Platt had to have a kit like his hero. But even in 1990, kits were expensive, and my parents didn't have that kind of disposable income. Still, I dared to dream that Santa might be feeling generous that year. On Christmas morning, I was sitting in front of a pile of presents (including a signed Villa football), tossing each one aside searching for the one thing I really wanted.
I came to a rectangular box and, demonstrating the patience I'm renowned for, tore into its wrapping. Through a clear window, I saw claret. I saw polyester.
I couldn't believe it. It was the shirt!
Except, when I got it out, it wasn't. Not really.
See, my Nan was a great shopper, and in particular a loyal patron of Brownhills Market. Before it was full of knock-off DVDs and mobile stalls, you could buy a variety of stuff there, including the kind of unofficial shirts that only an industrial process could churn out on the cheap. This was kind of the right colour. It had similar sleeve flashes…but it wasn't the real thing. No glints, no sponsor. The badge even came separately, crying out for a competent seamstress.
But before you form the conclusion I was an ungrateful brat, I will now record that I couldn't have been more excited by a Christmas present than I was at pulling on that shirt. For me the fine details barely mattered, because in that design it was definitively Villa's shirt. Nobody looking over the garden fence would have thought David Platt had signed for Scunthorpe United over the festive period. Despite the lawn being coated in snow, I was out on it every day, smashing my considerably more valuable football against next door's garage wall, blurting out commentary as I went.
So my first football shirt wasn't an official one, hence my question. I didn't own a proper Villa shirt until 1993, by which time glints and sleeve flashes had fallen out of fashion. In the brave modern world of the Premier League, It was far more on brand to look like you belonged in the Victorian era. Umbro in particular revelled in the retro, adding collars and lengths of string to most kits they supplied, including Villa and Manchester United. Villa's home kit was based on their double-winning dominant side of 1897, while United's third kit was a nod to their Newton Heath days of the 1880s (I remember a cartoon in one of the half-dozen football magazines I demanded, where Big Ron unveiled next season's kit, with Steve Staunton dressed as a Restoration dandy). Both would occupy the top two positions of that inaugural season, two grand old teams competing in grand new pastiches of their history.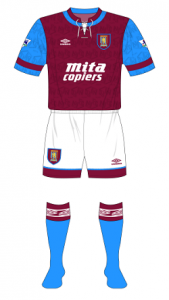 With Villa in the running for the title, I needed the shirt for the inevitable glory, and so I pooled my birthday money and went to DR Sport in Walsall's Quasar Centre, where the owner lifted it off the hook and allowed me to try it on. A men's XL (I was a big lad), it was exactly what I wanted – string, sponsor, new badge – and I paid just over thirty quid.
I wore that shirt everywhere. Every Villa game, every non-uniform day, every holiday. I had no conception of keeping it pristine. It was my brand, my sense of belonging. I still have it now, minus the string, and it still just about fits.
But, here's the thing: I'd give anything to own that rip-off 1990-92 home shirt. The one my Mum sewed the badge onto. The one which, let's face it, was probably retooled into a West Ham United top when the dye for the sleeve flashes ran out at the factory. I have an original, bought at great expense before Score Draw started issuing remakes, with the chunky foam badge and the claret collar studs. But when I wear that one, I'm me. When I wore my first Villa shirt, I could be a hero.
This article first appeared on the Museum of Jerseys website. Comment on it here.