John Russell on the season it all started to go right.
After the debacle which was last season, and it was a debacle after the Wembley appearance, there was a strong feeling around Villa Park that we had taken our punishment and learnt our lesson. Following a similar experience in 1936-37 we were determined to right the wrong immediately and just like 1937/38 rise from the ashes.
With the development of land out at Bodymoor Heath we now had a proper training facility of our own instead of having to go begging to Birmingham University or the local factories for the use of their grounds. The fire sale of the old training ground in Trinity Road had proved disastrous but from now on there was to be no excuse.
Somewhat enviously in a case of what might have been or could have been we said goodbye to Preston North End and Fulham and welcomed Blackburn Rovers and Bolton Wanderers. At the other end of affairs Reading, Bury, Doncaster Rovers and Gillingham departed to be replaced by Oldham Athletic, Notts County, York City and Bournemouth. Six different teams in all, meaning that fans would get to see twelve different games this time around. Hopefully better fare. But first we would only get to read about games as the players embarked on a four game tour of lesser-known West Germany clubs with mixed results.
John Dunn had moved on to Charlton Athletic to be replaced by Tommy Hughes from Chelsea, coupled with the long anticipated arrival of Ray Graydon from Bristol Rovers keen, like all the others, to have a taste of first division football. No harm in seeing what was on offer from Birmingham City and although he was already old enough to have had a testimonial Ron Wylie, now safely back in the Villa camp, thought that Malcolm Beard might have a place somewhere in our organisation. He did not play in the pre-season friendly when second division Birmingham City accepted the challenge to prove informally who were the top dogs in the city.
An astonishing crowd for such a match numbering 36,771 witnessed a full-blooded scrap which Villa won 2-1 thanks to two goals from Anderson (12 &74) to which Latchford had responded (28).The game had been part of a double header because it was preceded by Stanley Boys in the guise of Villa Boys 1 Possil Park Boys (Scotland) 5. Nobody can complain that they did not have value for money that afternoon, not least those adults who were vehemently criticised for trying to sneak in through the boys entrance. How dare they?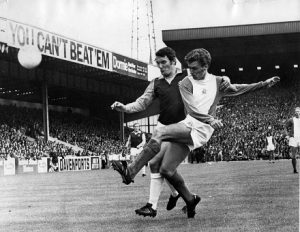 It seemed that neither club could wait for the start of the season proper. Not least Villa who had Plymouth Argyle for a starter. As many as ten thousand fans disappeared in the intervening week and they could not all have come from Small Heath. But a deluge may account for most of them. 26,337. Vowden set the crowd alight (10) and McMahon doubled the count in double the time before suffering a season-threatening injury. Plymouth spoiled the Bovril break before Anderson got in some penalty practice (75) for us to record our first successful opening day home game winner for nearly a decade.
The first round of the League Cup comes early in the season, too early in the opinion of most with the financial fillip it is designed to give to the lower clubs. Maybe Villa were not as prepared as they would have liked for the game against Wrexham. With memories of the last visit to Villa Park at the dog end of last season nothing was taken for granted in our quest to make up for the Wembley disappointment. After eleven goals between us last season in two games the goal=free hour of play was somewhat unexpected but a flurry of goals littered the last half hour. Lochhhead (61) and Anderson (79) another penalty were separated by a response from Griffiths (67). We could have done without the 88th minute strike by May in August and the last thing we wanted or expected was to have to go to the inappropriately named Racecourse Ground for a replay.
Meanwhile we had far more decisive matters on our mind, we had a score to settle with Walsall. Such was the pre-season fervour surrounding Villa that Walsall perversely deemed it advisable to make the match all ticket. I had previously been at Fellows Park when a ground record crowd of over 25,000 saw them play Newcastle United during their brief venture into the second division. Such was the experience that it is quite possible that making this game all ticket was counterproductive as it may have deterred people from attending. So only 13,051 did so. What they saw apart from a rather unusual pre-game lap of honour by the Brummies speedway team was Walsall take the lead via Manning (12). Vowden levelled things ten minutes later whereupon trainer Jimmy McEwan and manager Bill Moore with the help of John Woodward had the finger over us for the third time.
Two days later we had to show up in Wales for a second encounter with Wrexham. To the consternation and surprise of 12,113 ninety hardfought minutes failed to produce a goal. Then three minutes into extra time Anderson broke the deadlock. It was something of a false dawn because with just three minutes remaining Wrexham equalised and there would have to be a second replay but when and where? Meanwhile Rochdale made their second visit to Villa Park. Rochdale had chosen new lights rather than new players so unsurprisingly they were no more successful second time round than on the first. Lochhead (8) and Graydon (37), his first of many saw to that and for the first time fans were able to have a celebratory noggin in the newly installed bars at the ground.
The 'when and where' turned out to be the Hawthorns where the tradition of high-scoring games between the two clubs was re-established. Crudgington came in for Hughes for his swansong so readers of the previous chapter already know the outcome. There was excitement right from the very start with a goal each in the first three minutes. The remainder of the goals were reserved for the second half beginning with another goal for May (65) only for Anderson to restore parity from the spot (70). With 20,697 twitching nervously it seemed our fate was sealed when Wrexham went ahead for the third time, Davis (78) but perhaps in the excitement of causing a major upset Ingle saw to it that extra time may be on the cards again by virtue of an OG. This act of unsolicited generosity upset the Welshmen and Lochhead saw to it that they were punished immediately and, a Hawthorn hoodoo duly laid, it was we were off to Chesterfield again next time round.
But not before an excursion to Burnden Park and a meeting with manager Jimmy Armfield. Overseen by referee Fussey. Bolton had already staked their claim for an immediate return from whence they came which they managed to emphasise when after 42 and 55 they suggested that we might be in for another season of gloom and misery everywhere. 0-2 and 11,470.
But happily, not at Chesterfield in the second round of the League Cup. Although it was rather closer than we would of liked. 13,842 looked on as first Lochhead (6) and then Vowden (24) had us believing that happy days were here again. But we had a rude awakening as the Spirites hit back 35 and 75, hinting at the possibility of another replay. This was already our eighth game of the season, four league, four cup and the last thing we wanted was yet another game. But under severe pressure Chesterfield gave way and Anderson scored his second penalty of the infant season. 3-2.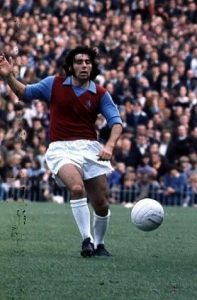 In his obligatory programme notes Vic Crowe seemed to want to write about anybody and anything but Aston Villa. Let us hope that he was not distracted when his old wing-half partner Pat Saward brought Brighton and Hove Albion back again. It was a chance for us to test our increasingly newfound confidence against potentially one of the best in the division. But it took over an hour for us to finally establish superiority first through Graydon (60) then Hamilton (67), substituting due to earlier injury to team captain Gregory. Although confusingly the injured George Curtis remained club captain. 2-0, 25,812.
By now readers of these summaries are probably starting to believe that I have a thing against Halifax Town. But the fact is that even during the blackest days of the mid-sixties of all the clubs in the lower half of the pyramid Halifax Town was one of those I never imagined in my worst nightmares ever having to play. Since they finished above us last season they have become a sort of cause celebre. The epitome of our demise. Almost a term of affection.
From his programme photograph Ray Henderson does not look old enough to be a manager. But perhaps looks are deceptive. As we know only too well his team are the sort we are going to have to overcome convincingly if the expectations of promotion are to become reality and they gave us a massive fright. Only a massive sigh of disappointment emitted from the mostly home fans in the 7,482 on the terraces indicated that Ray Graydon (82) had ended their resistance.
Wednesday night at Villa Park can almost mean only one thing, Mansfield Town who were now bottom of the league. Expecting to go top by a quarter past nine followers of H&V can tell you that Mansfield Town cemented their place amongst the handful of teams we could not beat. And even worse a goal by substitute Dai Jones (79) gave them three wins from three. As 28,112 ventured despondently into the dark night it almost seemed as though out season was over already and games such as this were likely to become our permanent punishment.
Worse, we then had to meet Wrexham for the fourth time this season already. Surely we ought to be able to beat them easily by now? 23,004, a tad fewer than the cup-tie, believed so but it took another Anderson penalty (40) and Graydon (55) to restore confidence where it had been in short supply. Were we perhaps getting a reputation for falling over too easily?
Barnsley on a Tuesday night late September is not a recommended holiday attraction, as 8,387 mostly locals can vouchsafe. The programme notes practically brought tears to the eyes in reminding folks that when we first showed up there in 1937 the great Ronnie Starling and Frank Broome had shared two goals each in a four goal romp. Surely a four goal romp was not on the cards tonight, but expect the unexpected. History more or less repeated itself as Lochhead (25 & 52) and Hamilton (47 & 89) replicated their illustrious predecessors. It was not a happy augury for their new manager John McSeveney any more than did a career move to Oakwell seem a panacea for him.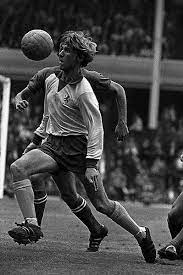 By now we know how to get to Eastville and by now we ought to know how to beat them and, indeed, expect to. They had enlisted Brain Godfrey so perhaps we should proceed with a degree of caution. But Anderson scored another goal from outfield play (75) and it was a happy crowd which trundled back up the A38.
Reason enough to be confident ahead of a fifth round League Cup tie at Selhurst Park, especially as Crystal Palace were bottom of the first division. If there had been a pools coupon on a Tuesday night this would probably have gone down as a treble chance banker. The home club had quite literally tried to buy themselves out of trouble and we faced an almost untried eleven. But two goals adrift at the interval gave pipe dreams a bad reputation. Until that is a complete turn round in which we gave 110% effort or more and Chico Hamilton made them realise they had a fight on their hands and Andy Lochhead administered the coup de grace with six minutes left on the clock. 21,179 and for once we were delighted to have gained another replay.
But that would have to wait because first we had a date with Rotherham United. The fans were starting to believe that something might be happening again and 30,249 made their tortuous way to Villa Park. Some may have sworn "never again" because as coupon-busting results go this was the pits. The first warning sign came after 15 minutes when Gilbert smashed the spud beyond the reach of Hughes. But normality was resumed a quarter of an hour later when Lochhead used his head again from ten yards out. Everyone was then expecting Villa to go on to a comfortable victory but a resurgent Rotherham had other ideas. Even so it was a bit much when they won the game via Trevor Phillips (68) and we were incapable of restoring equilibrium.
Next we sent a team to Kidderminster Harriers that would have been the envy of most other third division clubs. Indeed, any team that included an up and coming Brian Little would have been the envy of a few first division clubs as well. The game was a benefit for Vic Cockcroft, their assistant manager who was actually promoted to manager that very day when Harold Cox retired in a fit of pique. Harriers, in the West Midland League but in a dilemma as to whether to move to the Southern League, had the better of an appropriately entertaining game 4-3. The three coming from Neil Rioch, Little and Martin.
Two nights later as the heavens opened large numbers debated whether it was wise to spend their evening out in the exposed Witton and Aston ends at Villa Park. Rain was never unwelcome by Doug at B6 as it meant that more people opting to buy tickets for the stands rather than get soaked. 24,078 were there to see Crystal Palace. Yet again Lochhead used his head (66) and Ray Graydon obliged, shooting in from ten yards out (83) to ice the cake. We already beforehand knew that Blackpool awaited us.
Less exciting was another trip to Plymouth Argyle. A team apparently so anonymous that when it came to publishing the league table in the following match programme Villa had to apologise for attributing their record to Portsmouth, then a second division side, instead. Perhaps we were equally embarrassed by the result as we suffered consecutive league defeats for the only time this season. They went two-zip up (31 & 35) Rioch, his first of the season, (59) hinted at a comeback before Hutchins immediately put the game to bed (63). Vowden (80) took on the appearance of a consolation as 18,750 excitable Devonians were not to be denied.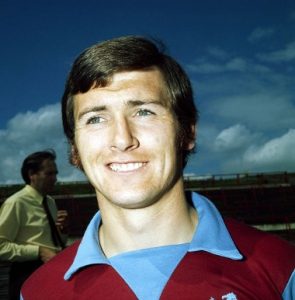 Could we stop the rot at home to Tranmere Rovers? Would Pongo Waring be there? 24,231 thought, maybe, let us hope so. Rioch relieved the obvious nervousness when the net bulged when accepting a thirty yard free kick. Ironically some fans complained that some new-fangled nets with a tighter mesh made it difficult to see the game. Where were they standing? Be that as it may, ever listening to the fans, we immediately restored the old wider meshed nets. Yet another header from Lochhead sent the fans towards the buses early, happy and content (84).
Bournemouth, aided by England centre-forward MacDougall were seemingly on an unstoppable rise up the leagues but had the audacity to celebrate their achievement in advance by changing their name to AFC Bournemouth so leaping ahead alphabetically to the particular annoyance of us and Arsenal. They were top of the league and stayed there even after we had passed. 0-3 (5, 22 & 82) brooks no argument. That insufferable sel-seeking man who appointed himself as the England mascot was a home town fan and amongst the 20,305 who gloated over our misfortune. It is not over yet.
But first another trip to the seaside. Blackpool, League Cup round four. They were hardly setting the second division alight so we were not short on confidence.with the famous illuminations still in full swing we had no need to light up the town. How else therefore is it possible to explain 0-4 after only an hour (42, 49, 56 & 60). As consolations go Lochhead (72) does not come close.
Disappointed is not the word for it and things were looking even more black as Blackburn Rovers had to bring themselves to town. Call it a backlash but 4-1 at halftime (5, 19, 23 & 43) Rioch, Hamilton, Rioch and Anderson against their one (27) hints Wembley was a distraction and we were now able to concentrate on the main prize. Meanwhile Lew Chatterley left for Northampton who immediately made him captain.
Four became the new norm both for and against as we went pottering about again. 0-1(3), 1-1 (7) (Hamilton) 1-2 (32) 2-2 (40) Anderson, penalty 3-2 (45) own goal 4-2 (64) Graydon 4-3 (78) 4-4 (82). The goal fest was witnessed by 11,106, double their usual quotient.
Next one of those great matches, which is why so many now elderly fans wax lyrical about the good old days of the third division. Second placed Notts County. Tony Hateley had gone back to his roots but try as he might he could not counter the 13th minute strike by Ray Graydon in a thrill a minute game to the infinite satisfaction of the 37,462 who paid to see it. Hughes managed to save a penalty taken, not as might have been expected by Hateley but by Masson. Hateley was not the old time only comedian on view, Eric Morecombe and Mike Winters (minus Bernie) were spotted in the director's box.
Meanwhile Vic Crowe, no mean cricketer himself, must have decided that what we need more than anything was a medium pace bowler so he spent an inordinate length of time trying to persuade the Baggies that Jim Cumbes was surplus to their requirements. There was otherwise no suggestion that Tommy Hughes was anything worse than a more than competent third division goalkeeper. But so be it. A Lancastrian, Cumbes' later batting average for Warwickshire was 4.71 and each of his wickets cost 47.29 runs. The other way round and it might have been perceived that perhaps he was needed to bolster up our close-season cricket team.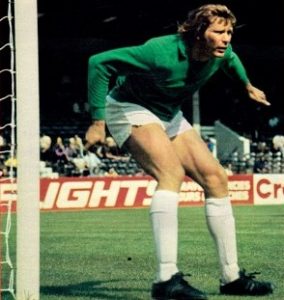 But he had to be kept under wraps as first there was the continued indignity on another outing in the first round of the FA Cup. Worse, another trip to the seaside after defeats at Plymouth, Bournemouth and Blackpool. Southend, joint top of division four. The omens were not good. You could almost have put your life's savings on the outcome. Not a person in the land, even the pundits on Match of the Day can have been surprised at the so-called giantkilling result. 0-1, the one being scorer, appropriately enough by Billy Best in the 34th of ninety utterly frustrating minutes. Otherwise the biggest winner was the Southend bank manager who pocketed the takings from 16,929. It was to be the last first team appearance of Tommy Hughes so perhaps he was to blame after all.
Ever keen to enhance the profile of Aston Villa as much as himself, Doug arranged for the visit of Polish champions Gornik Zabrze for a floodlight frolic. An opportunity for Cumbes to show his talents, chief of which turned out to be an ability to hoof the spud from one penalty area to the other so overflying all the other players between him to his opposite number unless Lochhead could arrest it in its flight. 14,662 witnessed a diplomatic 1-1.
After his debut league game at Oldham Athletic Jim Cumbes was tempted to sign on at the Labour Exchange on Monday morning. He said that he could not believe his luck that he had joined a team so dominant that he had so little to do whilst those in front of him rattled in six goals. 6-0 and our biggest away win since the days of regional football at the end of the war. Also our first hat-trick, by Lochhead, since the days of Tony Hateley. (7, 56 and 65) and Anderson (11) plus Rioch 2 (19 & 51). Jimmy Brown, now grown up a bit,had a first outing of the season.
Fighting relegation, Bradford City were probably not looking forward to their trip to B6 with much optimism and Rioch two and Anderson another penalty made sure that the 27,347 saw what they expected to see. Three wins in a row, things were looking up in both meanings of the word.
It became four on the trot when Bolton Wanderers put up a little more resistance than their league position suggested, 16th. More so when they took the lead after 13 minutes but two goals in two minutes, Lochhead (33) and Graydon (34) quietened the restive amongst the 27,767. Probably the same 27,347 as last game plus a few extra thrown in for good luck. Welcome back Pat McMahon, second half sub. Aitken ventured across the half way line for a bit of fun and scored his first goal for six years. Even rarer for him, a rare headed goal.
Then a blank Saturday for everybody because nobody had played on Christmas Day for fifteen years. So we got to go to Swansea City and met up with Barrie Hole and manager Roy Bentley again. 24,419 was therefore by far their biggest crowd of the season for two reasons. Or three if you include the fact that the visitors were the soon to be famous again, Aston Villa. Reportedly 8,000 of the fans were ours.
With so much at stake it was unsurprising that in the mud and rain play was a little scrappy. A team featuring such names as Williams, Jones, Evans, Thomas, Davies and Gwyther left no doubt as to their pedigree and the first-named netted after 37 minutes. Having scored his first goal for yonks last week Aitken decided he liked seeing his name on the scoresheet (52). Then with time running out he played a major part in the winning goal. His free kick was destined for the arms of Millington before Graydon nipped in and left him wondering, where in Wales did he come from?
Meanwhile there was further excitement at B6 because Vic had assembled a team of talented teenagers who were carrying all before them. More later.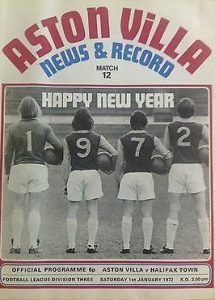 Everybody's favourite other third division team came next on New Year's Day. Reminder – look who is writing this story? Halifax Town, of course. You didn't think it was Walsall, surely? With no cups to distract us 32,749 now fully expected us to return to the higher echelons with a win. And win we did for the sixth consecutive game and unbeaten in eight. It was by no means easy but perhaps Halifax we still congratulations themselves for surviving the first half when Graydon again stepped in to net from close range (46)
We did not take many fans to Rochdale because they were averaging 4,955 per game and there were only 5,871 there altogether. And what those 5,871 never expected to see in a million years was Rochdale 1 Aston Villa 0. Maybe it was the royal blue shirts again but not for the first time, nor the last, their goalkeeper played a blinder and they defended to the death the gift of a penalty from us on 65. No argument there then.
Shrewsbury Town should have appeared on fourth round cup day but instead they had a date at Derby County which they lost 0-2. All this meant a free day for us as the reserves did not play either. In the meantime, excitement was now starting to surround the youth policy being fostered by Vic Crowe. Having beaten West Bromwich Albion in the third round we had been drawn against Birmingham City, who were also make waves. The match generated masses of publicity not least as it was seen as a guide to future bragging rights in the city. Also the Blues decided it merited a full match programme rather than the single sheet offering which was normal for such games. City had Trevor Francis in their ranks, Villa had Brian Little. It was billed as the battle of the mini giants. So much so that a staggering 21,215 made their way to St Andrews. They saw a full-bloodied local derby that ended 1-1 in which the referee, who made four bookings, was criticised for being far too lenient. Perhaps making too much allowance for the sorry state of the pitch and for the youthfulness of the players.
After the white dog which delayed the start at Swansea enter the black cat which entered the field against Shrewsbury Town. Except that the cat played a rather more significant part in the outcome. For half an hour the Shrews, in a creditable eighth place gave as much as they got and led by the division's leading scorer Alf Wood, they were always a threat. That is until the entry of the black cat. It came out of the Trinity Road terrace, ran down the touchline, rounded the corner flag before running across the Shrewsbury penalty area before, to the cheers of the crowd, disappearing again back almost to where he had started.
Possibly its colour was an omen, perhaps it distracted keeper Mulhearn, but whatever; Hamilton immediately took advantage of the disturbance (37) and in a strange way the game was virtually decided. Gregory (44) added an insurance goal. Shrewsbury offered little by way of resistance in the second frame having only one shot of note. Cumbes achieved an assist before anybody considered counting such things with a route one clearance and Lochhead added to his tally (54) before retiring in favour of Lionel Martin and at 3-0 27,239 were satisfied.
This encouraged 30,531 come to find out if Barnsley could upset our promotion push or whether they were lambs to the slaughter. Sadly the first half in particular was a reminder of the bad old days of spring. And for all our defensive domination the idea of Villa going nap or more seemed improbable. But who needs a black cat when you have Lochhead (43) with his 17th goal of the season? A prod from close in following a long special from Cumbes, and Bruce Rioch (57) with a brilliant thirty yard piledriver. Except that seen as a Blues reject Vowden came in for a great deal of stick from the terraces. Things got even better when we heard Bournemouth 2 Notts County 0.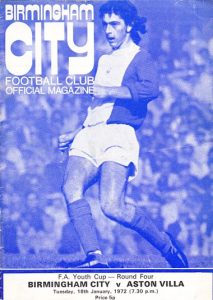 The scene was now set for the eagerly awaited Youth Cup replay. Anything Blues can do we can do better and that applied to our official programme. Two things may account for the fact that fewer fans attended Villa Park, 18,922 than had been at St. Andrews. First the absolutely appalling weather – the game was played in driving rain and in different circumstances may not have been played at all. Secondly Blues were without Francis, needed for their first team. The game contained none of the brutality of the first encounter – a change of referee may have helped. Betts broke the deadlock (36) and Alan Little scored an involuntary goal after 55. The ball got stuck in the mud and in attempting to clear a defender hit the ball against Little from whence it rebounded into the net.
Then we heard that chairman Doug had just pulled off his biggest coup to date. He had agreed to the extortionate demands of Santos to allow them and the great Pele to appear at B6 in a friendly. Doug reasoned that he only needed a crowd of 30,000 plus to cover the £10,000 demanded. But little did he know how close the game was to come to his and our ruination.
Tranmere Rovers were amongst those experimenting with Friday night football. Perhaps not a bad idea when you have to survive in the shadow of Everton and Liverpool and when the visitors are Aston Villa so likely to get a big crowd. 12.054, their biggest for over a decade, for a club who to date had averaged only 3,930. But they may have been due a big crowd anyway because they were unbeaten in nine games (four wins, five draws) and must have been hopeful of making it ten. But they had reckoned without the most unlikely match winner. Charlie Aitken rarely crossed the halfway line but given our new-found dominance he was being encouraged to go forward more often. The new tactic paid when he headed home in the 68th minute and with a handful of fine saves Cumbes kept his former club at bay.
And yes! Pele is definitely coming but it's pay at the gate for the terraces and Doug has put the price up from 30p to 50p.
First, promoted York City got to sample the big match atmosphere for their inaugural visit to B6. They were a typical third division side, dull and unenterprising. But it took 67 minutes to end their resistance. After four corners in quick succession their left back discretely handled the ball, but not too discretely for the ever-vigilant referee Tom Reynolds.
Step forward Willie Anderson except that Aitken had taken his instruction to move forward a little too literally and this led to a retake. No problem second time around. Two minutes later Anderson was seen rolling around on the touchline, not it might be thought as a victim of subtle retribution by Burrows, who had committed the original handball but of a pulled muscle. The York custodian, Crawford, then did what all visiting custodians seemed to do and played a blinder so 26,905 had to be content with another 1-0. Perhaps it was all down to Vic Crowe receiving another manager of the month bottle of Bells beforehand. But we started safe in the knowledge that come what may we would remain top. Second place Notts County had an FA Cup fourth round engagement at Derby County which, predictably, they lost 0-6.
Since I am writing this article I am now going to step away from Aston Villa for a paragraph or two to mention one of the most famous giantkilling acts in FA Cup history, which took place at the same time. The John Motson match, Hereford United 2 Newcastle United 1 after extra time. Because it was a third round replay few people actually recall that it took place on the Saturday of fourth round day. It turned Ricky George and Ronnie Radford into household names and got Hereford United elected into the Football League. But the real Hereford Hero was goalkeeper Fred Potter, once of Aston Villa. And because it was unexpectedly promoted to the main feature on Match of the Day and seen by a reported 10 million viewers in his very first commentary it gave us John Motson.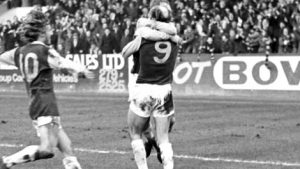 But when it came to 10 million viewers there was every prospect of our setting a new target because it was known in advance that we were set to become the first third division game to be shown on the programme. We were set for the third division match to beat all other third division matches, Bournemouth and Boscombe Athletic were heading north. 48,110 is the reason why so many older Villa supporters now low back with nostalgia at our days in the third division. But beforehand many of those supporters had been expressing discontent through the medium of the Sports Argus, then the only outlet for their angst. Trouble was some supporters were expecting us to go nap every week and dour third division battles were not to their liking. They wanted to see more flair and possibly some new faces. But, gentlemen, I hesitate to remind you after all this time that we were serving up third division football precisely because we were in the third division.
Vowden had been chief target of the supporters discontent and if he heard the boos which greeted the announcement his name on his return to the team he may have wished he was elsewhere that afternoon. Perhaps on the other hand he took the stance, "I'll show em." For the better part of half an hour it was Bournemouth who 'showed em'. It was no surprise when MacDougall accepted a pass from Tony Scott (27) and the team in green and black stripes went one up. His 34th goal of the season. Twice as many as our illustrious leader, who we thought was doing well. Tommy Mitchinson continued to taunt us up to half time then Fred Turnbull came off second best in a clash of heads with MacDougal and had to be replaced by substitute Jimmy Brown.
Not exactly like for like so necessitating a bit of juggling at the back. Whereupon Vowden immediately switched from villain to hero in an instant when he outjumped keeper Davies (72) and suddenly the whole atmosphere changed. In a wall of noise that may have registered on the Richter scale Villa went for the jugular and within three minutes Bournemouth capitulated. Lochhead reached a free kick by Curtis, nodded the ball into the air then volleyed it into the net as it came down. (74). From then on there was only going to be one winner and it wasn't the Cherries. Can't wait to watch it on the television. again tonight.
Now time for panic. The power stations are running short of coal so the visit of Pele is under threat as we have so far been unsuccessful in trying to hire a generator.
But first the little matter of a trip to mid-table Blackburn Rovers. Average attendance 8,046, until today that is, 15,562. Blackburn had scored ten goals in their last three home games without conceding so nothing was presubscribed. Lochhead flicked a Graydon free kick at the start of the second half then an uncharacteristic lapse by Cumbes led to Garbett snatching an equaliser (74). Cumbes made up for his error by helping retain the hard-earned point.
Vic Crowe spent the Monday morning trying to persuade Ian Ross that he had a better future with us than with Bill Shankly. Perhaps being able to show that Pele was due at Villa Park that every evening may have swayed the issue for Ross and the cheque for £70,000 for Liverpool.
Enter Santos, enter Pele. Any firm that could light up Carnforth station for one of the greatest films ever made, Brief Encounter, could surely light up Villa Park for an evening. Unless it was the offer of £5,000 which encouraged Floodlights Services Ltd from Pinewood Studios to lend us a couple of generators. It has to be said that although they saved Doug's bacon they were not entirely successful because only three of the four pylons were effective for most of the game. Pele was reluctant to start the second half after there had been a clear dimunation in the candle power. Fortunately the referee was the World Cup final referee from Wolverhampton, Jack Taylor and he was not going to tolerate any tantrums from any player, however famous. On with the game.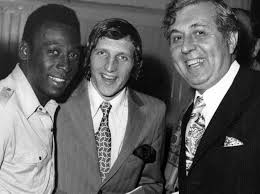 McMahon had opened the scoring after five minutes before Pele turned on the style. Feeling that he had done his job to entertain the 56,500 in the first half he chose to remain anonymous from then on. Unusually Villa introduced three substitutes in the second half, possibly to let Lynch, Tiler and Hoban to be able to tell their grandchildren they had played against Pele. In the absence of Anderson, Graydon added a penalty after Rioch had been tripped (57) then after 72 Edu, almost as famous in Brazil as Pele beat Cumbes with an incredible swerving shot from 25 yards out.
Somewhat oddly Santos offered to stay on and play another game at Villa Park on Wednesday night, at a price of course, but whether for revenge or money was never made clear. It must have been hard to decline but we did not feel we should do anything to jeapadise our main aim of returning at least to the second division.
By now you may be wondering what has happened to our youth team. They had been drawn away at Chelsea in the fifth round the day after Santos. For reasons best known to themselves Chelsea opted for a Tuesday afternoon game. Slittle did they think of the game that they resorted to the single sheet 1p programme (a collectors item). In front of the proverbial one man and his dog Chelsea took the lead after 15 minutes and in poor conditions held on to what they had got until Brian Little, yet to make his first team debut came home with the bacon after he headed in a cross from Gidman, a collectors item, surely.
It was back to third division nonsense with the visit from Port Vale, witnessed by Pongo Waring who travelled down from Birkenhead. He may have wished he had travelled down for Santos instead because he was not particularly impressed with another dour third division offering. In the Villa Park mud Port Vale did what every third division does at B6 and frustrated us until after 66 minutes McMahon kidded the half back into a poor back pass and passed to Lochhead, 1-0. Then six minutes later McMahon created a goal for himself leaving us to play out time to the satisfaction of 32,806. Port Vale manager Gordon Lee was not impressed with Villa. Sour grapes perhaps.
The temporary generators had not yet gone back to the owners so with one eye on the future we thought it worthwhile to pay to keep them for another game, the youth cup replay against Chelsea. The attendance of 11,577 probably paid for the additional hire. In complete contrast to the first game Villa were in command throughout and Findlay had only one shot to save in the second half. But we could not break down Chelsea at the other end and 0-0 had a certain air of inevitability about it. It was always going to take a mistake to settle things and it was Chelsea who made it. Betts latching on to a poor back pass. From then on Chelsea seemed demoralised and George added to their misery with a couple of strikes.
We then had to go to the banks of the River Trent for a showdown with Notts County. Forest would have been pleased to get a crowd of crowd of 34,208, nearly three times the average at Meadow Lane, though boosted by a large contingent of Villa fans.
The rain at the start could have been worse because that Saturday afternoon other games were abandoned due to snow – and it took a lot for snow to lead to an abandonment.
In the opening minute Curtis broke his nose when he headed our former number nine, Tony Hateley who actually suggested to him that he go off and seek treatment but Curtis was made of stern stuff and he played out the full ninety minutes looking as though he had suffered a beating from Henry Cooper. Finally after brilliant ball play by Rioch, McMahon was able to head us into the lead (48). Then Graydon scored not so much with his foot as with his knee (62) the rout and it was a rout was completed by McMahon (78) and it is surprising how many headed goals we now seemed to be getting. Cumbes now had only conceded five goals in fourteen games, nine of them clean sheets.
Chesterfield had been due next for our Wednesday night entertainment but incessant rain for a few days meant a lunchtime cancellation by the match referee, who had travelled all the way from Exeter. Perhaps as well it was another game due to be generator powered so all the better to see it, if and when. This begs the question what happened to all the match programmes because my collection is deficient from match 19, making it a valuable item.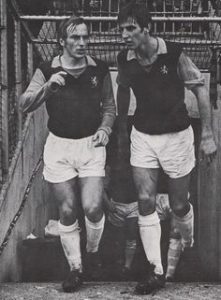 The injury to Curtis may have been responsible for Crowe nipping off to Luton Town on transfer deadline day and handing over a cheque for a Villa record £75,000 to sign Chris Nicholl. That may also have been the reason why Tiler did not appear in the next match against his former club, Rotherham. He did not play for the reserves that afternoon so he probably went to Rotherham as travelling reserve. Another typical third division game. And another header. Lochhead (25) from a corner. Then (33) Graydon tempted his marker into a 35 yard back pass that was never going to reach the goalkeeper. 2-0 and the victory march (8 wins and 1 draw) goes on.
But it stumbled when Shrewsbury Town provided fierce opposition at the Gay Meadow. Salop countered the threat from Lochhead by actually having their goal scoring centre half to drop back to mark him so they effectively marked each other out of the game. We went behind when in only their second attack Cumbes was rooted to the spot and could only watch a strike by Moir nestle into the far corner. Meeting force with force, Nicholl became our unlikely hero and scorer (62) when after Anderson had been the victim of another foul he centred for our centre half to score yet another headed goal. 15,720 had crowded at the ringside to watch the contest. Interestingly the FA announced that afternoon that they would no longer accept television evidence at disciplinary hearings.
Oh no! It's Walsall again. There is a suspicion that the Walsall players had been watching at Shrewsbury because they clearly decided that the way to beat Aston Villa was by physical means. Walsall actually won 24–17. That is they committed 24 fouls to our 17. Surely a record which probably remains unchallenged to this day. It was suggested afterwards that any Villa supporter who endured this monumentally boring match ought to be awarded a medal, and the attendance was 45,953. But despite being grateful to be able to escape unharmed most of them stayed beyond the final whistle anxious to find out how the other clubs had fared. Bournemouth and Notts County had lost at home, Brighton away. So a point lost was actually a point gained. Bill Moore, without a hint of irony, apologised for the depressing ninety minutes.
Brighton & Hove Albion were next, except before that there was the little matter of a Youth Cup semi-final at Highbury on a Thursday evening. No programme, just a twopenny team sheet. With referee Tommy Dawes in charge the game ended goalless. Meaning the second leg effectively became a replay.
More often than not a team which has had a sequence of draws ends up losing their next match rather than winning. So no prizes for guessing where this report might be heading, except that Brighton had lost their last two matches. Opening the scoring after a mere six minutes through Irving Brighton with four all active forwards threatened to overrun our 4-3-3 formation until in the 56 minute goalkeeper Powney gave us a helping hand enabling Rioch to volley home. We then had a period of promotion jitters and in the 85th minute Cumbes lost the ball in the sun and we suffered our first reverse for three months. 29,135.
Then the Youth Cup semi-final 'replay' v Arsenal. A proper match programme and 14,540 demonstrates how we viewed the game. It was won by Betts, an England amateur international in the 55th minutes after a shot by McDonald had only been partially saved, after which Little in particular squandered several chances to emphasise our domination.
We were now faced with having to play ten games in April, starting with a trip to Wrexham on Good Friday. In typical Welsh rain Wrexham demonstrated typical third division football. 16,846 saw Anderson (31) score his first for a while before Graydon eased the tension as the pie queues were forming – unless it was for Welsh cakes. With ten minutes to go Anderson missed a penalty when he crashed the ball against a post otherwise it would have been a more convincing win.
It became a Welsh double of a sort when Swansea City came to town next day. No perceivable change in tactics when it came to trying to beat Aston Villa. Eventually opponents will wear themselves out and they will then be there for the taking. On this occasion the 'taking' came from Anderson in the 54th minute when he stabbed in from close range. The cake was iced fifteen minutes later from another header. McMahon this time, before Lochhead retired with an injured knee to be substituted by Vowden. Barrie Hole had tried his utmost to keep his team in the hunt. 33,394, most if not all of who would be back on Easter Monday to see Bristol Rovers.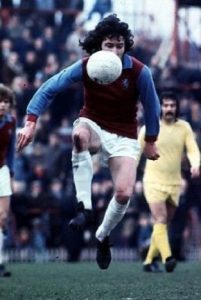 In fact 41,158 showed up confident of victory even though Rovers were unbeaten in seven games. Two goals by Lochhead won the game and unsurprisingly both came from headers, our number one tactic. 26 minutes when he outjumped their custodian a 17 year old debutant, Crabtree. Lochhead had an easier task on the hour before Cumbes failed to gather a cross, a surprised Nicholls missed a kick and we had an unnecessarily tense last half hour.
As if three games in four days over Easter was not bad enough we now had to play six in 17, five of them away. Yhe first team were not the only Villa players being over worked – the youngsters went to Dusseldorf, where they won a youth tournament.
York City, 9,620 compared with an average 4,859, for the worst-supported team in the division. They had not been beaten at home since Christmas. Six wins, three defeats. The referee ignored a blatant handball and as the ball fell to Rioch, back after a short suspension for being a naughty boy and collecting yellow cards as though they were cigarette cards, 1-0. Whereupon instead of going for broke we fell back on the defensive, which was successful thanks to Cumbes.
Because we had to hand over Villa Park for a FA Cup semi-final (Arsenal 2 Stoke City 0) the game against Oldham was brought forward five days to a Monday night. A very odd decision as we were already due to visit Torquay United on the Wednesday.
This may account for the game being utterly boring. But utterly boring games need a sensational goal and it is even better if it comes with barely thirty seconds remaining via Graydon.
And so to bottom of the table Torquay United. Three games in five days and this one followed the pattern of the previous two. Except that we were without Lochhead for the first time this season sat in bed with a temperature of 101. Vowden deputised but Vowden is not Lochhead and so their centre half Dick Edwards had a less exacting time and if he did not score at least he can claim an assist which led to their 44th minute lead. After 68 minutes Hamilton substituted for McMahon with instant results. Only the result was another goal for the home side. Vowden restored some pride with five minutes remaining but there was no grandstand finish and 9,776 who could not believe what they had seen had thoughts of unexpectedly avoiding the drop to division four.
Monday night and the youth team played the first leg of the cup final at home to Liverpool. Another special programme and most third division clubs would kill for the crowd of 16,463 which turned out to watch this spectacle. Except it was not much of a spectacle. After rejecting a couple of valid claims for a penalty on the grounds the offences were just youthful exuberance the referee had no choice but to accede following a third misdemeanour. Gidman, previously rejected by Bill Shankly as not good enough, had the satisfaction of proving the Liverpool messiah wrong in the 64th minute. We then did not so much as hold on but prove the better side.
Two days later with a club record 61 points against our name we had the first meeting of the season with Chesterfield, the chief feature of which was that Vowden came good. At last a top class performance. Lochhead (33) with a majestic header set the ball rolling before yet another header, this time from Vowden, barely two minutes later demoralised the Spriites. After 55 minutes Vowden emphasised our superiority before 12,510, double their average. Curiously the Chesterfield programme originally showed Brian Little to be our centre half. That would have made for an interesting game.
Then life below stairs ended at Bradford City. It was fitting that the decisive goal came from Aitken, less surprising that it came from a header from a corner by Hamilton with the home defence concentrating too much on Lochhead. Bradford for whom defeat all but meant relegation were magnanimous in producing bottles of champagne, uncertain whether it was appropriate until it was confirmed that Notts County lost at the same. 9,289 against an average 6,826.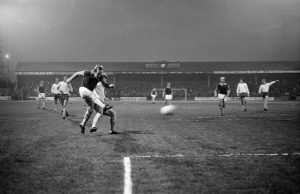 Mansfield Town, the only club who had beaten us three times, was therefore not the best place to be going to in search of a record number of wins and points. Up to half of the assembled 12,454 journeyed from Aston and all went well when the no longer maligned Vowden brought joy after 53 minutes. Curtis, playing with a still broken nose, and Cumbes kept them at bay but this game was destined to last 92 minutes and they scrambled a goal to destroy our euphoria.
Euphoria was back on the menu twenty-four hours later as the youth team arrived at Anfield. We held our own in the first half until 13 seconds after play had resumed Liverpool made the tie level. But this is Aston Villa of which I write and on 57 minutes George restored our advantage. All went well for another twenty minutes until Liverpool scored a hotly disputed equaliser which led to McDonald being sent off.
Down to ten men few would have given tuppence for our chances in extra time. Cometh the hour cometh the man, although he was still a youth, Brian Little. With goals in the 96 and 117th minutes it was without doubt one of his finest moments. So much so that a demoralised Liverpool full-back immediately added to our total. 5-2 after extra time and joy was unalloyed.
Only seventeen days on and a chance to revenge our embarrassing defeat at Torquay United. 37,582 chose to be there and they were not disappointed. His Anfield achievements earned Brian Little a debut which he crowned with our fourth goal resulting in chants of "Superboy" echoing round the Aston End. Beforehand Lochhead had received his trophy as Midland Footballer of the Year and unlike the Manager of the Month bottle of whisky it was not the prelude to disappointment as he scored our second goal (18) after Vowden had opened out account (11). Incessant pressure forced an og (24) before Little's strike (31). Dick Edwards simply had to score for Torquay and that is what he did, simply (34). Vowden completed the rout (81) and we are the champions my friend, we went on fighting to the end.
Youth and age then took centre stage at B6 for a Monday night extravaganza in favour of Mush Callaghan, BEM. In a time constrained game our victorious youth team 0 Midland Youths 0, a side which included a couple of our players who did not make it into the first eleven. Then our augmented 1957 cup final XI 1 Midland Old Stars XI 2 Villa supporters going to the game had been able to become first users of the Aston Expressway and parts of the Gravelly Interchange. Barely 3,000 people added to the fund for Mush, who had been a member of the 1937-38 second division-winning team then ever since a maintenance man at the ground. Sadly there is a postscript to this game in as much as two days later Mush was found dead in a gas-filled room at his home in nearby Jardine Road, aged 62.
In another youth match at Villa Park England Youths, who had included Gidman and Brian Little, were surprising beaten 0-1 by a Scottish Youth eleven which included Bobby McDonald and were under the guidance of Tommy Doherty. Perhaps we were now being saturated with football, because only 2,218 could be bothered for a second night running
A staggering 45,586 turned up at B6 on a Friday night to see captain Bruce Rioch presented with the third division trophy ahead of the game with Chesterfield who thus had the distinction of being our first and last third division opponents. Chesterfield played in royal blue so if you have read this far you know what that is likely to mean. It was not a game to remember as Villa seemed overawed by their perceived responsibility to turn on the style. Ian Ross finally got his first Villa goal (68) after which everybody wanted to get in on the act but were thwarted by the amateur custodian guarding the visitors net.
The Villa players then went off on a goodwill tour to Israel and Cyprus. How many replica shirts have we ever sold there?