The triumphant return, in all its glory.
Here we go with another one that's best got out of the way sooner rather than later. We were always going to be StevenGerrard'sAston Villa from the moment he joined, and this was always going to be the Big One in that respect. He's quite rightly one of their all-time greats, he'll get a good reception from them in Devonian, Norwegian and Thai and as he said himself, at the end of the match with a bit of luck he'll be the most unpopular man in the ground.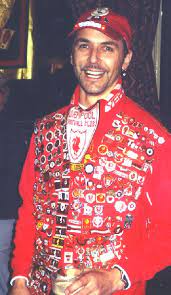 There's not much you can say aboput Liverpool that hasn't been said a million times before. Much of it is media hype, a lot is exaggerated and some of it downright bollocks, but for all that Anfield is still one of the big trips of the season and you can't knock their success. You can, though, knock the media love-in with all things Kop. We've always stood/sat on bigger and better, and we always will. Please God, though, none of the Sign On, cheating Scousers, tired old nonsense all through the match. We should be better than that and besides, they've got him with the badges, Jimmy Tarbuck and DJ Spoony, which is more than enough to be going on with.
They've also got James Milner in their squad and their owner is named John W. Henry, which sounds like a nineteenth century industrialist who starves his striking employees back to work. In the years when they weren't as good as usual you could always get good odds betting against Liverpool because their Far Eastern supporters would always be backing them and pushing the price of the opposition out. We had a decent record against them in those days – Paul Lambert won at Anfield and Tim Sherwood got us that epic semi-final – and many a celebration afterwards was financed by the bookies. You can get 11/1 on us winning this one, which is about right and should pay for a bit more celebration. After all, if Paul Lambert and Tim Sherwood can do it.
.