Stacy Murphy looks back at the past month.
This season has been a bit of a struggle. Not necessarily for the team, although performances could have been better, but for me. My enthusiasm that is. I'm not sure what it is but I didn't feel the I have the usual off-the-scale interest in the club and my level of motivation. The usual light-hearted skip to the ground was becoming slightly more of a McLeish-era trudge.
The whole summer saga of the Jack Grealish transfer, the indifferent start to the season which culminated in Dean Smith leaving after five consecutive defeats followed by the appointment of Steven Gerrard, a player I found it incredibly difficult to like, had zapped my Villa energy. Predictably it didn't last.
Gerrard the manager is a far more palatable character than he ever was as a player and in a short period of time has, temporarily at least, turned around an under-performing Villa squad. Three wins from his opening four games and an impressive showing in the game which broke out in the midst of the media circus which surrounded the match with Manchester City. Those performances have also seemed to improve game on game as Gerrard has become more acquainted with his new charges.
Three of the four have been against teams who keep the ball well, liking to draw opponents out of position with a passing game and it is no surprise that Villa appeared to improve in the second half against Brighton, Manchester City and Leicester. The Brighton match was a cagey affair until the pressing Gerrard likes to employ caused the south coast club to run out of ideas allowing Villa to win the ball and attack the frustrated Brighton back line as they pushed higher up the pitch. The move for the opening goal embodied the growing confidence Villa had shown throughout the game. After winning the ball a threaded pass through midfield gave Ollie Watkins opportunity to run at a tiring defence. Notwithstanding me screaming at him to play in the unmarked Leon Bailey after he had cut inside three Brighton defenders Watkins dispatched the ball high into the Holte End net.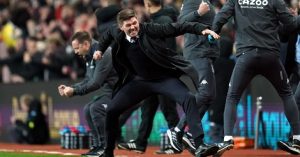 The surge of belief that goal gave the players energised them and was epitomised by Tyrone Mings sprinting to the Trinity Road touchline to slide to keep the ball in play to then do the reverse shuttle run into the penalty area to meeting the returning ball first time with his less favoured foot and into the net. 2-0 possibly flattered Villa a bit in that game but Gerrard had immediately halted the losing streak which had done for Dean Smith and the almost timidity which had spread throughout the squad disappeared when Villa visited Crystal Palace a week later.
At Selhurst Park, still the least accessible ground in the country, Villa were able to play different type of game which involved being on the front foot from the off. Austin McPhee having been widely expected to leave with most of the rest Dean Smith's coaching team has remained in place and, after a lull of relying Matty Cash's long throws, has again come up with inventive set-piece routines. Whether the corner from which Matt Targett hit Villa's early opener though was down to the Scot's playbook is debateable.
Palace, remodelled by Patrick Viera over the summer, were on a reasonably long unbeaten run and hadn't lost at home this season but Villa fuelled by the renewed confidence from beating Brighton ignored the current form table as the Croydon side were second best all afternoon but it wasn't until sub Anwar El Ghazi ran at Palace's defence to create a gap on the edge of the area for John McGinn to sweep the ball first time into the top left hand corner. It was no less than the performance deserved but a slight irritation of failing to keep a second clean sheet was obvious in the new Head Coach's post-match interview.
Despite being surprised by the difference over those two games I still felt more ambivalent than usually would about such a marked improvement in form especially as a media story which had been simmering since August reached the boil; the home game against Manchester City and the return to B6 of their £100 million signing, who in the event sat on the bench like a pantomime villain waiting to appear in the final scene. The possession statistics for the first twenty minutes may well have seen the Villa side of the equation in single figures as City seemed to try to bore us into submission and walk the ball in. Just as we began to get some sort of foothold in that we got out of our own half City decided to start shooting, with Ruben Dias scoring from twenty-five yards. Then as we were thinking about getting to half-time at just 0-1 down a misplaced pass suddenly allowed City a two on one break and Silva's volleyed finish must be one of the best goals Villa Park has seen in recent years.
Credit must be given to Steven Gerrard for the way he galvanised the team for the second half and McPhee again earned part of whatever we pay him for the routine from which Ollie Watkins pulled one back 90 seconds after the break. City still showed what most of £1 billion will buy you but the constant rotational fouls just added to their monotony. These infringements were more necessary because Villa had begun to Guardiola's side and could have drawn level if Carney Chukwuemeka could have hit his shot fractionally earlier. That we were able to force them into trying to keep the ball in the corner to run down the clock in the later stages showed Villa had played well enough to have worried them. The late and ineffectual appearance of our former captain both divided and united Villa fans. While some applauded and others jeered it seemed the entire ground celebrated their allegiance to let him know he is now on the outside of the Villa collective and, by the apparent teary-eyed pictures taken after the game, it seems Grealish understood the sentiment.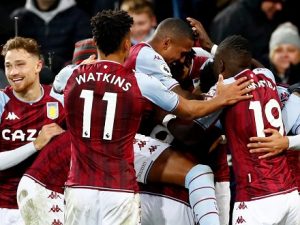 Like Brighton and Manchester City, Leicester arrived in B6 with a passing game but unlike the Abu Dhabi-financed side their players lacked the same quality and speed in moving the ball on to sustainably frustrate Villa into making positional misjudgements. After conceding Villa were able to able to contain Leicester and pull themselves back into the game equalising almost straight away although I still have no real idea why our first goal was referred to VAR. I can though sort of see why Jacob Ramsey's goal was ruled out; a case of officials not understanding the very ambiguous laws they are well paid to enforce.
There is an argument to suggest Kaspar Schmiechel had the ball within his control but it is a very tenuous one which Michael Oliver was ready to ignore until VAR again got involved. Ezri Konsa put himself on a hat trick early in the second half but Villa should have won by a few more as poor finishing could have set up a tense last quarter but our defence saw off Leicester's frankly half-arsed attacking threat. Even bringing on two strikers who I am sure have more goals against Villa than times they have faced us in both Vardy and Iheanacho did nothing for them. Neither did the Man City-esque niggly fouling with James Maddison lucky to stay on after his petulant and deliberate swipe at Chukwuemeka's standing leg.
Steven Gerrard's first four games have yielded three wins and another impressive performance in defeat. The defence again looks like a unit rather than individuals and playing out from the back to create gaps in midfield as the opposition press is something the new Head Coach favours. This did at one point it seem as if Paul Lambert was back in the dugout as Emi Martinez was left with no option but to put a returned ball from a goal kick out for a corner. It is midfield however where the greatest difference can be seen. John McGinn is back to his very best, even if the position of Matty Cash sometimes leaves him appearing to be at right back, and Douglas Luis is showing another side to his game when released from a holding position.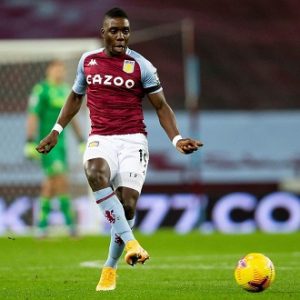 It is the player in that holding role, though, who has impressed most. I think I thought of Marvelous Nakamba as a squad player who struggled with distribution but his ball retention and crucially his passing has improved beyond recognition. No longer does he need to make two tackles to win the ball and keep it. Up front Ollie Watkins has reinforced why he performs best centrally and a route into the team for Danny Ings, when fit, is difficult work out.
One last thing from Gerrard's tenure so far which has been very noticeable is the quality, or lack of it, of the officials. Michael Salisbury's first Premier League game at Selhurst Park was 'interesting' if I'm being kind. Some of the strange calls could have been a result of nerves but the appalling red card decision against Douglas Luiz can have no excuse. I'm not the biggest fan of VAR but overturning decisions such as that is why it is operational as in previous times that would have unfairly disadvantaged us at ground where we rarely win.
The issue of having a poor official looking at the screens for VAR is less easily rectified as was the case when Paul Tierney referred Michael Oliver to the pitchside screen after Jacob Ramsey had put the ball in the net against Leicester. Far be it from me to suggest they were auditioning for a reboot of Chucklevision. Overall the little pulls and pushes to prevent a counter attack are my current main dislike as they go mainly unpunished by almost all refs.
Finally, a message to Steven Gerrard. He has boosted my enthusiasm from its semi-slumber and gained my, still at this stage grudging, respect. He has also re-invigorated the players and reversed a mini-decline. I just hope, and the signs are he won't, fall into the Houllier trap on his return to Anfield.