The darkest hour, the dawn and the greatest night of all, told by John Russell.
The truth really hit home when the fixtures were published. They arrived without the usual air of expectancy of thrills and spills to come against the elite sides but instead there we were, faced with a list of unfamiliar names and no idea not so much as to where they were but where the grounds were actually located. It was easy getting to Anfield or Old Trafford, but where exactly was the ground situated in Chesterfield, our first scheduled opponents? Except that before north Derbyshire we had a Docherty-style tour of Ireland and Scotland. Surely Vic Crowe was not about to repeat his predecessor's monumental folly of too many team bonding exercises?
Losing 1-3 to both Motherwell and Clydebank was hardly likely to be seen as a confidence booster. Fans at home needed to see something better than Colours v Whites so what better than a double header, Stanley Star v Possil Park and invite then League Cup finalists and first division neighbours West Bromwich Albion? At least it might add a few people from Handsworth to the gate and they had not added insult to injury by winning the three-handled trophy. Such practice games are supposed to be full of goals and goalmouth incidents not finish 0-0, but this one did. But at least the light blue sleeves were back. Right from the start the Villa programme was ahead of its time in that it was priced at 5p (1/-) in advance of decimalisation.
If we had to be in the third division the very least expected of us was that we would win the wretched league. There was another double header at Villa Park to coincide with the league opener. Aston Villa III 1 Derby County III 1 followed by Aston Villa Reserves 0 West Bromwich Albion Reserves 2.
Having just won promotion Chesterfield did not expect to set the third division alight but we did. Having found Saltergate it took Pat McMahon a mere two minutes to send an unusually large contingent of Villa supporters into unfamiliar territory when he thrashed the tatter home. It might have been the first goal of the season anywhere but for the fact that the home club were one of those still beholden to the breweries and the game had a 3.15 start.
They then proceeded to give us a couple of scares (18 and 81) but Bruce Rioch twice ensured that it was a good workout (28 and 72) leaving us already dreaming of a successful campaign. 3-2 and more significantly 16,760. Far more than they were used to and an early indication that the other clubs could look forward to a financial bonanza when the visitors from Birmingham turned up. Unfortunately some of the visitors from Birmingham were responsible for some unruly scuffling on the terraces and besmirched the famous name. In the days before it became a criminal offence there was also the possibility of an abandonment if fans ran unchecked on to the pitch to join in the goal celebrations.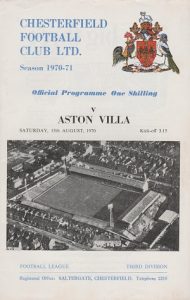 We could hardly wait seven days before the arrival of Plymouth Argyle. If being in the third division was not bad enough we then had to suffer the indignity of taking part in the first round of the League Cup again and against opponents from the fourth tier, Notts County. This led to what would become a fourth division attendance for Villa Park, 17,842 but an easy 4-0 win against a club who were destined to join us in league combat twelve months hence. So, as if you did not already know you can tell exactly where this story is leading.
After seven goals from two starts an expectant crowd of 29,205 turned up to see Plymouth Argyle. They, and I, went home massively disappointed because 1-1 was not how it was expected to be. But after Charlie Aitken had got on to the wrong scoring list and sent the Pilgrims on their way after only seven minutes we struggled to add to our 27th minute equaliser from McMahon. 1-1.
Playing in the third division was likely to lead to all sorts of reunions with players who had left B6 in search of pastures new. First on the list at Swansea, now City, was Barrie Hole. 15,535 with the 535 travelling mostly with the newly-instituted Travellers Club. We gave them a penalty to set them on their way (42) but a new spirit was abroad and we chalked up a merited success 2-1 via Hamilton (69) and McMahon (73), three goals from three starts.
August Bank Holiday Monday had now been moved from the first Monday in the month to the last so instead of seeing the interminably boring Derbyshire at Edgbaston we got to see the counties equivalent in football teams when Mansfield Town made their debut appearance. Most clubs had assumed that despite the change of date their fans would prefer to continue the Bank Holiday tradition of going to the seaside rather than going to a football match but Villa were one of the exceptions and a handful of others also chose to play ball.
We may have wished we hadn't because against all expectations Mansfield Town became the first name on the list of 'teams we could not beat' when worse than that they went home with both points. 0-1. 30,856 may have justified the holiday experiment financially but from the 59th minute serious questions were already being asked as to the likelihood of promotion. An injury to Bruce Rioch did not improve matters.
Finally the long wait was over and Andy Lochhead at last scored a goal for Villa. Two in fact, (7 and 64) and McMahon (49) achieved a fourth in five games as Doncaster Rovers reminded us again of days of yore and the five FA cup games against them. 23,602 hinted that any more disastrous results and attendances would soon falter. Doncaster were not the first nor the last who raised their game for the thrill of running out at Villa Park. 3-2, just.
First division Burnley came next in the second round of the League Cup. But already they were showing signs of joining us in the second division next season and they were not the team we once feared. True to tradition we had no cause to fear them on home turf, and being early in the season we were still playing them on turf, not the infamous Villa Park mud. It is not known whether Tommy Doherty was an onlooker but he may well have been to watch his son play for Burnley whilst Andy Lochhead renewed acquaintance with some of his old mates as he was always thought of as being ex-Burnley and very few realised we actually signed him from Leicester City. 2-0 in front of 28,340 and another unexpected Wembley adventure had begun.
Barnsley may have loomed large in my family history but not in the history of Aston Villa. After we had solved the mystery of how to get to Oakwell expectations were high that we would go above Fulham to the top of the league. But Fulham won at Rochdale and chickens returned to their roosts as we slunk away with only a 1-1 to show for our efforts. Made worse by the fact that their one on the hour had been from a twice-taken penalty. John Dunn saved the first kick only for the referee to order a retake on somewhat questionable grounds. For Dave Simmons, signed from Arsenal two seasons previously and deputising for the injured Hamilton, it turned out to be as case of played one, scored one (77) that season before eventually Walsall beckoned. 13,408 on a day when Sheffield Wednesday had been at home.
Setting aside the events of November 1968 Preston North End who had accompanied us down to the third division were our bunny team – a side we always beat and 26,139 had no reason to expect otherwise. Brian Godfrey renewed acquaintances. Not to be outdone by McMahon, Lochhead became joint leading scorer with a brace (2 and 36) and it appeared that Preston were destined to remain amongst the also rans. Wrong!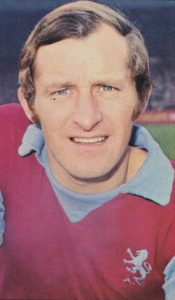 No need to break the bank when we signed Dave Gibson. Just the sort of signing made by lower level clubs – he came for free.
Gillingham had survived relegation in both the last two seasons but on each occasion only in the final match. They were still down amongst the also rans and after goals in the third and fourth minutes, Hamilton and McMahon, the 29,383 anticipated a world record score but they rallied and at 2-1 we were mightily relieved when time was called.
Two trips to Wales this season, this time to the north where Wrexham were managed by ex-Vill mam,John Neal. No problem finding the ground, right next to the railway station. After three minutes we feared the worst. ut Lochhead, then Gibson on his debut steered us ahead. A Hamilton penalty added gloss but we had to withstand fierce pressure after a 77th minute penalty made it 3-2. 18,335.
Then we had a opportunity to take a close up view of our next League Cup opponents when York City and Northampton Town came to B6 for a second round, second replay. The southern team won in front of a crowd of Central League proportions, 2,561. They were followed in almost undue haste two days later by third-place Bristol Rovers and their outside-right, Ray Graydon. 32,082,a big crowd for a Wednesday night, were kept on tenterhooks throughout as Lochhead ensured we hung on for a well-earned point.
It was a not so well earned point when manager Pat Saward brought Brighton and Hove Albion to middle England and six thousand fans disappeared in four days. 26,189. Originally down to play in goal for the visitors was Geoff Sidebottom, who had arrived on the south coast via Scunthorpe. We could ill afford to keep dropping points for the effect it had at the turnstiles.Things were therefore not helped by our first scoreless encounter of the season.
Finally we got to play our long-awaited third round League cup tie at Northampton, flying high in the fourth division.
Curiously the rather odd 'old boy' link this time had been Vic Crowe himself because it was he who, when assisting the manager at Peterborough United a few years back, had been responsible for the appointment of Welshman Rankmore as their captain. Rankmore having now crossed the county to Northampton as captain. After three lifetime defeats to the Cobblers we were pleased to get them back to B6 for a replay although in the 37th minute we surrendered a 23rd minute strike by Hamilton.
But first a journey to one of the real outposts of English soccer, Rochdale where 7,634 was a massive achievement for a club which never garnered five figure attendances. It is inconceivable that we could not beat the bottom club but the inconceivable happened despite Lochhead sending us on our way in the ninth minute. It is a historical fact that we oft had difficulty in beating teams who played on royal blue and Rochdale played in royal blue. A draw for them against such illustrious opponents was considered a major triumph.
Even so, the scene was now set for the expected thrashing of Northampton Town followed by a fourth round encounter with second division Carlisle United and who knows what glory awaits? Disappointingly only 25,822 considered the Cobblers worthy of a second look. But they saw what they expected to see thanks to Hamilton (39 & 65) and Anderson (55).
Mid-table Chesterfield arrived to reprise the opening game of the season and as with most visitors to Villa Park they were inspired by the atmosphere created by a crowd of 27,049 and played above themselves. We were having difficulty in putting such teams to bed and it was possible our home form could be our Achilles heel when it came to our promotion hopes.
But even our away form deserted us when it came to another old boy encounter, this time with Gordon Lee at Port Vale. At least we knew how to get to the ground. But sadly our goalscoring form became a thing of memory as a couple of injury-induced changes led to failings in attack. Harry Gregory, anew signing from Charlton, had his second outing but at £8,000 not much was expected of him so we were not overly disappointed. Goals in the 30th and 83th minutes meant we lost our unbeaten away record and ensured a home victory to the satisfaction of most of the 11,224, by far their best of the season so far.
The arrival of Tranmere Rovers inevitably evoked memories of the great Pongo Waring but a crowd of 20,676 fell ten thousand short of the average from his halcyon days in the 1930s. A solitary 53rd minute goal by Ian Hamilton was at least sufficient for most of them to go home happy and the number three team from Merseyside deflated.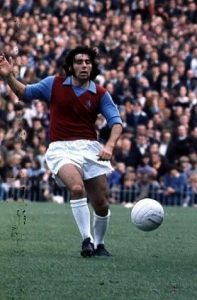 The scene was now set for the arrival of second division Carlisle United for their fourth round League Cup tie. Carlisle were no mugs and nothing was taken for granted. They had reached the semi-final last season, losing to West Bromwich Albion. On 67 minutes we were awarded a penalty. Step forward regular spot kicker, Willie Anderson but after 15 successful attempts goalkeeper Lane turned his shot round the post. As is the way of these things from the resulting corner Hamilton forced the ball home from close range. And close was how it remained until referee Hartley, who is to get a mention again later in this story, brought an end to the nail biting for the 26,779. Promotion rivals Bristol Rovers were to be fifth round opponents, but at Eastville.
First a trip to Elm Park, where for Reading it was likely to be a last throw of the dice in the promotion stakes. After scoring only four goals and conceding four in six games nobody could have predicted the goal fest that was witnessed by 13,312 (up from an average 8,500 and swelled by an increasing number of Villa away followers). Villa led 3-0 at half time and 4-0 by four o'clock then the sky fell in. Nearly. Two goals conceded and increasing nervousness was only relieved when full back Butler gave us a helping foot with six minutes remaining. But still sufficient time for the Biscuitmen to make 5-3 look more frightening than it actually was.
Next we renewed acquaintance with unexpected promotion rivals Torquay United, who came equipped with Dick Edwards and Tommy Mitchinson, a set of gold coloured shirts and a large contingent of supporters keen to sample the atmosphere at such a significant stadium. What 28,099 did not expect us to do was 'Cave in' but after 81 hard fought minutes we did exactly that when Michael Cave scored the winner beyond our one-time Torquay custodian, John Dunn. 0-1 and now we had to face them again in the cup.
Bury, the shortest name in football, were one of those clubs that we could never place. Either on the map or in which division. In 23rd place they only attracted 17,014 away from the television on a Wednesday night.It is doubtful if many of them came from Lancashire as at a recent home match they had been watched by only 2,708. Their manager was well-known to us being the former Burnley goalkeeper, Colin McDonald. The big question is why we only managed to beat them 1-0 and this after a 14th minute, albeit a remarkable back header by Hamilton that looped over goalkeeper Ramsbottom.
Finally after umpteen seasons of dismal failure we have reached our ultimate destination fulfilled. Halifax. No need to enquire where it is, just ask Fred Turnbull who spent a couple of seasons there on loan, honing his skills. Almost inevitably it was to be expected that he would be a goal scorer as he was (78) but rather less predictably it was yet another instance of 'Aston Villa one' and they had already scored twice (5 & 22). Perhaps the third division was where we really belonged, after all. Only 5,845 attended, a thousand above the norm for Halifax so probably made up of Villa supporters. Of note is that Halifax had been the visitors for that 2,708 nadir of support at Bury – not far short of a local derby.
Defeat at Halifax was hardly adequate preparation for a fifth round League Cup tie at Eastville. A chance to put on over our promotion rivals and also Bristol because City had also reached the fifth round (v Fulham) and the city was agog at the possibility of a Rovers v City semi-final or better. Hence in appalling weather an un-Bristol like crowd of 28,760 augmented by a special train from New Street. After only fifty-two seconds McMahon had the 'augmented' in a state of animated over-excitement. But the game was by no means over and there followed another 89 minutes 8 seconds of proper old fashioned cup football. Aided by Ray Graydon, Rovers threw everything including the kitchen sink at us but we held firm to earn a replay. So impressed had Rovers manager, Bill Dodgin been with the fare offered that afterwards, in an act of unsolicited munificence, he sent a couple of bottles of champagne to his counterpart.
But before the replay we had to suffer a further indignity that came with now being members of the third division in the form of a first round FA Cup tie at Torquay As seen from the league placings shown above and their recent victory at Villa Park a visit to Torquay was going to be no pushover. The ensuing defeat was not exactly of Aldershot proportions but it was a rude awakening to any thoughts were might have harboured of a double visit to the twin towers. It might be thought that Torquay once again started with an advantage as they again included Dick Edwards and Tommy Mitchenson.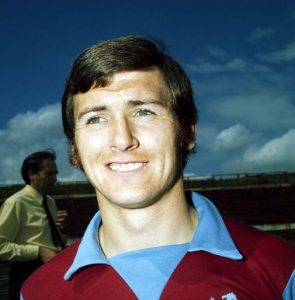 In front of 9,229 Charlie Aitken scored one of his rare goals (26) to set us up but Torquay quickly responded (30) only for Bradley to emulate his full-back colleague and score (37) but sadly it was a score for the opposition. Then unsurprisingly Dick Edwards got in on the act (42) and the 1-3 at half time became 1-3 when referee Smith, who is also soon to feature again in the tome, called time. So for the first time in modern history we fell at the first hurdle.
But we were still in the 'junior' cup and there was now the little matter of the replay against Bristol Rovers, who were now top of the league. In front of 37,525 we left it rather late. It was not until the 88th minute that McMahon finally did what he had threatened to do all evening and we could start planning a trip to Old Trafford. After another thriller it is not known whether Bill Dodgin sent along a bottle of champagne again but you can bet your bottom dollar that Doug did. In the meantime Fulham had moved back to the top and we were four points adrift in fourth. We simply had to win at Craven Cottage.
Fulham were also managed by Bill Dodgin. Not a sudden sacking and job swop but father and son. Te junior version obviously did not get any tips from his father as were stated our claim to the top prize with goals from Hamilton (73) and McMahon (81) to the obvious chagrin of 16,021 mostly Londoners
Bradford City appeared in our fixture list for the first time since the Great War although they had been our first League Cup opponents only eight days after we had won the trophy for the first time. The only thing I could recall about them was that they had once been managed by Ivor Powell. They also came in disguise, spurning their black and amber shirts for a plain white hue. Better to be seen under the floodlights even on a Saturday afternoon, or so it seemed. Before the game Vic Crowe was presented with the Manager of the Month award, invariably the precursor to ignominious defeat. One-goal games were now very much the order of the day as we were not overcoming teams in the manner we had hoped not least because most teams raised their game when they came to Villa Park. Bradford City were no exception and it took a 37th minute strike from Hamilton to settle this affair. If Manchester United had sent any spies to watch the game neither they nor the 23,623 would have seen any cause for concern.
But what was of cause for concern was the threatened strike by electricity workers who had it in their power to bring football to its knees by effectively switching off the floodlights. So much so that the first leg of the semi final at Old Trafford was cancelled at short notice. This only after there had been plans to move the kick off forward to the afternoon, meaning few Villa supporters would have been able to get there.
Just for once it was an advantage having been knocked out of the FA Cup because the second round had been due to be played between the two legs. Instead the date of the second leg now became the date of the first leg. Somewhat unusually United included pen pictures of their own players in their own programme which was simply reissued on the new date. Perhaps they recognised that many of their supporters came from way beyond the confines of Manchester.
In the event upwards of 10,000 Villa supporters made the journey to swell the attendance to a competition high of 48,889. Wembley excepted. What they saw was one of the greatest-ever performances by a Villa team away from home, one so totally out of keeping with the league form so far this season. Manchester United, who were not enjoying the best of seasons, were run off their feet and by the end it was they who had taken on the mantle of being a third division side. Best and Charlton had been so kept in check by a magnificent defence which at times included Andy Lochhead that they seemed glad it was all over.
Lochhead had actually given Villa the lead just shy of half-time with a shot for the ages which was too good for Jimmy Rimmer, destined via Arsenal to eventually become Villa's greatest goalkeeper since D Day. But Brian Kidd was not to be outdone in the manner of classic goals with a header just as stand-in referee Smith had the catering staff in a panic. Villa nearly stole it at the end of a match which featured more than the usual allocation of yellow cards. Meanwhile Bristol City 1 Tottenham Hotspur 1.
The change of dates of the League Cup meant we now had to undertake a trip that we would have preferred to avoid to struggling Plymouth Argyle in search of league points. Villa have always been popular visitors to the West Country and by far their biggest crowd of the season, 12,996 was in attendance. Perhaps with one eye on the second leg we could not maintain our momentum. But the game was in the true tradition of Arygle v Villa encounters. Allen (33) sent them ahead (33) only for Lochhead to strike just as the Pilgrims were anticipating an interval lead. Despite all the give and take it remained that way to the close of play.
The scene was now set for the most exciting game played at Villa Park since 10th January 1948 and it was perhaps a fitting coincidence that our opponents were again Manchester United. All season the Villa programme had been an organ of nostalgia making very little reference to the plight now surrounding the club. But perhaps like most of their supporters sensing that something special was about to happen the game merited a souvenir edition at a souvenir price. 2/- (10p) instead of the usual 1/-(5p). With little to shout over the last two years Ellis could not resist adding his pennyworth to the programme. In what may have been another 'Villa first' the kick off was timed for 20.00.
After fifteen minutes of sptaring – and I use the word advisedly – a long upfield clearance found Kidd who amid screams of 'handball' rounded Tiler and Dunn. Referee Hartley returning to his appointed duty was not to be intimidated by a hostile crowd and in a thrice we were a goal in arrears. VAR might have ruled otherwise. Undaunted the Villa defence stuck to their task and Charlton, Law and Best were kept in check. And spurred on from the terraces by the majority of the 62,500 the Villa were not be denied. Eventually after 37 minutes Lochhead rose high above Ure to head a magnificent header that almost literally brought the house down.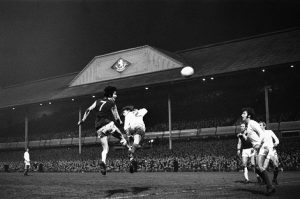 As the second period began the crowd was in a state of agitated excitement and the noise could probably have been heard across Erdington and Edgbaston. Villa players now seemed ten feet tall, not least McMahon when he emulated Lochhead and after 72 thrilling minutes headed us into the lead. Expecting a backlash from United it became increasingly obvious that they had read the script and fully understood their part and so to shouts of "Villa, Villa" we became the third side from the third division to reach the final and like Queens Park Rangers and Swindon Town we fully expected to win it.
Instead of the rush to the exits it is doubtful whether so many people have ever remained behind after the final whistle but everyone wanted to cheer their heroes all the way down the tunnel. And perhaps they were also anxious to know who would be our Wembley opponents. But we were forced to wait because while we were getting over excited Bristol City were holding Tottenham Hotspur at White Hart Lane goalless and it took an extra half before with two late goals we knew it would be the Londoners.
Boxing Day, a Saturday, and notwithstanding the events of earlier in the week a traditional large crowd, 31,186, welcomed a visit from Shrewsbury Town who were in the care of Harry Gregg and included Dave Roberts at outside right. Two goals midway through the second half, McMahon (59) and Bruce Rioch (64) back as sub after a long absence through injury were enough to keep our promotion hopes alive.
What is there that can be said about Walsall that will not have me incurring the wrath of every Saddlers fan? Not as though there are many of them if their home attendances are anything to go by. 19,203 at this fixture was almost four times their average at the time. They are perpetually in our debt, as a photograph in their programme showing them wearing claret and blue shirts in 1930 serves only to emphasise. But, and it is a very big but, they joined the third division clubs we found it impossible to beat when they ran out embarrassingly easy winners by three goals to zero. The explanation for this remarkable score line is not, as might be thought, down to local bragging rights but down to one man. Walsall were managed by William Moore, who knew as much if not more about Aston Villa than did our own manager, Vic Crowe. They also included not so much a Villa reject as a Villa fan favourite who was released because he was deemed injury-prone, John Woodward. The defeat also served as a sad reminder that the game had originally been scheduled for third round day and was only able to be played on that day because both teams had been eliminated from the FA Cup.
Next, an absolutely crucial match – aren't they all? League leaders Bristol Rovers at Eastville again. A certain pre-match nervousness surrounded the fact that Geoff Crudgington, a one-time amateur with Wolverhampton Wanderers was called upon to deputies in goal for the injured John Dunn. Injured in a car accident that is. But we need not have worried. Altogether he was to play for us four times before moving to Crewe Alexandra and was on the winning side every time. Not many can say that. Nevertheless, were we up for it? Yes. Not only because that we put in 110% effort long before that became a legal requirement.
Bruce Rioch, in from the start again, set us on our way on the half-hour then it was all hands to the pump. We kept them at bay for another forty-five minutes. Stubbs (78). With 25,836 expecting them to go on to victory instead we instilled panic in their defence and Lindsay Parsons obligingly added his name to our list of scorers for the season and we played out eight trouble-free minutes. The referee was Fussey. One of the advantages of our being in the lower echelons was that the best referees in the country were not offended when called upon to adjudicate at a lower level, indeed refereeing an Aston Villa match almost became a badge of honour.
Gordon Lee with his collection of free transfers who had won him promotion last season brought them all to Villa Park safe in the knowledge that Port Vale would remain a third division side come May. Whether the same could be said about the Villa was now in the lap of the football gods. Villa fans were now having to mutilate their match programmes to cut off the cup final vouchers from the back page, unaware that hidden problems lay ahead.
No problems lay ahead, or rather not many, when it came to despatching Port Vale except that 'Aston Villa one' heralded a certain nervousness amongst the 28,965. Our league average (26,546) was now double the average of second in line Bristol Rovers (12,303) Bruce Rioch (31) was making a late bid to be leading scorer. Vic Crove was making a late bid to be Manager of the Year as he added yet another large bottle of Bell's Whisky to his drinks cabinet.
John Dunn was back between the sticks for the journey to Millmoor. When asked, nobody except possibly Brian Tiler who was returning to the scenes of his youth, could name the Rotherham manager (Jimmy McAnearney) although at the time everyone knew the name of their outside right though he may have wished it otherwise, Trevor Womble. But their left-half was Swift and he was just that when causing Vic Crowe to have to change his half-time team talk. It is worth recalling that in those days the manager did not patrol the touchline like a caged tiger but usually sat next to the chairman in the directors box. 12,548, not quite their best because they had matches against Chesterfield, Barnsley and Leeds United in the cup but we were still adding substantially to the coffers of those whose financial need was greater than Doug's. Ian Hamilton (66) rescued our day out except it could have been much worse had not Dunn saved a penalty. After thirty games we had now played everybody in the third division at least once.
Don't panic, don't panic. The postal workers are threatening a strike which will jeopardise everybody's cup final ticket. But we have a plan B to make sure they all arrive safely. Season ticket holders will be sent one irrespective, which they will either have to pay for or send back, As if they would.
Fulham were attracting the second biggest crowds everywhere they went and Villa Park was no exception, 33,343. In a typical third division match they did their best (or their worst) to spoil the pre-Wembley atmosphere and would have done so had not Anderson been able to convert a penalty (56) after he himself had been tripped. Though again VAR might have had something to say about the ruling by referee Styles.
Top of the league and there to stay in the (over)confident opinion of captain Gregory. As was undoubtedly the case when Bradford City carried on where Fulham left off. Resplendent in their unusual claret and amber stripes the relatively unknown men at Valley Parade took no prisoners reminding us that this what we had expected the third division to be like from the outset. The fatal goal, and that is not a bad description of it, came from Bannister after 72 minutes. And to think, 10,029 or so have to put up with that kind of thing every other week.
Having played them on fourth round FA Cup day we got to play them again on fifth round day. Rotherham United that is. 27,183 were asking each other "Have you got your ticket yet?" Because if not you cannot rely on the postman you have to go to collect it personally, Whatever you do, do not leave it as late as Villa did to defeat Rotherham at the second attempt. The crews had already left their Witton Lane eyrie and the buses were already filling when Willie Anderson broke the deadlock in the last minute.
It is predictable that every team has an off day before a cup final but nobody expected that to happen to Villa at relegation threatened Bury, least of all captain Godfrey. It was a performance totally unworthy of league leaders and we were outrun and outclassed from start to finish. 7, 51 and 76 is sufficient to tell the bleak story and do not be fooled by our score after 67 hinting at a late revival. That only came from a mistake by their number five for an own goal. Maybe it was the scarcity of onlookers, only 7,516 which added to the funeral atmosphere.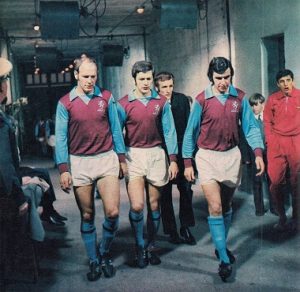 With a chairman in the business it was perhaps only to be expected that the club would go into the travel business and fans would be invited to journey by train not to Euston but to within walking distance of the stadium, Wembley Central. And all for the pocket money fare of just £1/16/- old money, £1.80 new money as it was then. Coaches were also available. Spurs cup final record became played seven, won seven and just as disappointing as the result was the Wembley programme. (Only 10p) Most of the pages taken up by the unlamented Football League Review.
Whilst we may have conned ourselves into believing that we might win the cup, defeat should not have been taken as the end of the world but as the spur (pun intended) to promotion. Licking our wounds we arrived on Merseyside for lowly Tranmere Rovers rather than Liverpool or Everton now in fourth place. Dare I record it third, of all teams was Halifax Town. Watched by the great Pongo Waring, who must have despaired at what he was seeing in claret and blue, Beamish brought us down to earth with a bump after barely 100 seconds and it took a monumental effort to claw our way back, Hamilton (46). Not exactly 90,000 plus, only 6,570 but maybe the snow kept a few by the fireside.
Deemed to be in need of some artillery, where else to go but Satan City? Enter Geoff Vowden. Gillingham were actually the strongest team in the league – holding all the others up. Two places lower than Tranmere Rovers, so no sweat. And that is exactly how it appeared, no sweat, or precious little of it. All motivation seem to have drained away. Gillingham, average attendance to date, 3,938 saw 10,812 pass through the turnstiles to see the once-famous Aston Villa. They must have been massively disappointed with the fare on offer, sufficient to consider taking action under the Trades Description Act.
Anyone whoever imagined that in the current reckoning we would now be adrift of Halifax Town would surely be a candidate for Highcroft. Just as anyone who had us down on the treble chance would be in immediate need of therapy. Turnbull obliged with the expected goal against his former mates (28) but Vowden on his full debut was miles too slow. Just what we didn't need. Halifax did what every visitors to B6 were likely to do and 1-1 was not what the 33,533 went along to see.
Walsall on a Wednesday night in front of 37,643 was not exactly last chance saloon but knowing the capabilities of the Saddlers it seemed that way. 0-0 was probably the favourite selection amongst those who like to gamble on the likely score but at least we denied Woodward and Deakin one of those infuriating 'old boys' goals. The result was far more favourable to them than to us.
Cup conquerors Torquay United then had the opportunity to achieve an unusual double and aided by John Sleeuwenhoek, signed on loan from Birmingham City, feeding Tommy Mitchinson they very nearly did so. Especially after Kitchener set them under way after 25. But Vowden had obviously benefited from playing with our ex-Dutchman and opened his and our account just three minutes later. A late penalty save by John Dunn ensured the point. 6,792 was having a dispirited effect amongst those expecting many times that number.
Despite a defeat followed by five consecutive draws we were still in with a shout at Doncaster Rovers and there seemed no cause for panic. Ninety minutes later there was every cause to panic. Lew Chatterley now on load at Doncaster Rovers, did not make the twelve Rovers, in 23 place had very little difficulty in winning 2-1 even after Gregory, an emergency centre forward if ever there was one, scored after 600 seconds. 7,879 could hardly believe what they were seeing when Robertson (27) and Kitchen (30) proved the current fallibility of Aston Villa these days. 1-2.
Then Villa Park was given over to another FA Cup semi-final. A Wednesday night replay Arsenal 2 Stoke City 0, 62,500
There was no suggestion that Dunn was not up to the mark as our custodian but just in case we took the inner circle 8 to Bordesley Green again and came back with Jim Herriot. He never made it beyond the Central League.
Despite all our trials and tribulations we were still in fourth place but supporters were beginning to abandon hope and vote with their feet and still with eight games to play only 23,571 thought Swansea City worth attending. But at last a victory and two goals for the maligned Vowden (5 & 78) and one from utility right flanker, Gregory (13)
Pat Saward gave us a Good Friday welcome us to the Goldstone just as he and we were very much in need of two points. I hesitate to suggest that we obliged him but there is a feeling that we can no longer punch a hole in a paper bag. 22,687 and 0-1 (Napier 75) is more than needs to be said.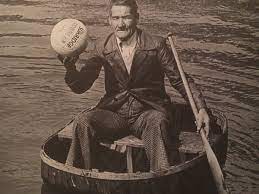 Abandon hope all those thinking of going to the Gay Meadow next day. With the coracle man on the River Severn more attendant than usual 13,636 were expecting him to be frequently brought into action more. And remember no changing the ball, the original had to be kept in play as much as possible. Perhaps the journey proved too tiring. How else can Shrewsbury Town 2 Aston Villa 1 survive close scrutiny? Groves (18) until Turnbull vacated his post at number five to show the likes of Lochhead (no goal since Christmas) Rioch (ditto) and Anderson (one goal this year) how it should be done. Only for Dave Roberts to score the obligatory 'old boys goal' while we were still trying to sort out who was supposed to be playing where.
Barnsley (famous export, Danny Blanchflower) under the new improved whiter than white Villa Park floodlights on Easter Monday. Three games in four days as there were the time when footballers were expected to earn their corn.That may well explain the 0-0 every bit as much as recent events explain the only 20,700.
Two games in a week was then almost too much for the diehard Villa fan given that we were now seven points shy of runners-up, Not quite out of it mathematically but out of it in the real world. 18,389 v Rochdale, more out of habit than any other reason. Vowden scored the winner after only seven minutes and then it all became very end of season
A point against the Villa or better still for them a win virtually guaranteed promotion for Preston North End who, if you remember, came down with us to the third division. Thus comprehensively adding insult to injury for our post-Wembley failings. 22,616 applauded the Invincibles for achieving a less than exciting 0-0.
Mansfield Town, another of the teams we could not beat, was meant to be the venue for a promotion celebration but it was merely typical of all that had happened in the last two months and virtually became a wake. Roberts (17) and Thompson (53). 9,666 were left looking forward to the cricket season.
Not quite at Villa Park where the 18,733 who could be bothered came to witness what became the near-final ignominy. 2-4 against Wrexham was just about as bad as it could possibly be.
It is a wonder that 15,666 turned up on a Tuesday night to witness the final denouement, Reading. Crudgington vice Dunn so those who are following the story know that we won, 2-1 which is about the best that can be said about it. A swansong for referee world-class Leo Callaghan, I believe. Nobody was even daring to contemplate next season.
Remarkably given the results no fewer than eight players appeared in more than forty of the forty- six games. Leading scorers both with nine goals each were Hamilton and Lochhead. Therein lies the explanation for our paucity.