Leicester City at home on Sunday afternoon. Bring it on.
There's an argument for saying that the match with Leicester is the most significant of the season to date. So far during the reign of Steven Gerrard we've had two games against teams that are roughly our equals and a soap opera that was never going to teach us much. Now, with all the fuss over the new manager dying down we're playing the sort of opposition who are a bit above us but definitely within reach. On our march towards world domination they're the next level we've got to overtake so this is definitely one to show how much progress we've made and how much we still have to make.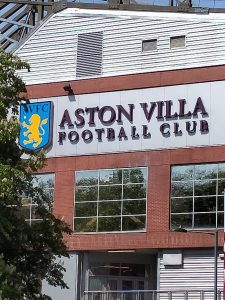 Everyone knows about Leicester over the past few years. From avoiding relegation to an unlikely league title, an almost as unlikely FA Cup and top six regulars, they deserve some credit for the way they've gone, or they would do if it wasn't for the fact that they're Leicester, which all that entails. A strange club from a strange town and supporters that are downright odd. Be honest, have you ever met anyone from Leicester except at the match? Perhaps they all get shipped in on matchday and kept somewhere safe the rest of the time. At least they've got over that comedy obsessional hatred of us; perhaps they could give lessons to a few other clubs.
Leicester have got the little lad of our old keeper in goal plus Ryan Bertrand, who if you haven't blanked out all memory of the time was on loan here ages ago. They've also got Marc Albrighton, and if you want to know how we treat a genuine one of our own, listen to the reception he'll get first chance we have. If you're really lucky you'll hear the media saying something positive about it.
We haven't been too clever against Leicester for a few years. In fact, even when we were better than them we've invariably been downright awful when we played them but they're inconsistent this season, and again we should be able to get three more points to take another step forward. However many steps we take they'll be quicker than the traffic on Lichfield Road after the match.
Comment on this post here.