Looking forward to a trip to Selhurst Park with the usual optimism.
Crystal Palace away. Three words that strike fear into the heat of the unwary traveller. Not that it's dangerous, or intimidating, or even these days particularly uncomfortable. It's just…. well, it's just Crystal Palace away. Too far from the centre of London to be convenient by train, too far from the motorway to want to drive, too far from anything to enjoy. It's strange to call anywhere that's part of such a huge metropolis remote, but that's Selhurst Park. And they've got those little drummer boys getting on your nerves as well. You're from Croydon, not Milan.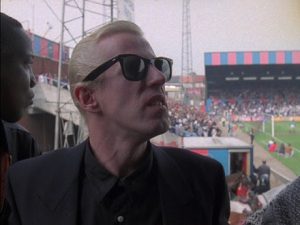 Part of this cynical-er than usual rant is our record at Selhurst, which is even more diabolical than it usually is anywhere else. We've won there a few times, at times when we don't expect to, but memories of travelling are invariably accompanied by dispiriting performances and even more dispiriting results. Whoever's played their home games here, they immediately became our bogey side. Still, all bad things have to come to an end and Saturday afternoon will see another of them.
Palace have got Jordan Ayew, who you've probably forgotten about, and Christian Benteke, who you nevr should. Apparently he's in a decent run of form now, although such things are all relative. If ever a transfer worked out horrendously for all concerned, his was the one. The other Andy Gray was in their all-time XI as well. And while we're searching for tenuous conenctions, if you look really closely the match where Yeti and the Buccaneers turned up at the end of The Firm (the proper one, not the dayglo re-make) was Palace v Villa in 1988. We drew that one-one, which was a beter result than Bex got.
After a few years bouncing round the top two divisions Palace have settled in mid-table. That's where they are now and that's where they will without a doubt finish the season. This is the sort of game that will show whether it's not too late to think about dusting the passports down, or whether we should still be keeping an eye on who's below us. So, a draw it is then.