John Russell writes about the season of revolution.
"The programme you are about to see is true – only the names have been changed to protect the innocent." So said Jack Webb at the introduction to the 1950s American TV detective series, Dragnet. Except that in the story you are about to read here the names do not need be changed to protect the innocent because no-one is innocent, everybody is guilty by association. And being an eye witness account its pedigree is not in doubt.
The season started where many used to finish as a cup final treat for the players and staff, with a visit to Bedford Town and a prophetic 0-2 reverse. We had acquired only three new players, having finally persuaded Mike Ferguson to join us from Blackburn Rovers and making their debuts as substitutes the infamous pairing of Hector and Oscar Arce. This was followed by a more successful journey into Shropshire which ended in a 3-2 win at Shrewsbury Town. Then began the tradition of a visit to Walsall, still at Fellows Park, notable for the fact that Mike Tindall was now stationed at half-back for the Saddlers. Then a second journey into Shropshire, this time for the second eleven at Wellington Town (now trading as Telford United) 2 Aston Villa Reserves 2.
Fans at home, deprived of the traditional Colours v Whites clash, got to see the reserves twice before the big boys showed up. Aston Villa Reserves 0 Liverpool Reserves 0 and Aston Villa Reserves 1 Bolton Wanderers Reserves 0.
But while this had been going on the season proper opened, appropriately enough at a cricket ground that saw a hint of things to come when, fresh from the first division, Sheffield United 3 Aston Villa 1 was pleasing only to the vast majority of the 17,707. Already it was obvious who was the more likely to be back in the top flight next season. Still exempt from the first round of the League Cup, we had the week off before the arrival of Fulham.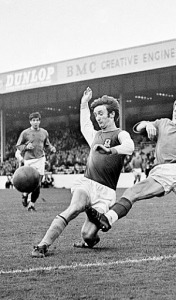 After missing out at Bramall Lane John Woodward was back and as a result, so too was optimism. It was misplaced because Fulham opened their account in only the third minutes and we endured another 83 minutes of frustration before Woodward put the world to rights after running himself into the ground. 1-1 and 20,937 to start things off was considered 'not bad'.
But nearly two thousand of those absented themselves two days later for the visit of Millwall. 19,057. We possibly paid the penalty for still insisting on playing on our traditional Monday night. An Anderson (26) penalty was all we had to show for nearly ninety wearisome minutes and it was perhaps no surprise when Millwall grabbed a point with only one of the minutes remaining. There was even less joy for the few who helped make up the 12,666 at Blackburn Rovers where the home team seemed to have little difficulty in recording two goals to our zero. Withers alone was responsible for the just 'two'.
Bristol City had enjoyed themselves at Villa Park only a few months earlier and we had no reason to feel confident of righting that wrong. Except that this time we had Woodward and I hardly need to record that he was the match winner after 73 much improved minutes. 17,679; hardly enough to satisfy the bank manager.
After just missing promotion at the first attempt last campaign, Stan Mortenson next brought Blackpool back to the city, this time as manager rather than player. They again demonstrated that they would be there or thereabouts and on form their one-goal success was no real surprise to the 18,919.
Monday meant Aston Villa Reserves 2 Wolverhampton Wanderers Reserves 2 as Wednesday was reserved for the second round of the League Cup. It was our misfortune to be drawn against Tottenham Hotspur, albeit at home. And they brought Jimmy Greaves with them so it was no surprise when class told. 1-4 but 24,777 were well satisfied and Villa could not be faulted for effort. But it was a false dawn when it came to second division opposition at Derby County, not helped when they scored after only thirty seconds. Early goals against Villa are becoming the norm. Captain Ferguson scored his first Villa goal but after 85 minutes it was no consolation as they had already scored three. 23,323, but probably only because it was a local derby of sorts.
Villa now seemed to have a goalkeeping problem entirely of their own imagination. Under pressure for so long Withers had made a couple of elementary slips and it was considered that Dunn was now the preferred choice. But as was to be expected with a fragile defence, he too came under pressure and was prone to the odd error.
Barrie Hole, who had recently played against us at Blackburn Rovers, was acquired in the hopes of his filling a hole in our defence (Pun irresistible, and intended). His debut v Hull City ended 1-1 so he may be said to have partially succeeded without unduly excelling himself in the pouring rain. 17,683 were not sorry when it was over.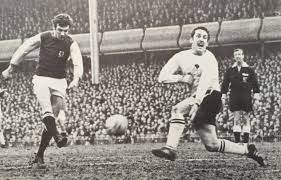 There is something utterly depressing about being at Bolton Wanderers on a miserable Wednesday night in September. Especially when they tear us to pieces and 1-4 is hardly a reflection of their superiority. It might not have been so bad had they been anything more than a mid-table outfit. 14,279.
The same can be said about Birmingham City, only more so as they were 21st and we 20th when we turned up at St. Andrews. This time we did not even have the satisfaction of a goal in response to their four. 40,527 masochists turned out to witness what at the time was the death of football as we know it in the second city.
A trip to Highfield Road for an unusual Friday night game ended Coventry City Reserves 0 Aston Villa Reserves 2. Our team included Withers, Broadbent. Woodward, Greenhalgh and Arce x2 Begging the question who we were going to see tomorrow. Perhaps Cummings just threw the names into a hat.
Oxford United had done a Northampton Town and come from nowhere in next to no time. If our task was to send the upstarts back to where they came from we made hard work of it. But after the last two disasters goals in the forty-second minute of both halves (Hole, a first and Godfrey) gave a certain symmetry to the occasion for the 17,083.
Cardiff City were just two points behind leaders Charlton Athletic, we were 21st so not much cause for optimism at Ninian Park but it is always useful to have somebody 'coming home to Wales' (Hole) and we came back from a goal down after a Bovril break goal to equalise on 72 (Godfrey). Not many would have the match down for a draw on the treble chance. 1-1, 17,136.
Cardiff to Bristol is not far, unless there are three days to fill in between. Three days which may not have been filled with much practice as the City eased to a 70th minute single goal which saw them move away from us at the bottom of the pile and made relegation to the third division more a probability than a possibility for us.
I make no excuse for referring to Crystal Palace as historically our satellite club even though they would never acknowledge it. Palace had the better of things for most of the game, leading to the inevitable sounds of discontent, particularly from the Trinity Road stand. It took an Anderson penalty (78) to restore equilibrium after their Bovril-time strike otherwise it was difficult to see where a goal was coming from. 15,876 as gates continue to dwindle.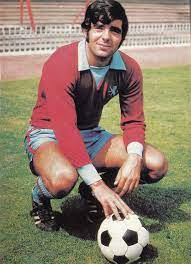 When arriving at Carrow Road we were bottom of the pile. We did not exactly cut the mustard (you would have been disappointed if that pun had gone unmentioned) but a point is not to be sniffed at in such circumstances. Although we totally lacked the ability to add to a third minute gift from Norwich at least we held on after they came back thirteen minutes later.
If we cannot beat Carlisle United at Villa Park then relegation to the third tier will be more or less a certainty. Well, we did not beat Carlisle United at Villa Park. Not quite so surprising, given that Carlisle had just taken seven points from eight and brought a few bricks with them from Hadrian's Wall. 14,971 went home thoroughly disgusted at what they had seen and the way things were going.
The one place with worse attendances than B6 was Huddersfield Town and they were next. 9,346, odd really as they were unbeaten at home. We were never likely to dent their record despite a third minute strike by Ferguson. In a deluge which might easily have led to a postponement they completely outplayed us with three second-period goals. The scene was set for the coup de grace although at the time nobody could possibility have predicted the date nor the outcome. Once again I will tell you first hand quite how it came about.
9th November 1968. Not exactly a date that will live in infamy but a date that changed the history of Aston Villa. Aston Villa 0 Preston North End 1. The story has already been told as The Own Goal that Started a Revolution and subsequent events as The Digbeth Story. So setting those aside, this is what happened next on the pitch and in the stands.
With Cummings set aside Arthur Cox was now temporarily in charge of the team at mid-table Portsmouth. But if the players had taken note of what was going on, or not going on, they certainly did not roll up their sleeves, and Villa fans were not going to swell the numbers on the terraces. It was business as usual, in fact fewer than usual at Fratton Park, 18,154, and no signs of improvement as Pompey eased themselves into an easy victory, 0-2.
Two days after Digbeth, Middlesbrough came with promotion aspirations. Perhaps sensing that something significant was happening we defended in depth but still couldn't score until after 73 minutes we received help from Rooks and perhaps a second consecutive own goal decider might yet play a major part in the history of Aston Villa. Events behind the scenes did not suddenly encourage the missing thousands to return and only 15,159 could be bothered.
If that was a poor turn out it was nothing compared to the next match at Bury, 5,609, so Villa supporters were not so much thin on the ground as non-existent. On attendance figures alone no-one ever expects modest Bury to beat the 'once great' Aston Villa, especially as they were only a point better off than us. After ninety minutes, though, they were three points better off and we were firmly entrenched at the foot of affairs. This despite recovering from a two-goal deficit and we were unable to offer much after they scored again after 80 minutes. 2-3.
There was no Digbeth bounce on the terraces either and when only 12,747 people deigned to turn up to watch promotion hopefuls Charlton Athletic everyone, especially the press, began to wonder what all the fuss was about. They missed a nil-nil that was marginally better than most nil-nils and which we ought really to have won with a bit more steadiness in front of goal.
Every team in the league seemed to have eyes on promotion – only four points between top and ninth – and Crystal Palace, who were next in the queue, were no exception. When we pulled a goal back after 75 to make it 1-2 we had visions of an unexpected point but Palace soon dispelled all such thoughts and ran out easy 2-4 winners. In the cold only 11,071 and we probably accounted for the 71, if that.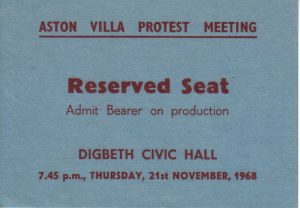 Doug Ellis was now in charge and when he appointed Tommy Doherty as manager the whole world changed. The Doc added a few thousand to the gate on Christmas shopping Saturday, 19, 923. And the new manager syndrome immediately came into play. In four minutes actually, the time it took Dick Edwards to open our account. A late equaliser from Norwich City threatened to restore normal service but Barry Hole celebrated the presentation of his Welsh cap beforehand with an even later winner. 2-1, the sky is claret and blue again.
All the more so after a Boxing Day visit from Cardiff City. The excitement now surrounding the club led to 41,250 making their way to Villa Park. All the more amazing because the weather was so poor that a postponement was very much on the cards all morning but no referee, least of all Mr Sinclair from Guildford, was going to have the courage to spoil Doug's big day. There is no doubt that otherwise the match should not have been played and the more it went on, the more likely an abandonment was a distinct possibility. But fighting for every ball such as had not been seen all season we rose to the occasion and Cardiff were helpless in the face of such an onslaught. Hole (31) and Tiler (70) does not tell the full story of our domination. A rare choice of words for Villa 1968. At the same time the reserves game at the Hawthorns had been postponed so the second team were able to see at close hands what was now expected of them.
Where better to continue the rise and rise of Aston Villa than at Carlisle United, even though incredibly the home team had lost only one of their last fifteen, this after winning just one of their first twelve Anything they can do we can do better. After recent games we were now at home on a bone-hard pitch and Anderson settled things in our favour on 65. First away win of the season, three in a row, we're on a roll.
After falling out with the powers that be at Rotherham United Docherty had a brief spell as manager of Queens Park Rangers before Doug decided that such an erasable man was just what Villa needed. And Queens Park Rangers were next so Docherty had a point to prove. Having won promotion at Villa Park in the last game of last season the visitors had nothing to fear from a repeat visit when the FA cup draw was made and it is true to say that at the time nobody would have given tuppence for the Villa chances but times had changed. Not surprisingly they were struggling in higher company, so were bottom of the division. However, whisper it quietly, but Villa were now favourites. And so it proved. 39,854, just like old times, but then the cup is the cup. After they had taken the lead on 39 Godfrey scored a sensational equaliser. Whereupon instead of stamping in the Trinity Road stand, a full-throated Villa roar. Something barely heard all decade. The team responded in kind and Martin (68) put the world to rights.
Nothing to fear from the visit of Huddersfield Town and the Doherty bounce continued as 29,029 saw right-half Barry Hole (8) continue his bid to be our leading scorer. Fog became our greatest concern before a light breeze came to our aid.
Having unwittingly been the instigators of a supporters revolt surely we must be good for revenge and another couple of points at Deepdale. And so it proved right up until the 89th minute when instead in the pouring rain left-back McNab gave them a first double over us in nearly fifty years. 15,252 and we might even have registered more than the 52.
That was certainly the case when a reported 7,000 Villa fans hit the trail to first division Southampton in the FA Cup. 27,581. Twenty thousand home fans did not see the Saints go marching on. This revitalised Villa, now feeling second division safety was likely clearly decided to give the FA Cup a real go. Godfrey (9) and Hole (22) seemed to have set us well on the Wembley trail before goals in the 62 and 76 meant we had to start all over agian in a replay at Villa Park four days later.
A truly astonishing 59.084, mostly Villa fans because they did not bring anything like 7,000 supporters with them. Mike Channon, still with dreams of fame as a racehorse trainer, put them a goal up, (15) before Broadbent (25) and Martin (67) set us on the road to White Hart Lane.
Strangely, possibly as a result of so many serving there in the navy Portsmouth were often one of the better-supported clubs at B6. But the Pompey chimes were silenced on this occasion following goals from Rudge (53) and Godfrey (78) although the pouring rain may have done much to dampen their enthusiasm. 31,593 and we were now boasting of being almost the best supported team in the league. Average 20,352. Ironically, Birmingham City despite their poor season were way ahead with a 27,086 average.
Then benevolent Uncle Doug decided to help struggling Walsall and took along a team for a fund raising match. We were generous to the extreme in putting out an entirely different team in the second half and going down 0-3. Mission accomplished. At the time of writing Walsall FC still exist.
The weather now intervened again and we missed out on a trip to Middlesbrough. But worse, the fifth round FA Cup tie was also doomed. Unusually every tie in the sixth round draw was then 'either or', sixteen teams for eight places. Our game was rearranged for the following Wednesday night and to their eternal credit Tottenham Hotspur agreed to buy back the tickets of any Villa supporter now unable to attend. There may have been an ulterior method in this perceived generosity as they were now able to resell the tickets to their own fans and 49,876 turned out, though undoubtedly more than fifty thousand would have been there on a Saturday. Safe to say we absolutely gave our guts, although giving our guts is rarely sufficient against Jimmy Greaves. Nil-nil at half-time, Hole equalised his 51st minute penalty after 65 but England (69) and Greaves again (74) held sway. Broadbent (89) made it look closer than it was 2-3. But thus it was that Tottenham achieved a rare cup double in having knocked us out of both the League Cup and the FA Cup in the same season.
Never mind, with our new fighting spirit we actually get to play a team below us. Bury, 20th to our now 18th. We extended the gap when Rudge (73) settled the nerves in what would have been a disastrous setback. Especially as the crowd had risen to 28,010.
Next to The Valley again, where we saved the infamous Pools Panel from having to adjudicate on one of our matches. 1-1, so getting three points on the Treble Chance even if we only got one for our efforts. Simmons, newly arrived from Arsenal after Greenhalgh had left for Leicester City, took only four minutes to open his Villa account but 22,021 saw Moore (33) deny us our just deserts in a dour struggle.
He's a gud un. Especially in the eyes of 27,480 who saw his brace against Sheffield United (58 and 69) following another early goal from Hole (4). 3-1, the one (61) causing a bit of anxiety, but not much.
Then to Middlesbrough for the rearranged fixture and a creditable nil-nil. 29,824, and their biggest crowd of the season, as befitted a team in second place. A dour defensive draw was almost an achievement after all that had gone on in the first half of the season.
Perhaps to fill space, or perhaps to remind us of where we are now aiming, the Villa programme again included the first division table. But ever desperate for a feelgood factor to cling to we were now top of the league on matches played since Doug took control. The reality was very different, although we were now ten points clear of Oxford United in 21st place and Fulham 22nd.
Fulham at Craven Cottage were next. And dour is now the new norm but at least interspersed with a couple of goals, both scored by Fulham. An og for us (15) and 52 for them. 15,509, almost exclusively Londoners ,were not best pleased.
Far too many children are getting separated from their guardians at Villa Park so we set up a Lost Children's desk in the Trinity Road stand. Rumours that certain players were seen wandering there during the second half of the Blackburn Rovers match are unfounded but something was absent when we 'treated' 27,624 to a 1-1 against a team with a poor away record. Their late equaliser (83) came completely out of nowhere.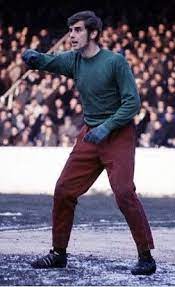 We then had to give over Villa Park to an FA Cup semi final Manchester City 1 Everton 0. The one not coming until the very last minute. 63,025. Meanwhile the 'real' Villa supporters were in Blackpool where we chose the first minute to silence most of the 12,148. Then in the face of a fierce response our defence held out until the 86th minute, thanks mainly to goalkeeper John Dunn, the automatic choice since October.
Friday night at the Baseball Ground, Derby County Reserves 1 Aston Villa Reserves 1, a prelude to events next day when league leaders the real Derby County were the next visitors to Villa Park. They left as league leaders thanks to a headed goal from the most unlikely source, Dave Simmons, back defending as all good forwards were now required to do in this eleven man game. Gone are the days when the two wingers merely stood on the flanks as observers when the opposition had a corner. Sounds obvious now but that is the way it used to be. It happened on the stroke of half-time and all our second half efforts were thwarted. 49,110 gives a clear indication of our expectations and our improvement.
Good Friday can mean only one thing – Millwall. We went for years avoiding playing on Good Friday, and never at home as it was a normal working day in Birmingham. Such is the way the fixtures were compiled that playing away on Good Friday always involved a trip to London. But as results go it really was a good Friday. A goal by Martin (81) substituting for an injured Broadbent sending 15,100 back to their dockside cranes next day in less than good humour as it ended any feint hopes they had of promotion.
No need to rush home. Stay the night in Oxford for the possible demotion next day of United. But in reality the 17,072 saw the relegation of Bury and Fulham instead as Shuker scored after 17 minutes and then they defended to the death what they held.
Easter Tuesday and a not so attractive visit from lowly Bolton Wanderers. When their centre-half headed us into the lead straight from the kick-off a rout was on the cards but with one eye on their summer holidays we stopped playing with the inevitable result, 1-1 and 25,414 disappointed onlookers returned to work next day.
All we had to look forward to now was a Second City derby free of all tension save for bragging rights for 52,772 there to enjoy the hopefully relaxed atmosphere. Villa supporters enjoyed it most, not least when Simmons added to his goal tally in the 55th leading to queues at the late-night newsagents and the Sports Argus selling out. It would have been a fitting end to the season but we still had to go to Hull City. We clearly did not have the heart for the game and neither did they or most of the 10,537. Wilkinson won the game for Hull in the 18th and we played out the remaining 72 like a practice ground jaunt.
Bearing in mind that we had started the season with totally unrealistic promotion hopes and were in bottom place until Christmas a final positon of 18th was almost seen as a triumph, at least it was to Ellis and dare I say it to myself, who was vindicated for the changes wrought even though I had considerable reservations about the publicity seeking chairman. It tells you everything that our leading goal scorer was Anderson with a magnificent SIX goals.
Comment on this story here.