John Russell records the season when Villa, after years of trying, finally reached rock bottom.
Although it took place in May and so may be thought of as an end of season tour, Villa effectively embarked upon a pre-season team bonding exercise when they accepted an invitation from Vic Crowe and Phil Woosnam, now in Atlanta, to become pioneers in trying to sell soccer to the United States. Suffice to report that the five team tournament was a total disaster from a Villa perspective and probably set back soccer in America for another thirty years. Even more incomprehensible was the fact that when the tournament was over Villa opted to stay on for another two futile exhibition matches.
But supporters at home were led to believe that all was hunky dory and that tommy Docherty was "building a team for the first division" when he signed Ian Hamilton and the Rioch brothers. Perhaps he meant the non-existent USA First Division because when the new season started with a trio of practice games the players were manifestly short of practice.
Change was in the air right from the start, first of all with a new magazine-style programme with a cover which changed on the whim of the editor between claret and blue in order to confuse would-be pirate programme sellers. Why anyone would want to print pirate Villa programmes is a complete mystery except that some of them are now worth more than the originals.
Then total confusion reigned at the first game when we entered the field wearing not claret and blue but yellow shirts. Except nobody thought to tell fans in advance and so it was assumed the Italian under-21 team was first into the arena. I have no idea whether any of the youngsters on view ever became household names in Italy but few if any of the Villa players ever became household names beyond Witton Lane. The 1-0 victory was deemed a satisfactory workout so Doug took his new toy on a fact-finding trip to Regensburg to test out the likely holiday market in Rhineland. Perhaps he had heard that there was a Villa Park in the town alongside the Danube. A very pleasant area of parkland but which otherwise owes nothing to its more famous counterpart.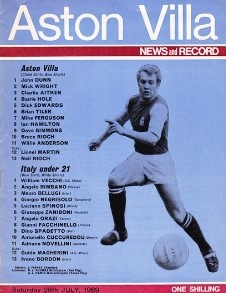 All we got for our troubles was a one-goal defeat ahead of a visit to B6 of the third-best team from Scotland at the time. Asked to name the third-best team in Scotland, Dunfermline Athletic does not immediately spring to mind but having won their domestic cup they had then reached the semi-final of the European Cup-Winners Cup so they had the credentials. They even provided us with a half decent game which we won 3-2 wearing claret shirts with only a hint of blue – collars while they were still in vogue.
To open the campaign it was the visitors who wore yellow, Norwich City. All the pre-match talk was of how we were going to set the second division alight and fans could look forward to a return to the first when it was all over. The reality was to prove so very different, not after 42 matches, but after a mere 42 minutes of this sad encounter. Anticipating a rejuvenated Villa we were treated instead to the ramshackle Villa of old more in keeping with the dereliction exposed as parts of the ground were being supposedly modernised. It was not helped when an injury to captain Edwards led to Rudge becoming an unlikely left-back. Unfortunately for us Norwich had an ex-Baggie, Ken Foggo on the right wing and the consequence was to this day remains the worst opening day game ever seen at the Hallowed Halls.
For our sins we were then required to take part in the first round of the League Cup for the first time, having previously been exempt from such indignity. This involved a trip to Chester, where we renewed acquaintance with their manager, the diminutive Ken Roberts, not somebody who had been viewed as managerial material. But at least we won 2-1. Little did we realise that it would be over a month before we could say that again.
A trip to Huddersfield Town proved if proof were now needed that ours was not a promotion-winning team but despite the two-nil thrashing I do not think what many actually believed that it was a relegation team. Despite the evidence of our eyes we still believed in all the Docherty spiel. I do not know whether the team returned home or stayed up t'north before turning up in Carlisle three days later but before 12,504, a good crowd for them, the once famous Aston Villa achieved a 1-1 draw. Both goals coming in the 50th minutes, theirs first, but the first league table of the season already had us in last place.
The Football League has always secretly hoped that a minnow would win the League Cup if only to encourage them to keep taking part. Their wish came true when Swindon Town who had emulated Queens Park Rangers turned up at B6 to remind us what our birthright looked like. From previous paragraphs you already know the victory was not going to be our lot. Attendances were still holding up but possibly not for long as 29,767 witness another dismal performance, 0-2.
Relegated Leicester City were next on the agenda. They brought a goodly number of supporters with them, swelling the attendance to 33,838. With Andy Lochhead at centre-forward they demonstrated that they were much greater potential champions they we were ever likely to be. Although 0-1 suggests it was closer than the score suggests, it was not.
A trip to Middlesbrough was not something to be looked forward to with any optimism and the air of despondency which was felt amongst the travelling few translated itself on to the field, or vice versa, 0-1 and our fifth defeat from six.
Albion were threatening to join us in the second division next season when they came to Villa Park for the second round of the League Cup, always assuming we would still be in the second division next season that is. Finally at the fourth attempt we managed to score a goal at home when Hole equalised after 71 non-minutes. But seven minutes later Jeff Astle predictably got the better of Dick Edwards and 40,303 headed for the outer circle bus in various states of joy and despair, Suggett having opened the Baggies account on 25.
Millwall with two points against our one and with the worst defence in the division gave the 23,728 some thoughts that this was finally to be 'our day'. But two goals by Derek Possess, 53 and 55, silenced further a crowd who had long since given up venting their spleen with footstamping and derisory chants and we sat back to await our fate. Unaware they we had in our midst a super sub after Hamilton retired hurt. Two goals by Dave Rudge, 64 and 66, had us almost in a state of disbelieve as victory beckoned but Millwall held out. 2-2.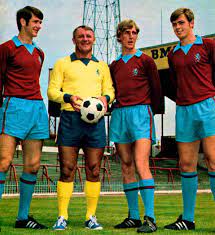 Watford, two draws and five defeats welcomed one of the "most famous clubs in football history, the Mighty Villa", two draws and five defeats. Somebody surely had to record their first victory of the season. If you've read this far you know it wasn't us, and worse, there could be no argument about the result. 0-3 is about as bad as it could possibly be.
Relegation was now seriously being talked about.
A midweek trip to mid-table Bolton Wanderers was not seen as a panacea and that was the way of things. Nor was it enough to excite the citizens of Greater Manchester and only 11,407 gave up on Coronation Street. All that can be said about it is that we actually scored a goal, Bruce Rioch 62, but Bolton had already scored twice by then – 5 and 30 and a late-night journey home from Bolton is not to be recommended.
Going to Villa Park is now starting to require a monumental act of faith and the fact that 23,590 did so to watch Hull City is probably the reason why so many still make the effort today. When Hull took a two–nil lead after 24 and 27 it was almost the signal for a St James's Park style walkout but nil desperandum, there followed the most unlikely comebacks. Godfrey 30, Chatterley 70 and more especially Rudge 77 and at the tenth attempt, the spoils were ours.
Optimism reigned as we set off for lowly Portsmouth. Unsurprisingly it was totally misplaced. But just occasionally a dull, boring nil-nil is not entirely dull and boring and avoiding defeat was almost cause for celebration. The same can almost be said about a copycat visit by Preston North End, except that everybody knows it was a visit by Preston North End which got us into this state in the first place. 25,421 saw us avoid defeat for the third game in a row.
After abandoning their championship-winning blue and white striped shirts for a couple of seasons Huddersfield Town reverted to tradition following a supporters plebiscite, begging the question whether Villa would ever restore their blue sleeves. Especially as now Huddersfield seemed to be on the up whilst we were on the down. But on the crest of a mini wave 23,192 were in for a coupon-busting shock. Seen as a treble chance banker the Terriers were destroyed 4-1 before our very eyes, or 23,192 of us.
We were still bottom but no longer drifting aimlessly when we crossed the border into Wales. It was at Cardiff City that the disparaging remark, Aston Vanilla (easily licked) gained fresh momentum. In front of 25,896 all the good work of the previous four matches was completely cast aside and we became the bookmakers favourites for relegation. 0-4 is all that needs to be said.
But first one of those inexplicable friendlies which seem to benefit nobody. Except it was apparently part of the deal which saw the Rioch brothers move from Luton to Villa Park. Willie Anderson scored a hat trick in our three–nil 'triumph' against the third division leaders (effectively only one place below us and not missing Rioch at all) so he probably enjoyed his night out in Bedfordshire.
Nobody outside Bordesley Green was looking forward to the visit of Birmingham City, who had managed to climb up to mid-table and now included Sleeuwenhoek and Tony Hateley and we all know what returning exiles can do to us. In the event, not a lot as a curious 54,470 we treated to not a lot in the shape of a shapeless goalless encounter. Even less obvious was why we followed up the visit of Birmingham City with a Monday night trip to Edinburgh. A four–one victory was perceived as an artificial confidence booster.
We took the lead twice at Oxford United but eventually could not withstand the pressure and fell to an 86th minute equaliser in front of 14,586, their biggest crowd of the season so there was still some magic in the name Aston Villa.
After just one season and only 18 first division points Queens Park Rangers were back at Villa Park in the second flight, now in third place. Marsh gave them the lead right on half-time but in front of 31,428 we never gave up and were rewarded when substitute Simmons nodded home on 78.
Concentration, concentration, concentration. Once again with one eye on the half-time tea or whatever, Villa conceded a goal at Bristol City which saw the home side easing their own relegation worries in front of 16,065
There was no cause for optimism in the visit of Carlisle United, again punching above their weight. But our 'super sub' Dave Rudge was at it again grinning at the camera again and 24,447 fans after his 79th minute winner. Emment Kapengwe from Zambia made the first of his three appearances. He retained his place the following week at home to Blackpool when he was joined by Freedie Mwila for what turned out to be his solo outing. Chief feature of the game being that we kept prolific scorer Fred Pickering in check for ninety minutes of nothingness. 0-0.
24,942 left Villa claiming to be the 16th best-supported teams nationwide despite being in 44th place in the league overall.
A third home game in eight days saw the attendance total increased by22,935 as 20th place Bolton Wanderers appeared and were put to the sword in no uncertain manner. Just the very sort of game we had to win, and win easily which we did, 3-0. Perhaps the absence of top class custodian, Eddie Hopkinson added to the visitors' woes.
Sheffield United were only two points off the top when we arrived at Bramall Lane and did their promotion chances no harm whatsoever in completely running us off the park. Our youngest-ever player, Jimmy Brown was temporarily back ibn favour but only temporarily as he and 17,266 were witness to a 0-5 drubbing. Then, perhaps mercifully the weather intervened and we did not get to see Charlton Athletic (the programme is a rare collectors item).
Arte et Labore, or Blackburn Rovers next. They were second to Huddersfield Town on goal average, we were one place above bottom club Watford, but more significantly three points better off. Form pointed to a home win and goals in the 60th and 76th proved form was on the mark. 12,008 and I would like to think we were more than the eight.
If ever there was a must-win game it was at home to Watford. It was probably this result in the twenty-fourth game of the season which did more than any to convince Villa fans that they were a third division outfit in disguise. After goals in the 16th and 66th we were utterly dispirited and saw little cause for optimism. 20,161 was not enough to pay the bills.
Boxing Day, a Friday, involved a visit to Swindon Town. Maybe it was the Christmas spirit but a modicum of effort resulted in a point. George Curtiss, seen as a saviour from Coventry City, coming to our aid with the first of his four goals for us, immediately after the break, cancelling out the 35th minute Swindon opener. The following day the home game against Middlesbrough was fogged off – so another rare programme.
Beyond the Birmingham Post and Mail, who did not want to appear to bite the hand that fed them, supporters had very few outlets for their angst beyond moaning amongst themselves in the pub and on the terraces Docherty continued to talk a good talk and there was a feeling that one day, some day, all would could good so most of any criticism was aimed towards Uncle Doug. But there was no enthusiasm for a second revolution so he was able to fend off any discontent. Meanwhile, having felt guilty about for the whole sorry mess I stayed way beyond the radar and kept a very low profile indeed.
The first Saturday of the new year traditionally sees the third round of the FA Cup and we welcomed mid-table Charlton Athletic to Villa Park in the hopes that the cup would spark us into life and rescue our season exactly as it had done twelve months earlier. When Lionel Martin set us on the road to Wembley in the 77th minute the prospects looked good. But only for two minutes, that being how long it took the Valients to set up a replay. Prophetically perhaps, the Villa programme included an article about Vic Crowe. Were they surreptitiously trying to tell us something?
The replay was scheduled for three days later and in the meantime we had been drawn at home to Queens Park Rangers in round four. That is until the weather took a turn for the worse and the trip to the Valley was put on hold for another week. In the meantime we missed out on a trip to Hull City in the league for the same reason.
We eventually got to run out at the Valley but in the bitterly cold it was a case of the less said the better. With goals in the 77th and 79th minutes at Villa Park there was a certain symmetry when Charlton scored their winner in the 78th minute, much to the joy of most of the 23,798.
A few days later, by way of self-inflicted punishment I watched England 0 Holland 0 at Wembley. I mention this if only to show a) that I was there and b) that the standard of international football had fallen so far since the heady days of the World Cup triumph that perversely watching the failing Villa was marginally more exciting.
Back at Villa Park for the first time for over a month the scene was set for a most unlikely goal fest. In scoring three times it might be presupposed that we were the winners were it not for the fact that visitors Portsmouth managed to score five. But the 21,148 were not prepared for what happened next. It was left to club president Pat Matthews rather than chairman Ellis to sack Docherty. Action which elicited a great deal of latent support for Docherty. But this quickly fade when his successor was announced. All the way from the Atlanta Chiefs, and almost pre-ordained, Vic Crowe, a Villa man to the very soles of his boots. Despite lack of real managerial experience surely he could save us from the abyss. But where was his sidekick, Phil Woosnam?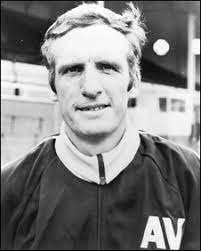 Preston, two places and four points above was therefore another must-win. A point each was not a complete disaster, Chatterley showing his versatility by playing at inside-left equalising a 34th minute starter by the Invincibles in the 40th minute. 14,182, par for the course at Deepdale.
Defeat was staring us in the face and the magnitude of the task facing Vic Crowe well and truly in evidence as Cardiff City held on to their one-goal lead (56) before the new manager syndrome finally took effect and Bruce Rioch shot a late equaliser to stop in their tracks most of the 27,000 who were already heading despondently towards the exits.
Norwich City were still regularly attired in black shorts when we visited Carrow Road. Crowe had very to work with and he had no choice but to persevere with the players he had inherited. Sympathetic hopes that he could inspire the players to unsurpassed levels were misplaced and the Canaries eased their own relegation worries with little more than a stroll in the park. 3-1 before only 11,041, enough to concern even their manager, a certain Mr Ronald Saunders.
We had been due to visit Millwall, only for another match programme to go into the pile of rare unused issues. Then Crowe made an inspired new acquisition in the shape of yet another player who had traumatised us in days of yore, all the way from Leicester City, Andy Lochhead. He added a few thousand to the gate for the visit of Bristol City. But it was not to be a fairytale debut as 59th and 61st minute strikes cemented our place at the bottom of the pile.
Bathing in the 'glory' of being top of the second division attendance record whilst actually being bottom in playing terms, average 27,916, perhaps there was an element of complacency in the board room. 23,982 appeared for the return of Charlton Athletic. Low and behold we ended a sequence of eleven games without a win (9 league, 2 cup) albeit with the help of an own goal, 36.
Hopes were a bit higher than usual as we travelled to Queens Park Rangers, who showed every prospect of getting back into the first division again. They gave us a salutary lesson that the top division would never be for us with a 2-4 annihilation in front of 17,057.
Next the make-up game at Hull City. where the home club saved money by reissuing the original programme but including a single sheet addendum (a collectors item). Hull City continued where QPR had left off and at 1-3 alarmingly we were now leaking goals despite now being under the guidance of a notable defender. Only 8,885 to see the fading side from Birmingham.
Charlton Athletic had not won another game since knocking us out of the cup (seven defeats, one draw) and were now in 21st place, three points better off than us. To the relief of a mere 9,987 it became five points after 90 of the most dismal minutes ever served before the king.
Two days later we took the short journey down theThames to fulfil the oft-postponed fixture against Millwall at the fourth attempt. Ignoring the expense, they issued a fresh programme which served only to emphasise the futility of our league position, made worse when Possee added to our woes (17) before George Curtis made certain they kept the points with an og (52)
Then a little light relief in the shape of Aston Villa Old Stars 3 Midland All Stars XI 8, part of Charlie Aitkens Testimonial before Blackburn Rovers arrived to provide us with the opportunity to acquire two much-needed points. Despite a more than rare 'hat-trick' by George Curtis (he had scored our previous goal at Hull City, followed by the winner for Millwall) and now a ninth minute starter here but he was nowhere to be seen when Rovers snatched a point with ten minutes remaining on the clock.
Then we gave over our ground for an FA Cup semi-final replay perhaps proving that failing to score a goal was endemic in B6. Manchester United 0 Leeds United 0 after their first encounter had also ended scoreless. The game gave us another first when it became the first to be shown live on television in colour, causing Villa to carry out major improvements to the quality of the floodlights.
March by the seaside could mean only one thing – Blackpool 2 Villa 1. This time Fred Pickering scored a brace (11, 59) Lochhead still had not opened his account for us. Hamilton (65) was all we could offer. 17,392; crowds were low in the second tier.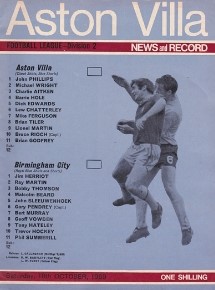 Then we were presented with the rather unexpected opportunity to drag Birmingham City down to the third division alongside us. Mathematics apart, our fate was already settled. The Blues team included Bobby Thomson, John Sleeuwenhoek and Tony Hateley but not their captain Ron Wylie who had just announced his retirement. It is hard to overstate the thrill our 2-0 triumph in front of 41,696 gave to one and all in claret and a modicum of blue. Could we just possibly have achieved the ultimate coup de grace? (ot quite as it turned out, even though they then lost their last three matches.
30,096 turned out to witness what were to all intents and purposes the last rites when Oxford United attended. on the principle of maybe, just maybe. At outside-left for the visitors was a Villa reject, Ron Atkinson. Whether he ever looked back on the match with any sense of satisfaction is not known but the 0-0 scoreline was in keeping with all that the new decade had produced at Villa Park.
Leicester City were still in with a shout of promotion and were never known to view sympathetically the appearance on their turf of Midland rivals from the west. 0-1 (Alistair Brown, 47) leaving most of the 27,481 on tenterhooks and the remainder checking on the whereabouts of Halifax. But the game is more famous or infamous for the goal that never was. In the 39th minute (and so before Leicester scored) a fierce shot from McMahon rebounded back into play off the staunchion, unseen by the officials. Two points lost which might have prevented our relegation. t is why the nets are now of a finer mesh and are hung differently. Another 'illa first but one we would rather gloss over – as indeed, like true gentlemen, we did at the time.
Middlesbrough had a real chance of snatching the runners-up spot from Blackpool so it was another coupon-buster when we decided to give some encouragement for our fans to renew their season tickets for next season come what may. 22,797 masochists saw Anderson (25) and Godfrey (65) shed some light into the darkness.
Irony then came to Villa Park in spades. First of all an astonishing 32,279 turned out for the last match v Sheffield United and a goal by Pat McMahon enabled us to boast that at least we did not finish bottom. Second in that it was Preston North End who actually took the lantern rouge as our victory was all in vain.
Thirdly, the choice by Charlie Aitken of the opponents for his testimonial match. The new kids on the block in West Midlands soccer at least. Coventry City flaunting their fancy kit.
Significantly, in 11 appearances Lochhead did not manage a solitary goal. Our leading scorer and only ever present was Bruce Rioch with a majestic six goals. We finished the season with a benefit match next day at Southend for one of their players
(2-3) followed by a friendly against Napoli (1-1) but newly-married my diary is blank on that date. Sorry.