Looking ahead, if not exactly forward, to Villa at Southampton.
Some years ago I was given a lecture on proportional relativity, or some such thing, by a club offical, I forget which club. What it meant was that we should shut up and stop moaning about long journies for midweek games because what's the back end of beyond for us be one of the shortest for the club we're playing if the reverse fixture was also midweek. I suppose Southampton might just squeeze into that category; it's a long one for us but Villa Park would be one of their easiest on a Friday night. I know it's not very interesting but there's not much you can say about the Villa lately, and watching the M40/A34 go by is probably just as enticing. But still.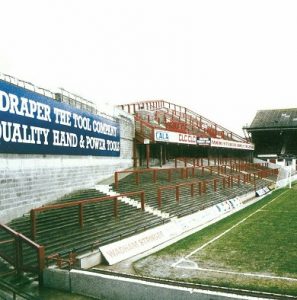 We've saved some of our worst games ever for Southampton away. Eric Black's capitulation was impressive, Deano tried his best to emulate it a few years later but those of a certain age will put the Billy McNeill relegation special above them all. Three down after fifteen minutes, five-nil ended up as a moral victory and if you weren't there you can never say with any certainty that anything else was the worst Villa performance in the last thirty/forty/fifty years.
To compound the misery this was at the Dell, surely the worst and most unappealing ground for visiting supporters of all time. Not only were you stuck up a corner, surrounded by fencing and out in the open, the whole attitude of everyone you came into contact with was that they didn't want you, you weren't welcome and if it was up to them you woudn't have been let in. It wasn't some sort of Millwallesque hostility, you just weren't wanted in their crowd of fifteen thousand on a good day. They also had Mattt le Tissier, in the days when he was a great footballer rather than a conspiracy theorist head the ball.
But times change and now Southampton are a mid-table Premier League club with a ground just like every other one that's been built in the past couple of decades and twenty thousand new supporters, all of whom talk fondly about the old midden they left, because their father or their grandfather, or their uncle used to go there. None of them ever did. They've got the Nemesisical Shane Long still hanging around waiting to pick up his pension and also Therry Small, nephew of Bryan.
We should be able to beat a team like this with a stunning display of scintillating football guaranteed to impress everyone watching. Should. Tonight could provide the answer to a lot of questions, even if the answers might not be too clever. Still, hope springs eternal.
Comment on this article here.