John Russell moves on to Villa in 1965-66.
No expense spared. Villa went Dutch to prepare for 1965-66 and appropriately shared the spoils in both games, 3-3 and 2-2.
Then we splashed out £27,000 in acquiring Willie Hamilton, an inside-right from Hibernian but for the opening game Sheffield United had a new player too, Reece, all the way from Newport County. Game over, 0-1. But "no-one succeeded in raising their game above the general level of mundane competence".
The same can be said about the appalling new-style Villa programme. It made its first appearance at the Monday night home game against Leeds United. Kick off now 7.30 rather than 7.15 though nobody asked the fans and there is no explanation for the change. Runners-up to Manchester United on goal average, the second Leeds goal after 71 minutes was the signal for an outburst of foot stamping in the Trinity Road stand and general slow handclapping elsewhere – surely a record for the first home game of the season. (0-2)
The Easter opponents from last season, Leicester City, then put in another appearance and 0-2 down after an hour only led to an instant revival of the sounds of discontent. But a penalty by Hateley and a scrambled goal by a desperate Charlie Aitken and we belatedly opened our points tally.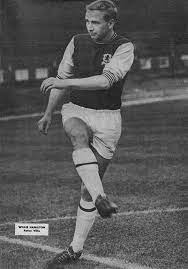 After the heroics in the League Cup at Leeds last season it was too much to hope for a mi week repeat despite the reappearance of Sleeuwenhoek after a long absence though injury. After Leeds took a 2-0 lead the game degenerated into a typical Leeds v Villa clash with 'clash' being the appropriate word.
After the two disasters against Blackburn Rovers last season our only cause for optimism this time around was that they were bottom of the pile with 'nil points'. Only 9,367 supporters even thought the game reason enough for leaving the comfort of the pub. Villa supporters probably accounted for the 67. In the 11th and 17th minutes Hateley again demonstrated his value to Villa and for the remaining 73 minutes Withers did likewise.
Success breeds success or in football parlance 'confidence' and when Sunderland came down we were ready for them. Hamilton scored his first goal for us but when the Wearsiders equalised after 74, nailbiting was now in vogue. But Park (79) and Hateley (who else?) on 88 sent us all home happy.
And happiness does not get any better than three wins on the trot. Blackpool were making another attempt at the relegation they narrowly missed last season and 3-0 should have been more but for Villa's latest self imposed problem – too much passing.
Sunderland were not the Sunderland we played against last week. They too had been revived by a victory over Blackburn Rovers and thus upped their game. Two-nil down at half-time, we lacked the resources for a fightback and it stayed that way.
If you are following the plot so far, the very idea of Villa scoring six goals away from home,is preposterous. But that's exactly what happened next. Lowly Fulham were the victims of a rampant Villa, made even more sensational by the fact that on the hour we were down 2-3 following a hat-trick by Leggat. Then Woosnam sized up the situation again and three goals in six minutes followed before a final coup de grace. 6-3 and we were almost disappointed it was not more.
It was League Cup time again and we had to go to Swansea Town, bottom of the third division, in search of our birthright. Captain Woosnam was obviously delighted to be able to show off his talents again in the land of his father and the 3-2 was easier than the score suggests.
Just for once we had nothing to fear from the arrival of high-flying Tottenham and it turned out that way. We were 3-0 up before they scored even so panic did not set in after their second in the 85th and we found ourselves in the top half of the league above Manchester United. But unfortunately not above Liverpool, who were playing out time with a 2-0 lead when Woosnam struck. Then the old adage about being most vulnerable when you have just scored took hold and as if to punish us for our audacity Ian St. John made it 1-3 at the end.
A trip to Newcastle United hinted at the prospect of better things to come, but unfortunately we did not live up to the encouraging programme notes and at 0-1 it's a long way home by a train which is not due to arrive at New Street until 01.58 and the inevitably late arrival means the 3am bus home from outside Greys.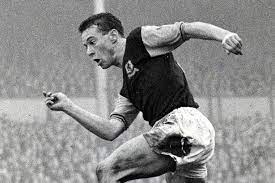 As if a train journey to Newcastle is not punishment enough it was followed by another trip to Sunderland in search of League Cup honours. Sunderland were unbeaten at home to date but it did not stay that way because Tindall (8) and Woosnam (18) demonstrated that we were now a force to be reckoned with, especially when it came to the three-handled trophy. 2-1 and an overnight car journey home arriving at 3.20 am. Much more convenient than the train with its changes at Normanton and Derby and back in time for breakfast.
The Baggies fancied their chances at Villa Park and 41,455 reflected a renewed enthusiasm in the improved fortunes of both clubs. In the temporary absence of the injured Hateley we had centre-half Pountney leading the line, to such good effect that he scored after 67. Albion were not as good as they thought they were but we had overlooked Jeff Astle, who made honours even after 77.
If corners counted then we lost 15-2 at Nottingham Forest but in the goal department we had Woosnam and Hateley back again inspired for being in his old haunt, such that he caused his opposite number to conceded the winning goal to us.
We are now in eighth place but you know where this article is leading. There was no reason to expect the worst from a visit by Sheffield Wednesday. In the wind and pouring rain Tony Scott, acquired from West Ham United under the advice of Captain Phil, scored the first of his only five goals. With many of the 23,257 paying the transfer fee to seek shelter on the Trinity Road terraces Tony Hateley made the game safe in the last minute, just when it seemed Wednesday would be the more likely scorers. We little knew it at the time but that was about as good as it was going to get.
Next week we set off for Fulham for a fourth round League Cup tie with every expectation of something similar to six weeks ago.  But instead Johnny Haynes reminded us that he was not finished yet and his goal with the referee on the verge of blowing the half-time whistle looked likely to prove conclusive. Barry Stobart reminded the Villa management that he was not past it either with a simple tap-in. Sleeuwenhoek came close to a sensational winner when he nearly fooled Macedo with a shot from the half way line.
Northampton Town had made it from the fourth division to the first quicker than a speeding bullet. Unsurprisingly they were finding it tough at the top and their subsequent return to back where they came from was faster than the elevator at the CN Tower in Toronto. But not before they had inflicted on Aston Villa one of our most humiliating defeats ever, Aldershot excepted.
Their ground was also the Northamptonshire County Cricket Ground and it is fair to say we were hopeful of bringing their scoreboard in action but ten minutes into the proceedings and we were already two goals adrift. Minus Woosnam Villa were not equipped to trade punches with such forceful opponents and although Park gave a glimmer of hope (57), 18,836 went home not quite believing what they had just seen.
Two days later we had to face Fulham again in a replay. Fortunately Woosnam was back to bring a little craft to the team, a playmaker long before the term came into common usage. He scored both the goals (53 and 87) which set up a fifth round tie at the Hawthorns. Fulham had nine programme changes, something of a record for those who keep note of such oddities.
There has never been a decent match between Villa and Stoke City and the next game fitted easily into the pattern. It hardly needs to be recorded that the winning goal came from a certain Harry Burrows after 56 less than exciting minutes. 21,654 seemed to sense that the long days journey into the night had begun.
All this was confirmed four days later at West Bromwich. They had hitherto spurned the League Cup and this was their first venture into the competition. They were fourth in the league only two points adrift of leaders Burnley. We were 12th in a cluster of teams separated by only two points up or down
40,694 was then a record crowd for the League Cup. Gavan deputised again for the injured Withers but cannot be faulted for effort. Albion took up the mantle of Northampton Town and we had no real answer though it is not true to say we were beaten by a better side, only a more aggressive one. (1-3)
A visit to leaders Burnley, not such a surprise then as it would be today, had the predictable consequence. 1-3. It is interesting to note that two of their goals were scored by Andy Lochhead. 14,279 was hardly the attendance expected of would-be champions. And 16,355 at Villa Park to see Chelsea was a reflection of expectations in Birmingham.
Chelsea manager Tommy Docherty caused something of a sensation when he ordered his players to the Villa Park gymnasium ahead of the game instead of them mingling with the spectators until half an hour before the kick off as was the norm back then. He was fully vindicated when they took a two goal lead after only five minutes and proceeded to completely run us off our feet. It was suggested that we should throw away the keys to the gymnasium if any future visitors were to ask for access.
We were now only four points better off than failing Northampton Town when we had to go to ninth-placed Arsenal. They still had the Metropolitan Police band as pre-match entertainment but they omitted to play the customary march Villa, Villa to please us.  But we needed no such artificial stimulants and a week in the Shropshire countryside at Lilleshall paid off when we led 3-1 after 70 minutes. Then the defence forgot to defend and goals after 84 and 86 meant that we were outgunned.
The minor improvement at Highbury did nothing to stimulate attendances.Our next visitors came from Everton, not very attractive visitors so only 18,712 attended. The absentees missed something of a treat as we went in at Bovril time leading by three goals to nil. But you know it was too good to be true and in the end we had to cling on to a hard earned 3-2. And then the weather turned sour.
Back again at the Hawthorns the game was 56 minutes old when, with a monsoon raging, the referee caused chaos for the waiting bus crews by sending everybody home early. Fortunately for all concerned the score was nil-nil. A week later the decision of the referee to abandon the game at Villa Park against West Ham United after only thirty minutes was greeted less enthusiastically.  This time winter had set in and the ground was an ice rink. It would have been better had the game not started, but led by stamping in the Trinity Road stand hundreds of Villa supporters vented their spleen and gathered outside the Villa offices in protest. Problem was that although season ticket holders would be able to use their tickets for the rematch there was no system of refunds and terracites felt robbed as they would have to pay again.
All was forgiven, sort of, when 19,402 turned up on New Years Day, a Saturday, not then a Bank Holiday, to see Newcastle United. At 4.35 (games always finished fairly promptly at 4.40) the bus crews who occupied the terrace in front of what was left of the Witton Lane stand had already left to take up their duties and a goodly number of spectators followed them out of the ground when with the score 2-2 Villa scored twice in the last four minutes. 4-2 and surely an end to any talk of relegation.
But only for a week.  Not for the first time, nor the last, Colin Withers stemmed off disaster in a fractious game at Goodison Park. There were questions about the Everton 'what we have we hold' tactics, and thus the two goals when what they tended to hold were the Villa players apparel.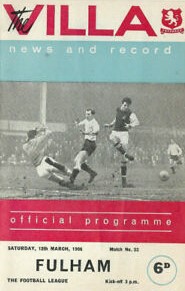 Villa fans had no outlet for their spleen, the only thing they could do was to stay away, and stay away they did when Nottingham Forest came to Aston. It was generally left to the newspaper scribes to report the dismal facts. Albeit it was also a thoroughly miserable day and curiously wrestling was now attracting large Saturday afternoon television audiences. A mere 14,846 were given a treat as Villa choose to run about to keep warm and running about ultimately proved to much for the visitors as Woosnam scored two late goals in a convincing 3-0 success.
Up for the cup, only this time we were not 'up.' Cyril Chapman described the 1-2 defeat by Leicester City as being worse than the Aldershot debacle, and he was not wrong. We simply could not get to grips with Derek Dougan, repeat, Derek Dougan and the wonder of it is that we actually took the lead efore Withers was finally beaten twice in the last fifteen minutes.  38,015 proved the 'magic' of the cup. Nearly twice as many as at subsequent games.
Sheffield United only attracted 15,302 and little wonder as without Woosnam, now as coach as much as a player, the others were totally incapable of crafting a goal. 0-2 so no argument there. A league match at Leicester was a repeat of the cup debacle, 1-2, apart from in the matter of attendance, 21.073.
Only a handful of Villa supporters were now travelling to away games. BritishRrailways had long since given up running football specials. An eleven coach train for sixtu passengers going to Burnley proved the nadir in their enthusiasm, and two of those sixty were not going to the game at all but to see relatives. A few made their own way by road to the game, the remainder relied on Stockland Coach.  Coach, singular. I used to go on a Monday morning to book four seats just to let the garage know that somebody wanted to go least they cancel as well.
I do not recall the coach ever being full, I seem to remember 37 being the optimum number. I still have all the pink booking slips. 19/- (95p) to Preston and Leeds. 19/3 (96p) to West Ham, 15/6 (76p) to Everton. Stockland did not go to the north-east as it was too costly for them with the law requiring two drivers for long distances. The big advantage of the coach was straight to the ground and always early enough to find a café, and getting dropped close to home on the way back although the drivers were instructed to ignore all requests to go off piste.
Enough tittle tattle, you want to read about the Villa v West Ham. But in the light of subsequent events West Ham turned up with half the England team, or so press reports after the final would have you believe. Moore, Peters and Hurst gave a preview of what was to come as playing-wise we sunk to an all time low and that was low indeed. Only 13,440 can claim to have been there on a miserable Monday night and most of those, other than me, are unlikely to want to boast about it.
1-2 had us contemplating the fixture list again wondering with fifteen games remaining whether we could beat eleven defeats. Not least because we had to go to the Hawthorns again though the Baggies were in a mini freefall of their own making. 17,089 for a local derby reflects on the relative merits of both sides, whatever the weather. It snowed. The game contained a goodly number of goalmouth incidents to warm the sinews and the rush for the buses was just underway when at 1-2 down Hateley brought joy just when Albion had threatened to play another leading role in the relegation of Aston Villa.
And not yet when 21st placed Blackburn Rovers showed up, as did only a meagre 15,281. We played better than usual, or were allowed to and Hateley, five goals in four games, was again the man of the match, if only because Withers did not have a lot to do.
An away win at Blackpool was always something to be savoured, especially in the depths of February and especially as it meant a major step towards safety. The goal by Hamilton after 75 minutes had an air of good fortune about it as is the case with all deflected shots. It might have been more, as might only 11,075.
After another night out at the Hawthorns. Albion Reserves 1 Villa Reserves 1, it was West Ham United again and the would-be World Cup winners. Although next to each other in the bottom half of the league it goes without saying that they completely outclassed us 2-4 in front of 22.058, not bad for them. For no particular reason that anyone knew about we set sail to third division Peterborough United for a floodlight friendly.  Such as it was all the excitement for the 6,293 came at the end, including their last minute winner. 1-2.
Fulham were now bottom of the league when they came to Villa Park and Northampton Town (19th) looked as though they might yet escape. After winning 6-3 away and knocking them out of the League Cup we were without a shadow of doubt a home banker on any pool coupon, Defeat was inconceivable. Aston Villa 2 Fulham 5. Perhaps at 13,849 the absence of spectators accounted for the general apathy on the field. But what happened next was so totally unexpected but it goes down as one of the best remembered games in the history of Aston Villa.
We were four-one down at half time to an unstoppable Jimmy Greaves at Tottenham and 1-5 down shortly afterwards. Then for no accountable reason Spurs fell apart in front of a one man virtuoso performance by Tony Hateley.  I had a complimentary ticket on the back row of the stand (complimentary tickets were often in out of the ways places. Behind me was a corrugated iron wall).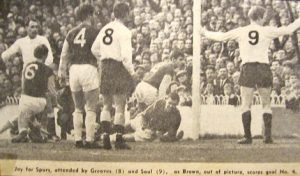 I spent the last half-hour of the game bashing against this iron wall and the sound may well have reverberated all around the arena. Having fought back to 5-5 with ten minutes to go we were on a roll but I have to record that the denouement came in the very last minute.  In trying to get to a position of safety Alan Deakin got in the way of a goalbound shot from Hateley, who had scored four o the five, only for the ball to go out harmlessly for a goal kick. We should have won an even more famous victory than the 5-5 score line represents. 28,290
It might be thought that this famous result would have added thousands to the gate at the next match but the next match was the offer of a friendly to FC Twente Enschede in return for their hospitality pre-season. The visitors claimed to have been unbeaten in their previous eleven friendlies. They were unable to make it twelve as a weakened Villa side scored five for the second time in three days.
League leaders Liverpool were next at B6 so we were unlikely to make it five in a row three times, more likely that the visitors might. Suffice to say that in front of an improved attendance of 23,326 we were completely and utterly outclassed. 0-3 and Liverpool went on to win the league easily. If the performance was sobering then what happened next was totally embarrassing.
Despite snow and sleet turning the pitch into a morass there is no satisfactory explanation for what happened after we left the field heading for the oranges with a one goal lead over Northampton. Manager David Bowen must have discerned a weakness in the Villa ranks and given his team the half-time pep talk to beat all halftime pep talks. Whatever he said, in the days before substitutes he sent out a totally different team for the second half and by the end, 1-2, it was we who were looking more the relegation candidate. Mercifully, only 10,431 we there to see it and a goodly number came from Northampton.
Manchester United were always a big attraction, 28,211 even if the outcome had an air of inevitability about it. But they left five of their stars at home, perhaps sensing a morale booster for a few of their fringe players. Two goals in a minute, theirs 63 ours 64 by Jimmy MacEwan called upon to make a twilight appearance, gave the final score line an unpredictable appearance, 1-1.
The Victoria Ground was never a happy hunting ground, begging the question why Harry Burrows, as direct a winger as ever there was, chose to go there to follow in the stud marks of Stanley Matthews but on this particular day we had Keith Bradley at right-back in lieu of an injured Michael Wright. Sensing easy pickings Harry scored the two goals which won the match, easily 0-2 and 15,186 in this era of dwindling attendances. Much of which was ascribed to trouble on the terraces but truth to tell most of the aggravation was in the streets outside the ground. Visiting supporters wisely refrained from flaunting their allegiance.
It was as good a time as any to be playing Burnley, who even though they were second in the table were not seen as particularly attractive visitors. When we went a goal behind in the third minute the prospect loomed of another visit to St Andrews next season, or worse still Carlisle. But somehow Vila seem to relish a relegation scrap and with gritted teeth we bit the bullet and two goals from Woosnam and Hateley helped sell a few extra copies of theSports Argus that night.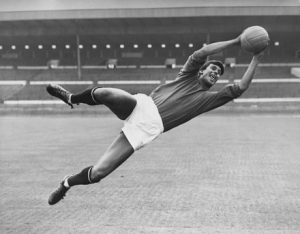 Then we had to give over Villa Park to another FA Cup semi-final. Chelsea 0 Sheffield Wednesday 2 followed by the dubious privilege of playing the cup finalists next time. Goals by Fantham in the 66th and 70th meant that there was now every prospect that we would soon be saying 'goodbye to the circus' 0-2, 28,008. And being a Wednesday night the Villa contingent probably comprised just the eight.
Historically the one team Villa would not want to be playing when needing the points, apart from the Baggies, was Arsenal, even at home. Especially with Manchester united and Chelsea still to come. And Villa supporters did not turn out in their droves to cheer the team on in their hour of need, only 18,866. But Arsenal reportedly fielded a weakened defence, at least that was their post-match excuse. Forest and Northampton may not have been happy about is but just for once we took advantage of opposition frailties and 3-0 (Hateley 2, Woosnam) meant even longer queues at the late-night newsagents. Time to celebrate because that very afternoon Blackburn Rovers and Northampton Town were officially relegated
We approached a game at Old Trafford in a totally carefree state of mind and as might be expected paid the severe penalty for it. It is a good job that it did not really matter because we were totally swamped by United who, if they had needed the points, might have run up a record score. As if 1-6 is not bad enough, and only 23,034 sufficiently interested in the outcome.
Even though still smarting at their failure to reach the FA Cup final, Chelsea had drawn twice with Barcelona when they represented London in the Inter-Cities Fairs Cup semi-finals. Their attendance against us, 16,323, was not quite their worst of the season. That 'honour' went to Blackburn Rovers, 10,024 and in terms of away matches the attendance to see them at Villa Park, 16,335 was again worsened only by Blackburn and Blackpool. In short, Aston Villa had long since ceased to be the pulling power of times past.
Now to the match, which Colin Malam, writing in the Birmingham Post, reported it was the equivalent of Henry Cooper beating Cassius Clay in their upcoming bout. Free from tension Villa gave an exceptional performance in winning 2-0 but nobody was likely to be fooled by the result.
With very few capable players to pick from, nine Villa men made more than 30 appearances whilst nine make-up players played in only 41 games between. Few blamed manager Dick Taylor and his name was on the retained list. Notwithstanding that no one envied him his job, another hard time was predicted for next season.
With the World Cup coming up perhaps the Villa Park faithful might yet get to see some better quality fare.  West Germany, Argentina and Spain – fat chance.
To be continued.