Stacy Murphy debates the prons and cons of mid-season changes.
In certain quarters, calls for Dean Smith to be replaced in the Villa manager's office are becoming louder but how successful would a change of manager (or Head Coach in this particular case) during the season be? Smith himself took over in October 2018 when Steve Bruce's position had become untenable after using any goodwill he had banked over the previous two years. Smith has far more in the credit column than Bruce was ever likely to have but in some eyes that is dwindling at a rapid rate. However, hiring a new manager mid-season is not necessarily a guarantee of improvement.
Over the last fifty years Villa have replaced a manager eleven times during a season with another twice having to deal with other issues. This is as a result of resignations or sackings including those which involved a stroll around the Ellis rose garden.
If we start after the replacement of Tommy Docherty with Vic Crowe early in 1970 and therefore outside our ffity-year timeframe, Villa went more than a decade with only two bosses at the helm. With Crowe being replaced by Ron Saunders in the close season of 1974 the first mid-season change wasn't until February 1982 but it was one which would be a milestone in the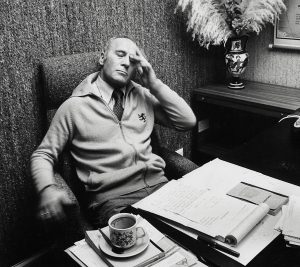 club's history.
Having led Villa to a first league title in 71 years Saunders had a major falling out with the board over his rolling three year contract being replaced with a standard one and he resigned. It was a shock to all connected with the club but Saunders' assistant Tony Barton was able keep the club on an even keel resulting in the greatest of triumphs.
With Doug Ellis and his over-inflated ego waiting until after 1983-84 ended to dismiss Barton after a tenth place finish it would be his successor Graham Turner who would be the first in-season P45 recipient in sixteen years. Turner steered Villa to an identical tenth, including a 0-5 home reverse against Nottingham Forest, and a less than impressive sixteenth in his two full seasons before a floundering start to 1986-87 left him deeply unpopular and obviously out of his depth, leading to him taking that rose garden walk. Villa were obviously heading for relegation but the subsequent appointment of an uninterested Billy McNeill just speeded the process up as he waited for a vacancy at Celtic.
With Graham Taylor, Josef Venglos and Ron Atkinson taking over in the summers of 1987, 1990 and 1991 respectively it wasn't until November 1994 that Ron Atkinson made way for Brian Little. Atkinson's side had produced some of the most eye-catching football Villa Park had seen in since Saunders' teams more than ten years earlier and a runners-up spot followed by a League Cup win was a decent return after a wasted year of struggle under Venglos. Atkinson's downfall was his reliance on ageing and increasingly injury-prone players. After finishing the 1993-94 season unimpressively with the League Cup already won and a similar start to 1994/-5 a 3-1 lead at Wimbledon turned into a 3-4 defeat and Ellis decided to act again.
The decision divided opinion and it can still be debated whether Atkinson's team would have stayed up but Brian Little set about freshening the squad up and in February 1995 Villa were as high as nith but a series of poor results meant the relegation battle was back on and only an inexplicable last-minute own goal winner at Ipswich and a win at home to a oddly muted Liverpool dragged Villa just about clear. A last day draw at Norwich confirmed survival. If Atkinson's side had stayed up that season another League Cup win and two top five finishes which Little achieved in the seasons that followed seems unlikely.
Little resigned in February 1998 after a disjointed start to the season with the signings of Sasa Curcic and Stan Collymore having appeared to fracture a settled squad. In later accounts of the period it seems Brian was also dealing with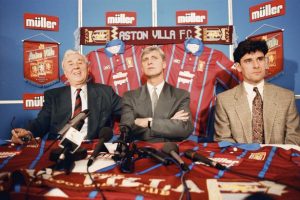 personal issues which would have impacted on maintaining the standards he had previously set.
Almost instantly, Little's former first team coach John Gregory replaced him and transformed a lacklustre season. Seven wins from the remaining nine league games secured a European place despite a heroic away goals UEFA Cup exit after a memorable home leg win against Atletico Madrid. Strangely, the two defeats in those nine games were against relegated Bolton and Charlton.
After continuing that turbo-powered start up to Christmas the following season Gregory had reached his high point and a New Year collapse which saw a slump from top to sixth Gregory retreated into a defensive shell which brought solid but stagnant football which took in the dullest FA Cup Final in living memory. Regardless of the amount Gregory spent, and it was a lot by the standards of the time, performances didn't improve beyond monotonous but relegation was never an issue.
Frustrated at Doug padlocking his chequebook Gregory perceived his chairman's attitude as small time and resigned in January 2002. Ellis, apparently not wanting to pay compensation for another club's manager, looked to a non-executive director from his board to fill the gap; Graham Taylor. Sir Graham took Villa to eighth place as Gregory had the previous season and found himself in agreement with his predecessor about lack of investment as Villa then limped to sixteenth place the following year and led to him leaving, citing Ellis' spending restrictions.
The inflated egos of David O'Leary and Martin O'Neill were appointed both in close seasons either side of a takeover by Randy Lerner but O'Neill's sudden and calculated resignation on the eve of the 2010-11 season led to a managerial vacuum until the arrival of Gerard Houllier. The Frenchman shook up some of the playing staff and upset some fans particularly with his apparent Liverpool obsession and results were initially mixed but had begun to improve when Houllier's failing health saw him unable to complete the season. Houllier's assistant Gary McAllister oversaw the final few games for an eventual and unlikely ninth place.
The summer of 2011 brought in Alex McLeish for a year; unpopular not just because he left Small Heath to join us but that he had got them relegated as well. This was the season Villa started to circle the relegation plughole and Paul Lambert took over in the following summer and was the next manager to leave mid-season. Sacked after two and a half years which took in the odd good result but also utter humiliation at the hands of not only Premier League Chelsea, Wigan and Tottenham but also Championship Millwall in the FA Cup and bottom division Bradford City in a two legged League Cup semi-final within a month either side of Christmas 2012.
Lambert somehow survived until February 2015 despite later claiming he made repeated attempts to fall on his sword. Tim Sherwood instilled just enough self-belief in Lambert's squad to stay up but his treatment of some of them left a lot to be desired with Andreas Weimann, one of the better performers under Lambert, being an example. A Wembley FA Cup semi-final victory over Liverpool was just about all the credit Sherwood gained but this was overshadowed by a 0-4 hammering by Arsenal in the final.
After bringing in thirteen players in the summer but losing the only two who would command a significant fee, Christian Benteke and Fabian Delph as well as club captain Ron Vlaar on a free, Sherwood failed to galvanise his new players and Villa looked destined for the drop after disastrous substitutions at Leicester which turned a 2-0 lead into a 2-3 defeat. Ten games without a win saw Sherwood replaced by the equally if not more inept Remi Garde in October. A record of just two wins at home to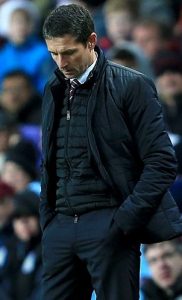 Norwich and Crystal Palace also got Garde the sack in March 2016 and the charlatan that is Eric Black oversaw the inevitable in a caretaker role.
A sale of the club to a now possibly undetermined organisation fronted by Chinese businessman Tony Xia brought in Roberto Di Matteo but just ten games and two Championship wins later the Italian was replaced by Steve Bruce who at least put the brakes on a massive decline to record a thrteenth place finish in the second tier.
Bruce, who in the cabbage-based nonsense surrounding his departure is not given enough credit for turning Villa around, did himself no favours despite weathering the storm of play-off final heartbreak and NSWE rescuing the club from financial oblivion. Before his departure in October 2018 he blamed in turns the players and the fans for his shortcomings up to the fateful home game against Preston when a 2-0 lead turned into a 2-3 deficit before Villa got level and Glenn Whelan missed a stoppage time penalty. Dean Smith was brought in from Brentford shortly afterwards to lead Villa to an unlikely promotion followed by an equally unlikely survival and a surprise consolidation last season.
If Smith's time at Villa is almost up, and at this point I don't think it should be at least not yet, changing manager by sacking the incumbent mid-season is not always the best policy despite Smith being an exception. Of the managers appointed after their predecessor was sacked, as opposed to resigning, during a campaign in the last fifty years only Brian Little provided sustained impetus with the maligned Steve Bruce the next best appointee in terms of performance. Having a scenario which leads to a McNeill or a Sherwood in the manager's chair at Villa Park and Bodymoor Heath cannot be a good one so the current situation, if indeed Dean Smith is to be replaced, is one which Nassef Sawiris and Wes Edens need to consider extremely thoroughly as we may have to be careful what we wish for.