Looking ahead to 'entertaining' West Ham.
Sunday will be the first time for a few years when we won't be playing the club with the most despicable owners in football as West Ham roll into our Safe Astonian Home. Lady Brady & the Porn Bunch might be an unlovely collection of characters but even they draw the line at public execution, torture and murdering journalists. So, we'll be entertaining the second most despicable owners in football. It's probably as good as they'll ever get.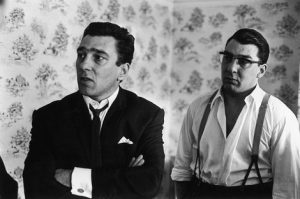 Despite what the national media might have you think, West Ham have never finished above third in the league, they've won a couple of cups (including one when it was our year etc) and their glory days were in the sixties, when they won the World Cup while Ronnie & Reggie were making the East End safe to walk at night by only hurting their own, guv.
They used to be up and down regularly but they've settled into the Premier League now, and are yet again doing annoyingly well in it. They've got a manager who looks like he could have played a mechanic in Coronation Street and Stuart Pearce is their first team coach. You remember Stuart Pearce? Soccer AM used to love him. You remember Soccer AM? They lent us Robert Snodgrass a couple of years ago but we didn't want/couldn't afford (those were the days) to keep him so now he's retired.
West Ham's celebrity supporters are legion and include every boxer, comedian, actor, musician and geezer who ever lived within the sound of Bow Bells, or their grandparents did. Their more colourful supporters are just lovable, misunderstood, salt of the earth types, just like another club not a million miles away. I wonder what the connection could be? And everyone who ever traweld the internet knows why the play in claret and blue.
Enough of the cheap shots and on to the football. They're in form, we aren't. They don't score many but neither do we and we also let in more than we should, which isn't a good sign. Still, that was all in the past and now we've got a full(ish) squad to chosoe from we should be winning games like this. If we get off to a decent start, and that will begin when the team is announced, we should be able to score more than they do, no matter how much good form they're in. Whether we can manage it is another matter entirely.