John Russell continues his tale of Villa in the sixties with 1964-65.
This story begins at the end, so to speak. At season's end no fewer than six players had appeared in over thirty games including two everpresents (Aitken and Hateley) and another seven in over twenty games. If this hints a settled, title-winning type of team nothing could be further from the truth – there was nobody else available.
In the middle of the cricket season manager Joe Mercer abdicated his responsibility for no obvious reason at the time and
Villa being Villa did not scour the country in search of a replacement but simply nominated Joe's shadow, Dick Taylor as his successor. Dick had been the manager of the reserve side that had just won the Central League so at least would have been aware of who we had standing in wait.
After a friendly visit to Southampton (2-3), which exposed all the weaknesses, the season opened at home to Leeds United.
After a 1-2 surrender Michael Blair in the Birmingham Post wrote, "Villa have two days before their next match to make a gesture towards that diminishing band of loyalists and sentimentalists who still care about the club's future as a major soccer force." Bear in mind that we were being written off as a bad job after just ninety minutes of the season. And things were not to get any better.
That forty-eight hours led only to a swansong from the ageing Jimmy MacEwan at Stamford Bridge. Peter Bonetti didn't need to call upon reserves of anticipation or agility to keep the ball out of his goal. A 1-2 was betetr than it looks and was follwoed by a trip to Highbury (1-3). Already there was a feeling that our record of eleven consecutive defeats was in danger of being exceeded, specially when in the return Chelsea went two goals ahead just after half-time. Social distancing was now in vogue on the terraces and only 19,740 were spread around Villa Park. Despite having two cripples, Woosnam and Hateley, and so being effectively reduced to nine men, like Snow White being given the kiss of life a sleeping giant suddenly woke up from its slumbers and goals from Hateley (84) and Wylie (89) had people literally skipping cheerfully down Witton Lane.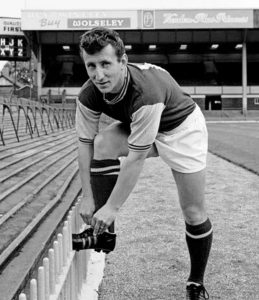 John MacLeod must have done well against us in the game at Highbury and equally he must have seen himself as the Prodigal Son because for £40,000 he came as an almost a like for like replacement for Jimmy MacEwan. In a trice he must have immediately wondered what he had let himself in for because losing 0-4 at home to Blackburn Rovers cannot be considered as an auspicious beginning. Seeing what may have been the Goal of the Season by Ferguson was no consolation.
Sunderland were as much in the mire as we were but their fans were still turning out in big numbers. 44,100 perhaps expecting better, had to be content with a 2-2 and this only after they equalised in the last minute.
It is odd how failing teams seem to suffer more from injuries than winning teams and such was our fate at the seaside. Even a drab Blackpool side failed to light up the town ahead of the traditional tram ride along the illuminated prom. 1-3.
As usually happened in those days Sunderland also came back for the return midweek fixture. Our fans were more realistic than theirs and only 18,243 ventured out into the night. At the eighth attempt we were finally rewarded with our first win of the season. Aitken scoring a rare goal after only three minutes and their single response only came in the last minute after Hateley (25) obtained his sixth so far. It seems we were going to be utterly dependent on tony for our goals but fortunately he was enhancing his growing reputation every game.
Not least when we continued our winning ways by putting Sheffield Wednesday to the sword. Perhaps we had been inspired by the pre-match performance of the band of the Royal Warwickshire Fusiliers. Military bands were always a popular feature at Villa Park, so much better than the interminable dirge which blares out these days. Out of the drop zone at last although it was never referred to as such back then.
League Cup time again meant a trip to third division, soon to be fourth division, Luton Town and a less than impressive 1-0 success. But bathing in the glory of three consecutive wins we set off in good heart to league Champions Liverpool who themselves were in dire straits being below us in the league in 21st place. Yes, you read that correctly. If anything we did no more than spark a Liverpool revival that saw them rise up the ladder. Our offside tactics annoyed the crowd more than they did the Reds' front line. 1-5.
The first Saturday in October traditionally saw the first games in the Home Internationals, England v Wales. Clubs were now able to postpone games if they had players called up for international duty so our home game against Blues was cancelled, not because we had any internationals but because they did. Not that the enforced rest did us any good because Everton came to town and it was seven defeats from eleven starts. It became eight and nine as we failed to ripple the nets v West Ham (0-3) and worse, the Baggies (0-1) in B6. Only 28,030 shows what the people of Handsworth though of a game between two failing clubs.
I simply cannot believe what I am about to write next any more than anyone could believe it at the time. Sandwiched between the two 'Wests' the League Cup third round, seventh place Leeds United 2 Aston Villa 3. The Post observed that "only a Liberal party victory in the upcoming General Election would be more unexpected." Things being as they were, though, a trip to leaders Manchester United was only ever going to go one way. Denis Law saw to that scoring four goals from seven when he alone might have had ten.
After five consecutive league defeats it was almost a relief to be up against Fulham next. Attendances were keeping pace with results and only 14,668 were there to see full-back Gordon Lee score the second of only two goals he ever managed for us. But he had also managed to keep Johnny Haynes subdued. 2-0.
The League Cup brought third division Reading to B6 watched by the smallest crowd in donkeys years, 7,964. At least the prize money made it worthwhile following an easy 3-1 win, if anything was easy Villa-wise in those days. If it was not for Wolves (3 points from 15 games against our 8 points) we would be anchored at the bottom. Yet Cyril Chapman in the Post was able to congratulate Villa and Nottingham Forest for the fare they had put on for the 25,205 at Trent Bridge. His report might have been even more glowing had we not lost 2-4.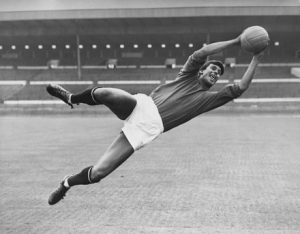 Another pseudo-Midland derby had a far more encouraging outcome when we thrashed Stoke City 3-0. Then lo and behold we made a signing and we did not have to go far to make it. Just an inner circle 8 bus ride. And our finances were such it would be no surprise if that is actually what we did. Exit Geoff Sidebottom, never the most popular or reliable custodians (eventually to Scunthorpe United). Enter Colin Withers. Struggling Blues (18th) must have had a good keeper to let him go to Villa.
Jimmy Greaves seemed to love playing against the Villa and he masterminded a 4-0 victory for Tottenham as Withers must have doubted his wisdom in crossing the city. Having Mike Tindall suffer a broken leg did not help.
Fourth division Bradford City had made it to the quarter-final of the League Cup and this resulted in our lowest attendance since nineteen days earlier, 7,882. A good opportunity for us to score seven, which we did, Hateley four. But joy of joys we next welcomed Burnley to B6 and we all knew what that meant. Barry Stobart, newly signed from Manchester City, obliged even if everyone thought we had signed him from Wolves. They were in no position to cash in on any talented asset.
Things did not go well at Bramall Lane, where Woosnam tried to tip tap his way through the mud. Sheffield United scored three times in seven minutes and led 4-0 before two smart goals made it more respectable – and we had a couple odisallowed otherwise it would have been a famous comeback. We could have done with a comeback at Leeds, where a second minute reverse could not be reversed despite a much improved display.
Astonishing to think that a home game v Arsenal only attracted an attendance of 11,780. But winter had set in and the pitch was frozen solid. When Arsenal took a tenth-minute lead we feared the worst but the improvement at Leeds manifested itself and three second-half goals were enough.
Bottom of the league Wolves at Molineux came next (we were 21st) on Boxing Day (a Saturday) Deakin and Tindall both had broken legs so Dick Taylor made one of the most significant positional changes ever. He put Ron Wylie at right-half and it turned out to be an inspired move. Stobart obliged with a 27th minute winner against his one-time mates. The return was scheduled for the substitute Boxing Day but with an evening kick off. After our success on Saturday we were disappointed that the clerk of the weather stepped in.
After their success at B6 not much was expected from a trip to Blackburn Rovers. Other games in Lancashire were cancelled and it is a pity that this one wasn't. It possibly only went ahead because a pop group Four Pennies had been booked to provide some pre-match entertainment and encourage a few more teenagers than usual to attend. 1-5 reflects our inability to figure skate as much as the skill of the Rovers.
Now for the match of the season in the Midlands. he visit to Villa Park of newly-promoted second division Coventry City in the cup, managed by wage rebel Jimmy Hill. He had caused much comment by changing the club colours to all-sky blue including the shorts. A change from the almost obligatory white, black or navy blue. All the pre-match talk was of Coventry inflicting a humiliating defeat on their famous neighbours. In the event they were more nervous than we were and chants of derision were being aimed in their direction long before the end. At least it made a change for our crowd to deride the opposition instead of our own team.
Blackpool had 'done a Villa' and suffered nine consecutive defeats when they ventured south. Despite playing their centre-forward in defence Woosnam, a shrewd tactician, saw round the plan and we should have done better than 3-2 and improved our negative goal average. Then Chelsea came for the first leg of the League Cup semi-final. The game would never have been played today and the fact that we had two players carried off injured is reflected by the 2-3 scoreline against opponents who were second in the table behind Leeds at the time. It is fair to say we no expectations of winning the second leg.
Next we should have made consecutive visits to Sheffield but the game at Wednesday was frozen off. If nothing else British Railways were confused because they advertised the trip the following week as being to Wednesday whereas we were actually off to United in the FA Cup. On the day of Churchill's funeral we gave a 'no surrender' performance and you cannot get better than a 2-0 away from home in the cup.
Liverpool had recovered to mid-table when they came to Villa Park. Meanwhile the modest improvement in Villa was there for all to see and we were confident of avoiding a heavy defeat. But not quite a flucky single goal demise, made worse because both Sunderland and Wolves won the same afternoon and we were back down amongst the dead or dying men
Over the season so far there had been no chants from the terraces of "Sack the manager". After all, he usually watched the game from the directors box and, post-Mercer, the majority of spectators probably did not even know who was the manager.
Next we had to face a series of local derbies – never a good thing when you need the points. First up were Birmingham City but we had a trump card. Colin Withers played a blinder against his old mates. Less so Schofield, who misjudged the flight of the ball in the high wind making Stobart look like Pele. Wolves in the cup came next. A game between the bottom two in the league was almost certain to end in a stalemate. The wonder of it was that it ended 1-1 rather than goalless. The game was preceded by cup final-style community singing and it probably had a modicum of cup final nerves about it. Wolves scored first (38) Hateley (68) responded. 52,010 such used to be the attraction of the cup.
Four days later we trundled off to the Molineux where, despite an extra thirty minutes, we got the predicted 0-0. Bad news, we have to go to the Hawthorns for the second replay. And just to rub salt into our wounds we have to go there twice in four days.
First the league match against the Baggies. Possibly with one eye on the cup replay and a sixth round tie at home to Manchester United we gave a lackadaisical display 1-3. The only consolation was that Wolves and Sunderland lost at the same time.
For the sake of posterity I have to report that I was not in attendance at the second replay against the Wolves at The Hawthorns, bt for the best possible excuse, or perhaps the worst. I heard commentary on the Hospital Broadcast Service in my bed in the Queen Elizabeth Hospital. Suffice to say that we lost 1-3 as did Wolves (3-5) when they later came up against Manchester United.
This meant that our next game was at Everton. Injuries meant that we had to put out a very inexperienced team. 1-3. Only two days later and Hillsborough's lowest crowd in decades, 12,223 does not speak highly of the game. Best that can be said it that we cannot be faulted for effort if we can be faulted any of the goals, 1-3 is becoming a habit.
Mud, mud, glorious mud. So much better for us than pseudo-ice rinks. Burrows leaves for Stoke, and is not missed v Nottingham Forest. 2-1, both Hateley, but only 14,445. Bankruptcy beckons. Two days later the ultimate 'must win' relegation scrap against Wolves, who amazingly had won their last three games. But not this one as we never gave them a chance after going two goals up in the first eight minutes. Joy was unalloyed amongst the claret and blue supporters in the 28,892 crowd. They gave us a fright towards the end but 3- 2 is 3-2.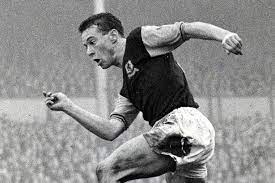 Recalled to the QE I was discharged on Saturday morning and rang my mother to tell her that I was hot-footing it to the game at Stoke. Powerless to prevent me she insisted that I must not stand on the terraces but she instead bought a ticket for the stand. This I did, the only occasion I can remember actually buying a stand ticket for a league match. I was so used to getting players complimentary handouts. I was not rewarded for my enterprise. 1-2 but neither of them Burrows.
Villa 2 West Ham United 3, but only after we lead 2-0 at half time. The less said about the second half the better. As a consequence Tottenham were an away banker when they came to B6 three days later. The winning goal by Baker after fifteen minutes was described it as the one shining jewel amid some of the most tawdry football seen in this mediocre season for Midlands football. How sad. This is Aston Villa of which they speak.
Turf Moor, a mere 10,106, poor even for them. A late goal from Aitken (Stan Lynn would have been proud) and 2-2 for only our second point there in 14 attempts. Birmingham City next. 37,003, our biggest crowd in this depressing season were there to witness the last rites for one if not both of them. By the end it was virtually, bye bye Blues. Villa completely outplayed an almost clueless Blues and three-nil hardly does us justice.
It was our turn to feel the tension next after Wolves had won at Sunderland. We got the penalty which had been denied to Sheffield United. Two goals in the last minute but fortunately the first to Hateley had the 13,920 rushing for the buses although they were stopped in their tracks by an even later goal by Hartle. But 2-1 and safety beckons.
First the little matter of Leicester City home and away. Easter Monday, 1-1, which should have ended up decisively in our favour then 1-0 on Easter Tuesday evening, thanks to a shot from Lew Chatterley which Gordon Banks never saw although he saw most things that evening. Even greater joy because Wolverhampton were relegated at the very moment we were confirmed safe.
Fulham when there was nothing at stake was a joyous place to go when normally it was quite depressing. A late equaliser when we were down to ten men ensured a point at a ground where we never win. Eleven points from the last fourteen was the stuff of champions. And it was to get even better when we actually finished by beating the champions Aston Villa 1 Manchester United 0. All's well that ends well. Final position a season high, sixteenth First division football again next season. Four fewer local derbies, 21st Wolves 22nd Blues.
The team went off to relax with a weekend at the seaside. Bournemouth 1 Villa 1.