John Russell looks back at the 1963-64 season.
Villa paid a very heavy penalty for their folly in rolling the snow into the pitch during the harsh winter of 1963. Villa Park was the last in the country to resume normal service, added to which the disastrous run of eleven consecutive defeats saw average attendances fall from 32,000 to around 20,000. This, ahead of the humiliating League Cup final defeat to neighbouring Birmingham City, which meant that we were no longer even the biggest club in our own city, much less the world. The phrase, quite rightly, no longer appeared in the club programmes at away grounds. We became merely, "the famous Aston Villa".
With the cupboard almost bare the shortened summer break allowed little time to run the rule over potential new players even if they could be afforded, and even if a player could be persuaded to throw in his lot with an ailing club.
The enigmatic centre forward Derek Dougan (there is a legal obligation to describe Dougan as 'enigmatic') opted to step down a couple of levels and joined ambitious Peterborough United. Villa would not be Villa without a 'personality' at number nine and Tony Hateley was one of the few players willing to chance his arm and try his luck by moving up two levels from Notts County.
He may had added thousands of fans to the gate from his old club when on his Villa debut when we visited Nottingham Forest in the season opener. Here we caused a major surprise when big Tone became an instant hero as he scored the only goal of the game in our first victory on the banks of the Trent since our second division days under Jimmy Hogan.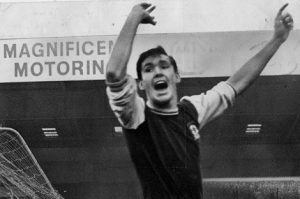 Thus he certainly added thousands of expectant fans to the gate at our home opener, a Monday night extravaganza against newly-promoted Stoke City. But it was a false dawn. Despite a goal from our new hero, reality struck when we went down 1-3 in front of 40,147.
A defeat at Blackburn Rovers gave a hint of the bad old days of a few months earlier before a hat trick from Harry Burrows rivalled the illuminations as we lit up Bloomfield Road with a most unexpected but emphatic 4-0 triumph.The newest Mercer Minor, seventeen-year old Michael Wright, had every cause to remember his debut.
At the end of September our old nemesis, Derek Pace, turned up at Villa Park to remind manager Joe Mercer how good he had been when he signed him from us while he was manager of Sheffield United. Doc's second minute goal was an embarrassing reminder but we finished the month higher than expected, in mid-table.
Historically Villa had always achieved poor results during October and November and 1963 was to prove no exception as we ended the period in ninteenth place, just a smidgeon above Satan City. A highlight of November had been an attempt to settle the age-old argument as to which city had the better players, London or Birmingham. A testimonial for Vic Crowe at Villa Park decided the issue emphatically – London 6 Birmingham 1, although we felt cheated when Derek Kevan ex-Baggies, then of Manchester City, was drafted into the London team in lieu of a late absentee, another non-Londoner, but friend of Vic, John Charles then of Cardiff City. It would have been a very rare appearance of the Welsh immortal at the Football Hall of Memory. The programme is a collectors item.
Our appearance in the League Cup was short lived. 3-1 at home to Barnsley – not worthy of a proper programme, just the traditional standby twopenny single sheet edition. Ditto the third round at home to West Ham where Phil Woosnam failed to inspire his new mates against his old mates (Peters, Moore and Hurst et al.) 0-2
December saw us complete the double over Nottingham Forest (3-0) followed by a couple of festive season draws with Wolves. 3-3 and 2-2
The new year began with two of the blackest days in the history of Aston Villa football club. Drawn at home to fourth division Aldershot in the third round of the FA Cup it had all the makings of a Tony Hateley benefit. Only he can explain the rather bizarre 0-0 score-line. But far worse was to follow when in the replay our only goal game from Hateley with the very last kick of the game. By then Aldershot had already scored twice – easily. It little mattered that we had already been drawn at home to Swindon Town in round four but it may help to explain our dire FA Cup record ever since.
Surprisingly Tottenham Hotspur had also been defeat in round three against Chelsea, so we got to visit White Hart Lane on fourth round day. It might have been better if we had stayed at home, 1-3
Perhaps discreetly the Villa News editor opted not to include the league table in the programme any more. But inept Ipswich Town and Bolton Wanderers were running away with the wooden spoons and chief centre of interest centred around who would finish nineteenth and twentieth, us or the Blues.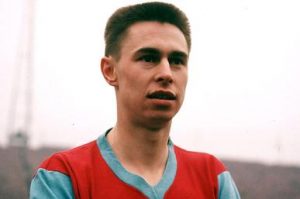 With Hateley infirm Mercer opted for a most unlikely centre forward against the Baggies, namely Phil Woosnam. His 82nd minute winner did much to enhance the reputation of our manager as a footballing genius.But it almost as good as it got as when to add insult to injury we handed over Villa Park to a most unlikely pair of semi-finalists. Preston North End v Swansea Town. Second division, both.
Meanwhile amidst all this doom and gloom Aston Villa were going great guns, TOP of the Central League. Begging the question why if the first eleven was in freefall none of the reserves were deemed worthy of coming to the aid of the sinking ship. It's a question as unanswerable today as it was at the time.
The last ten games of the campaign produced only one win, the almost tradition victory over Burnley 2-0, preceded by an Easter pairing v Blues. They won easily 3-0 at Villa Park including a Stan Lynn penalty. And almost inevitably another Lynn penalty the next day at St. Andrews but two unlikely goals from Lew Chatterley enabled a 3-3 draw which ensured that we stayed above them on the league ladder.
Meanwhile whilst we were losing 3-4 at already relegated Ipswich Town we had something of an excuse for doing so. Keen to make sure we actually won the Central League championship we fielded a near-reserve eleven whilst most of the first team appeared at Villa Park against Newcastle United reserves. Unprofessional maybe, but Villa 7 Newcastle 0 tells you everything you need to know.
Meanwhile the Lord Mayor of Birmingham thought it a good idea to remove one of the largest trophies in football from the city vaults for competition between the youths of Villa and Birmingham City and may have wished he hadn't. The fight at St Andrews between the respective youths on the terraces ended 3-3. Calmer minds attended the second leg where an injury-time equaliser enabled Blues to belatedly grab one of the handle of the cup (1-1/4-4) before it was put back into storage. Permanently.
Villa nineteeth, Blues twentieth and relief all round, but nobody had cause to look forward to next season.
Comment on this post here.