Looking ahead/forward to a trip to the Emirates.
Games against Arsenal should be resonant with history, the original footballing aristocrats taking on their self-proclaimed successors. Unfortunately it hasn't gone like that; as Peter Morris said in his immortal work, since the thirties we've tended to go one way, they've one the other, and their way has usually been the direct route while ours more often than not has led to a dead end.
There's been a few more recent occasions when you could have wondered "What if…?" and the two biggest revolved around League Cup ties.
In the eighties both clubs were struggling. We surprisingly won a quarter-final replay at Highbury in 1986, they sacked Don Howe and replaced him with George Graham while we kept Graham Turner and ended up with Billy McNeill. A decade on, we finished above them and won a memorable semi-final. At the end of the season Bruce Rioch was replaced by Arsene Wenger while two years later John Gregory took over from Brian Little. The two clubs have rarely been in the same orbit since.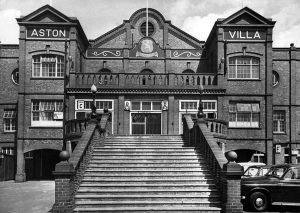 In 2006 both of us seemed on the verge of a new golden era. The opening game of the season saw Arsenal starting out at the Emirates against a Villa side who were about to be taken over by a bright new American Dream.
Neither club's work has gone to plan since then, although I'd have taken their 'failure' even if our future might now look brighter. Last time we were allowed into the Emirates I couldn't help noticing how tatty it had become so quickly while Villa Park remains unparalleled, which might be a metaphor as well as a reminder that new doesn't always mean improved.
And that leads us nicely to the next chapter in the story. Villa have got a good recent record against Arsenal, which might prove vital. That visit two years ago saw us throw the points away as much through inexperience and big stage nerves as anything. Two years on and the novelty's worn off. They're in a bit better form than they were a couple of months ago, but their best-known player is still their manager. And we've not done badly this season away to Big Clubs with an underachieving legend in charge.
How we set up and consequently how we play depends on how the never-ending injuries are doing. If we're at (reasonably) full-strength we can get at Arsenal from the off, and as we've seen already, when that happens we're a match for anyone while when they're under a bit of pressure our hosts (I'm being polite here) can struggle. But as we've seen over the years, when Villa and Arsenal are concerned 'if' is a big word.
Comment on this story here.