John Russell concludes the tale of Villa in 1962-63.
Geoff Sidebottom paid heavily for his wonder save from the Stan Lynn penalty. Towards the end of the game he injured his wrist when diving at the feet on an onrushing forward – something which was quite common back then but really seen these days now that goalkeepers are deemed an endangered specie. The Blues trainer received thunderous applause for coming to the aid of Geoff because the Villa trainer was already engaged in treating one of our own walking wounded.
All this meant that John Gavan was called upon to make his debut the following week at Fulham who, for them, were cresting waves having gained nine points from the last ten. It became eleven from twelve as a lacklustre Villa showed none of the form of the previous week and surrendered tamely to a sixtieth minute goal. It is uncanny how many goals used to be scored in the 60th minute.
If Macedo had been all but unemployed not so Gavan, who was responsible for limiting the score to only one. Unbeknown to everyone it proved to be the state of things to come as we began of descent down the league ladder.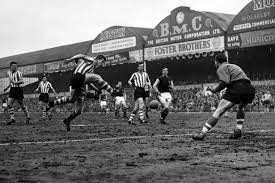 Friday night in Blackpool is quite an attraction in September when the illuminations are on, not so on a bleak night in March. The ground was in such a poor state that had the tide been out it might have been a better proposition to set up a pitch on the beach. Sidebottom returned between the sticks but he may have been suffering from what is now diagnosed as post traumatic stress syndrome. Certainly he was before the end, when a leg injury caused Slogger to don the green jersey for five minutes. But Blackpool had done enough and were satisfied with four unanswered goals.
There then followed a surfeit of matches and it was now possible to see a Villa team in action almost every day of the week except the Sabbath. Monday brought Everton to B6. Gavan was back in goal, for the experience, even in preference to Nigel Sims, now a forgotten man. A first half injury to Alan Deakin did not help matters but the infamous Trinity Road stamping made an unwelcome reappearance as a disjointed side surrendered without a fight, 0-2. Already it was difficult to imagine when we would win another game and traditionally a visit to Burnley was never going to be the place to start. It took would-be Villa hero Andy Lochhead two minutes to prove the point and a rather strange looking Villa team – Gordon Lee at inside left – offered little. Vic Crowe scored a rare goal but Gavan conceded three.
Relegation-threatened Manchester United were next at Villa Park (Yes, you read that correctly). Since by now you know where this story is going they were less threatened as they made the midnight journey back home. Villa had gone from talent money challengers to incompetent fumblers with the changing of the clocks. Even without Denis Law it was a stroll for the Mancunians, who repeated their FA Cup win without much difficulty. 1-2.
We had now fallen to mid-table but if ever we were going to win another match then Sheffield Wednesday provided that opportunity. Sidebottom was back in goal and we really should have been well ahead come the hour, but come that crucial minute we fell victim to the three card trick and it was all but over ten minutes later. The Mercer Minors were now a thing of blessed memory as manager Joe seemed to have completely lost the plot. Relegation was no longer beyond the realms of possibility.
Easter meant home and away games against the Wolves, who had championship expectations. Despite effectively playing 7-2-1 we were never going to outwit an attacking side like Wolves and on Easter Monday we retired with just twenty-four hours to treat our wounds. Physical as well as pride.
2-0 to Wolves on Easter Tuesday evening may not sound a very comprehensive defeat, but it was, not helped by the fact that the reserves had just lost two 0-1 games to the black and golds.
After eight consecutive defeats it took a monumental act of faith to journey to Bolton Wanderers, but needs must. A feeling that was doubtless engendered amongst the team because embarrassing defeats do not get more embarrassing than this fou – one disaster. Unfortunately two days later and we had finally managed to fit the second leg League Cup semi-final against Sunderland into our busy schedule. Surely we couldn't possibly surrender a 3-1 lead against a second division team?
Sunderland were without new acquisition Brian Clough. In an act of desperation we had Harry Burrows leading the line. Grim is not the word for it but at least we had ended our sequence of defeats. Our reward for ninety minutes of nothingness was a final against the Blues, then below us in 21st place.
But first a trip to Bramall Lane. Joe Mercer had actually bought Derek Pace while he was manager of Sheffield United. Doc never failed to remind us that Eric Houghton had risked his career by selecting Billy Myerscough to lead our line against Manchester United at Wembley. Defeat and Houghton would probably have been sacked by five pm. Seven minutes was enough for him to prove a point but despite a rare equaliser it was ten defeats in a row by nine-thirty.
Thanks to the failure of others, relegation was now avoided but hopes of a celebration at home to Nottingham Forest were dispelled before half-time. Instead, a 0-2 reverse was no real surprise to those who chose an away win on their pools coupon.
Finally the abandoned game against Manchester City had been rearranged for a Wednesday evening. Barely 17,000 thought a Wednesday night visit to Villa Park preferable to an evening in front of the television.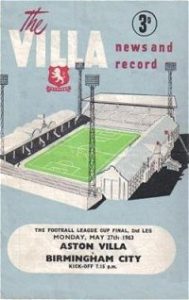 The faithful were given an unexpected treat. After Alan Baker had stabbed in a 15th minute leader we were awarded two penalties in two minutes and Harry Burrows duly obliged both times. 3-0 up, surely our losing streak had ended on eleven. Then after 49 minutes Burrows was given the opportunity of achieving a very rare hat-trick but from the spot he sent the ball over the bar into the crowd. The one drawback to this triumph that it put Manchester City below Birmingham City in the scramble to join Leyton Orient en route to division two. Normal service was resumed at The Hawthorns but two wins and a draw from the last three games gave the final table an air of respectability
The final humiliation came when Birmingham City were presented with the League Cup trophy in the directors box at Villa Park. But I am proud to say that by that time I was halfway down Witton Lane, past the ruins of the soon to be demolished stand. The ship was sinking.
Comment on this story here.