Stacy Murphy pays tribute to James Chester.
When the term Villa centre-half or centre'back is mentioned I would guess that for a majority of supporters their first thought would be, depending on your age, Paul McGrath (mine would be ,anyway), Allan Evans, Ken McNaught, Chris Nicholl, Olof Mellberg or Martin Laursen. I would guess the name of one of Villa's most significant central defenders in recent years would be a fair way down most people's thought process. I'm talking about James Chester.
Chester started his career with the vaunted Manchester United academy but after several loan spells, including a particularly successful one at Carlisle in the first half of 2010-11, he left Old Trafford without making a first team breakthrough. He chose to move to Hull City permanently in January 2011, helping them to Premier League promotion two years later. A year further on 'Chessie' managed to do something his future employers haven't managed in nearly 65 years: he scored in an FA Cup final, against Arsenal before Hull ultimately lost 3-2 in May 2014.
As Villa were postponing the inevitable for another season in 2015, Hull were one of the few clubs who were worse and were relegated but the good news for Chester was he would be remaining in the top flight. The doubly bad news was it would be with West Brom under Tony Pulis. After a stuttering season in Pulis' team of giant thugs Chester found himself surplus to requirements in Smethwick principally because he is only 5'11" and found himself out of position at right back.
An offer of playing in his preferred position was enough to convince Chester to drop down a level despite his stock rising as centre-back after helping Wales to the European Championship semi finals. He was with Villa for all but the first two weeks of our sojourn in the Championship, signing in August 2016 and was arguably the most successful of the players Robert Di Matteo brought to the club although competition for this 'accolade' is hardly fierce.
Under normal circumstances a player signed from Albion would be subject to a heightened level of scrutiny among fans but the Welsh international brought a calm to the Villa defence where chaos had previously reigned. Lack of a regular partner for Chester though still meant Villa's defence was inconsistent at best with the injury-prone Tommy Elphick and Nathan Baker as well as the wreckage of Micah Richards' career rotating alongside him. Chester was one of the standout performers as Villa struggled to their lowest league placing in more than 45 years; thirteenth in the second tier.
As Elphick's injury struggles continued, Chester had been appointed captain in the second half of 2016-17 and it looked like he would continue in the role until Steve Bruce began playing golf with John Terry in Portugal during the summer of 2017. Rather than sulk at being supplanted, Chester spoke in glowing terms about Terry and the effect he had on the club bringing a level of professionalism previously missing from the Villa dressing room as the Chester/Terry combination was the defensive basis of a promotion push. Chester, despite being under 6' tall, proved a commanding presence in the air at in both penalty areas scoring four times in an ever-present in the league campaign including one in the 4-1 Villa Park demolition of the Wolves side who would cruise to the Championship title.
The failure of that promotion bid at the final hurdle against Fulham at Wembley in May 2018 called into question the future of every Villa player as bills went unpaid and departures looked inevitable just to keep the club afloat, with James Chester appearing one of the two most saleable assets the club had. With Stoke being suggested as the defender's most likely destination the cavalry arrived in the shape of Wes Edens and Nassef Sawiris. Chester stayed in B6, celebrating by scoring in the first home game of 2018-19 against Wigan, heading in debutant John McGinn's free kick to put Villa in front in a game we desperately tried to throw away before snatching a 3-2 win in the fourth minute of stoppage time through Bikir Bjarnasson.
The lack of ability to recruit players for most of that summer, followed by the reluctance of Steve Bruce to bring in more than just Axel Tuanzebe on loan as centre-back cover would have consequences for Chester as well as for the team. When both Elphick and Tuanzebe picked up injuries, Chester was obliged to play despite picking up a knee problem himself.
By early October this would no longer be Bruce's problem but with Dean Smith still had to manage the same issues including having no fit central defenders for three months. It would be for that period which we as Villa fans should be grateful to Chester. Until Smith was able to bring in Kourtney Hause and Tyrone Mings in January 2019 Chester played on virtually one leg often alongside Mile Jedinak as a makeshift centre-back.
Apparent irreparable damage to Chester's knee was a result and the he admitted as much in the aftermath of the Wembley euphoria, suggesting he would have issues for the remainder of his career. There are few things Villa fans, including me, will say in favour of Jack Grealish these days but that he insisted Chester join him in raising the Championship play-off trophy was a moment the (still then and re-appointed after Terry's retirement) club captain Chester deserved. He even managed to smack Grealish in the face with the trophy while they lifted it. Some may have envied him that last summer.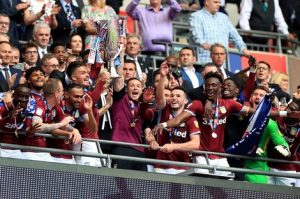 With a year left on his contract Chester remained with Villa after promotion but after the signings of Bjorn Engels and Ezri Konsa as well as Tyrone Mings and Kortney Hause permanently, he found himself as fifth choice. Having to manage the number of games he could play as well resulted in him never appearing for Villa in the Premier League.
Chester's last game at Villa Park was the 5-0 win over Liverpool's youth team in the League Cup quarter-final. He went off fifteen minutes before the end to an ovation from fans who had an inkling it might be his last appearance in claret and blue. That wasn't how it turned out though, as he played once more at Fulham in the FA Cup third round before going on loan to Stoke, followed by a permanent move in summer 2020.
Since then Chester has played a big part for Stoke but the damage to his knee is beginning to restrict his playing time. Potters' manager Michael O'Neill recently admitted he would like his recruit from Villa to play more often but having to manage Chester's injury is an issue in Stoke's bid for promotion and the player cannot play the three games a week required in the grind of a Championship season. Chester was forced to put his career on the line for Villa and in doing so couldn't be part of the play-off winning team, and now because of that he can't do the same with his new club despite being as fit as he could expect to be.
James Chester is a player Villa owe a lot.
Comment on this story here.