John Russell recalls a history-defining period at Villa Park.
21,340 is not a bad turnout for a memorial service, but although they might have guessed it at the time those 21,340 were probably unaware that they had been present at such a sadly historic occasion. It turned out to be the match that finally ended Villa's status as The Greatest Football Club in the World.
The omens had not been good in December 1962, when on Christmas Shopping Saturday a fog descended over Villa Park and the match against Manchester City was abandoned three minutes after the Bovril break with Villa one-nil down. Few of the 21,264 who were sent home early can have realised that it was to turn out to be a most fortuitous abandonment.
Then the Boxing Day fixture at home to Liverpool fell victim of the weather, as did the return match three days later. The worst winter since 1947 was well and truly underway, although unlike 1947 there was to be no attempt to play football, whatever the conditions. Fans had to keep their ear to the radio hour by hour to find out whether a match was on or not.
But as Auld Land Syne rang out Villa were sixth in the league and had no cause for concern. WRONG. Coastal towns seemed to have escaped the worst of the weather so it was something of a surprise when the game at Blackpool was called off but more than sufficiently early to avoid a wasted journey. Villa had reached the semi-final of the League Cup and given the cancellation of the Blackpool fixture and their own game at Swansea, Sunderland were determined to use the now blank Saturday to stage the first leg match. So at little more than twenty-four hours notice we who were few trooped off to the north-east (no excursion train fares).
How in the world Sunderland believed that their pitch was 'playable' can only have its origins in what had happened sixteen years earlier. They were still removing buckets full of snow from the pitch right up until kick-off time. Justice of a kind for their folly was done when against all expectations Villa ran out 3-1 winners.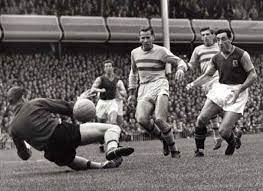 We had been drawn away at Bristol City in the third round of the cup but that game was quite literally 'day to day'. It is to the credit of British Railways that they announced that our football special would run 'as and when' and like the match it continued to get postponed daily for eleven days. Indeed until after the trip to Sunderland. It then had the worst possible result, 1-1, and there was a big question mark over when and if the game would ever be played as meanwhile the FA continued with the draws as scheduled and there was a surfit of 'or v or' games.
We now come to the date on which the Villa ceased to rule the football world. 19th January 1963. Although it was freezing, very little snow had actually fallen in Birmingham so Villa made the made decision to roll what little there had been so that the game against Blackburn Rovers could go ahead. It was an act of monumental stupidity on the part of groundsman Bert Bond.
Rovers goalkeeper Fred Else spurned the wearing of tracksuit trousers which by then had become the vogue for custodians and amazingly, because like many custodians he also liked to 'get the feeling of the ball', he did not wear gloves either. The pitch was marked out with blue lines and the goalposts were pained yellow but in the face of a howling gale coming in from Russia, Fred was given very little opportunity to show his capabilities by handling the orb and probably the most farcical game ever played in B6 ended somewhat predictably, goalless. But at least we had got a game in.
It was another three weeks before we saw another one, when we hastened to Liverpool, equally anxious to get a few paying spectators into Anfield before the money ran out. A crowd of 46,374 braved the cold as Villa obliging just went through the motions and lay down 0-4. But not before I had made a mad dash up to Sheffield when the game at Bramall Lane had been declared "certain to go ahead" on the Friday afternoon by a local referee, Gordon McCabe. If I delayed I feared not being able to get there at all on the severely-disrupted rail services.
I was at the ground for the eleven o'clock pitch inspection, the highlight of which was McCabe diving into a snow drift as if tackled from behind. Annoyed at a futile journey I then had to wait four hours in the cold for a train home. Somewhat perversely and suffering from an absence of football I was persuaded to journey to Filbert Street to see Leicester City beat Arsenal 2-0. Leicester were second behind Tottenham at the time
It was not easy to arrange substitute fixtures with any certainty that the game would be able to go ahead but after a month we got to see the Villa in action again when Swansea Town could not find another club willing to risk a game at the Vetch Field so we turned up at short notice for a friendly As futile exercises go a 4-3 success with lots of substitutes made the journey seem worthwhile. All the more so because the snow had started to melt in South Wales and we had got to play in the mud instead of on ice.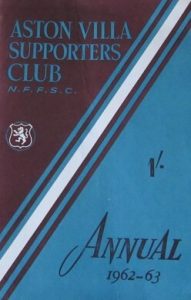 Then came the infamous game against the Albion at Stourbridge (2-3) which has been the subject of previous reports in H&V. The big freeze finally relented somewhat and we were able to venture to the Baseball Ground but not officially for a first team match. Instead we put the first team out in a Central League match against their reserves. Expecting an easy romp we struggled to achieve a 2-0 win.
At the beginning of March a home game versus Everton was unsurprisingly postponed before finally Villa Park was declared fit for purpose again. On a Thursday evening Bristol City turned up for the long delayed FA Cup replay and gave us a massive scare before a late winner by Bobby Thomson (3-2). Two days later the Villa Park faithful were rewarded with a 2-1 success against Manchester United Reserves. Meanwhile and at the same time the first eleven was in action at relegation-threatened Leyton Orient where Phil Woosnam saw to it that his old mates remained relegation-threatened (1-0).
Two days later we were obliged to travel to Old Trafford for the long delayed fourth round. "The team that beats the Villa wins the cup". And so it proved again but it really should not have happened that way. Sidebottom dived expecting a fierce drive by Albert Quixall only for the ball to merely bobble apologetically along the ground to send most of the 52,000 into a state of delirium.
Then came one of our most memorable victories over the Blues at Villa Park, the highlight of which was the greatest save ever seen at Villa Park. I do not use the description lightly, because more than half a century on it has never been bettered. Leading 3-0 and just short of half time Blues were awarded a penalty. Stan Lynn, now two years a Bluenose stepped up to the mark. There was only going to be one outcome. But Geoff Sidebottom more than made up for his Old Trafford bloomer with the save of the century. The crowd was still standing and applauding as the players trooped off at half-time.
Six minutes after they came back Harry Burrows stepped up to replicate the Lynn penalty and showed how it should be done properly as Schofield could only admire the speeding orb. We should have gone on to achieve a record score against the blues but 4-0 was not bad.
None of the 46,680 who were there could possibly have predicted the horrors which were to come and which resulted in the title of this article, but I will save that for next time.
Comment on this story here.