Looking with scorn and derision towards Saturday's titanic clash against Wolves.
After the pointless waste of space that is the international break we return to Premier League action at a packed Villa Park with a rip-roaring Super Sensational Soaraway Soccer Saturday against local almost-rivals and prime contenders for mid-table mediocrity, Wolverhampton Wanderers.
It would be far too easy to laugh at Wolves, their failings and their delusions, so we might as well. This is a club, let's not forget, who within living memory were getting crowds of three thousand for matches in the fourth division and signing players from the West Midlands League while scrabbling down the back of the settee for a couple of quid to pay the paper bill. Then they bounced round the divisions for a couple of decades before being bought by a Chinese company who were in no way anything but perfectly scrupulous, linking up with an agent whose dealings were only ever benevolent and always above board.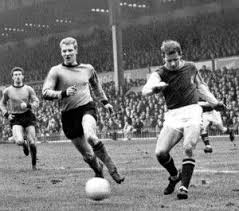 This, in Wolvesworld, meant world domination was inevitable and Real Madrid the only real competition for any player they fancied, who would of course be only too glad to move to Bilston and eat scratchings. After all, they did win a few friendlies back in the days of rationing and Newcastle picking up trophies.
And a few years down the line here they are, in the bottom half of the Premier League. Admittedly that's better than they've managed for most of the past half a century, and at least their attempts to start some sort of rivalry with us have been pretty much forgotten. Not that they'll accept their place; this is only a temporary setback and the silver polishers will soon be working overtime at a Molineux that will have been expanded to hold eighty thousand.
Over the years them and us have done plenty of transfers and we've usually got the best end of the deal. The biggest one was when we gave them Andy Gray and they gave us the money that won the league and put them into receivership. Now they've got Adama Traore, who played for Villa when we were shite, and who now looks like a legally pumped-up and don't say any different version of Tony Daley with less end product. They've got coaches named James Collins and Steve Davis, neither of whom are the ones who played for us. Their celebrity supporters include Robert Plant, Kevin Rowland and that bloke who fell through the roof at Scarborough, although at least he did admit to having heard of them back then.
No matter how the local media might build it up, this isn't a particularly big game for us although we've got enough players out through injury/quarantine/jet lag/nuclear holocaust to make it more difficult than it should be. Then again, we've got more than enough who will still make it onto the pitch to wrap up another three points and show once again which of these clubs are on the verge of conquering the world.
Comment on this story here.