Dave Woodhall talks to ex-Villa midfielder turned author Steve Hunt.
Steve Hunt started his career in the promotion-winning Villa side of 1974-75. He moved to New York Cosmos, when he played alongside Pele and Franz Beckenbauer before coming home, winning England caps and returning to Villa before he was forced to retire through injury. His autobiogrphy, I'm With The Cosmos, was published earlier this year and Dave Woodhall spoke to him recently.
To ask the obvious, how's the book doing?
"Alright as far as I know. I won't get figures until November so I don't really know yet."
The response certainly seemed good.
"I'm fully happy with the way it was put down on paper. Ian McCauley put down everything the way I wanted it. He did a great job."
What the book showed me was that New York was much more of a football city than it ever seemed to be from a distance.
"It was very popular, obviously it took a while to build but it was intense in places. Cosmos led the way because they had the backing, but television killed it off in the end. They just couldn't break through in that area. It became a bit of a joke because they'd break off for adverts while the game was on and by the time you got back anything could have happened."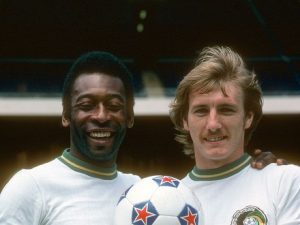 Cosmos are now like a cult seventies band who nobody too much notice of at the time but now everyone claims to have seen and been influnced by them.
"You still see Cosmos shirts being work in the UK, which is incredible."
I didn't realise that you made your debut coming on against Sheffield Wednesday when we won promotion and your first start against Sunderland on that memorable occasion. That must have been unbelievable.
"That was the dream. I was orought up playing on the streets in Witton and I went through from schoolboy forms with the Villa. That moment running out onto the pitch with that crowd and knowing I knew a lot of them was incredible. Promotion was already clinched so the pressure was off, but when you've got fifty-seven thousand supporters to entertain the pressure's back on again."
The players always give the impression that with Ron Saunders there was a first team and then there were the outcasts. Was that how you felt?
"Well, there was a first team and then there was nothing. If you weren't in the first team you didn't get spoken to, you were with the reserve and the youth team coaches to keep you going, but then when you did break through he was all over you. It was quite strange."
The players who left, especially the ones who left in his first couple of years, always seem to say the same – they didn't particularly get on with him but you can't knock success.
"I agree totally, and I said that in the book. A lot of us left but I'd never fault what he achieved. He had his way and it worked."
You left Villa soon after making your debut; most players went to America on loan but you were a permanent transfer. Perhaps it was the influence of Phil Woosnam, who was running the NASL, but a lot of Villa players went there and quite a few stayed permanently.
"We played Portland and I was surpise how many Midlands players were there. They had Pat McMahon, Willie Anderson, Ray Martin from Birmingham. Peter Withe played out there. Chico Hamilton was there as well."
Chico should have played in Los Angeles. He was made for California.
"He was always in front of me in my position at Villa. I got on really well with him, we were on a coaching course together. His room-mate was Tony Currie, can you imagine those two together?"
You moved from Cosmos to Coventry, where survival was the thing, at a time when Villa were taking over Europe.
"It was a different challege. I'd had all that success in the States but I was happy to come back to Coventry. They gave me a chance to prove myself. It was always back against the wall, but we had some good teams, they were teams rather than individuals. It was a great club, they were miles ahead when it came to things like training grounds and marketing. They were like an American club in that respect but they were probably ahead of their time. Everything was in place but there wasn't much investment in the team."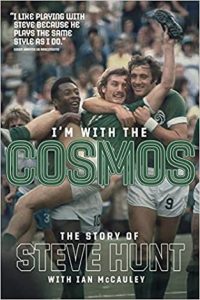 Then Albion. Would you say that was where you played your best football?
"Definitely. I said that in the book. I was unhappy at Coventry, the team-mates I'd played with were leaving so West Brom was a new challenge. The management was eye-opening as well."
At the time Albion were individuals rather than a team and you always got the impression there was a drinking culture at the club.
"Without doubt. That was well documented. I like a drink myself, but the whole league was drinking then. We had some good seasons at the Albion but Johnny Giles decided to go, then Nobby Stiles, and when Mr Saunders walked through the door I thought 'That's my time up'."
So you came back to Villa and helped keep us up in 1986, but by then the club was falling apart.
"I made quite a point in the book about it. We need leadership but it just wasn't forthcoming."
It's difficult to talk about people who aren't here to defend themselves, but leadership was definitely in short supply at that time. Everyone in football knew that Billy McNeill was off to Celtic at the end of 1986-87 and he was just marking time until then.

"That's the impression I got. We had some good players on paper but there was no togetherness on the pitch, just a load of individuals."
And with Doug Ellis you were always going to have conflict somewhere. Then Graham Taylor arrived.
"Best thing they did. He wasn't my cup of tea regarding playing style but he was certainly the right man at the right time. He brought in the organisation and leadership we needed."
Is it true that within a couple of weeks he'd found out all the pubs the players drank in and visited them all?
"Er, he didn't find every one. But he knew a lot about people, put it that way. His attention to detail was so organised, he wanted to know everything about the club and how it ticked over."
Although you were injured early in that first season.
"The Palace game finally brought it to me. I put in the book that I knew when I joined Villa that my knee was on the way out. I don't know if I had a medical, they were so desperate to sign me."
You were always a player's player, highly rated by people in the game. Gordon Banks once said he could never understand why Manchester United or Liverpool didn't sign you.
"Wow. That's high praise. I was doing a speech with him for the Football Writers Association and it wasn't long after that he paseed away. Our paths crossed in America when he was at Fort Lauderdale so I got to know him. He was a lovely man."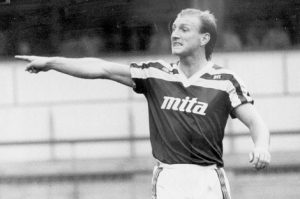 After retiring you moved into coaching, but you said you got disenchanted early on.
"Everybdoy said I should stay in the game, so I thought I'd give it a go but I could never replace the buzz I got from playing. Much as I enjoyed flashes of it, it just didn't do it for me. I was far happier doing the normal jobs I ended up with than when I was coaching."
To the nearest thousand, how many times have have you heard people saying, 'I bet you wish you were playing now, with all that money'?
"I'd love to have a go at it now. Things like the pitches are perfect, tackling from behind isn't allowed, money-wise definitely. I don't regret anything. Not too long after I retired it all went boom and you can eithrr say 'Christ, I wish I was there now,' or just get on with life. But what happens to all these guys when they stp playing? You can have all the money in the world but once that thrill of playing is over you wonder what they're going to do. There's only so many jobs in the game for the thousands of players who retired then suddenly they stop and they're on their own."
Is it true that you saw Bruce Springsteen sixty times?
"It's well over sixty now. I went over to see him in New York twice in a week for my sixtieth."
Did you say 'I'm with the Cosmos' while you were over there?
"Well, my contact with the band's through the drummer. I got a stage tour and all that, which was great. For me it's the fact that he's never done drugs, he's never relied on drugs to get that feel. And all kinds of music he uses as his inspiration."
But whatever you might say about Sprinsgteen, he never had Pele in the E Street band. That's one thing you've got over him.
"That's it."
I'm With the Cosmos by Steve Hunt with Ian McCauley is published by Pitch and available now.
Comment on this story here.