Looking ahead to a trip to Spurs with worrying optimism.
It's strange how some grounds, or rather some fixtures, mean more than others. Whereas Old Trafford always used to conjure up images of misery, defeat and heartbreak, the memories of travelling to Spurs are much happier. If you're old enough there were the debuts of Ardiles and Villa in 1978, Ian Ormondroyd's Platini impersonation in 1990 and the FA Cup replay two years later when our support borederd on the frenzied. And if you think anyone who hasn't got over this sumemr's big move is sad there are still those who haven't forgiven Steve Perryman.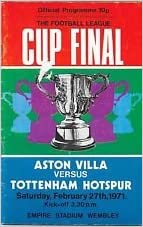 There were a few good ones after that, but for too long White Hart Lane was a bogey ground, although to be honest there weren't many grounds that weren't. Then they moved and when we got back off our holidays we played our first game back there, a day we showed that while we could play a bit, there were also a few defensive problems that had to be overcome, to put it mildly. Then there was last season, where Dean Smith brought the kids on for a laugh as the game was played out to the glorious backdrop of the world's most self-entitled and delusional supporters (two trophies in the past thirty years = world-beaters) booing themselves into apoplexy.
Spurs used to be just-about level with us on a good day and way below us the rest of the time. Then they became a benchmark for How Low Have We Sunk? during our time off. Now, almost without noticing, we're matching them and look a better team than they do. In fact, we'll be disappointed not to get something from Sunday afternoon's match and it's been a long time since we've travelled to anywhere in That London with such a mindset.
Spurs have got Harry Kane, whose form this season I'm not going to say a word about under the laws of tempting fate, and in the sumemr the signed the promising Italian international and Champions League keeper Pierluigi Gollini, another one of our old signings in the He Wasn't Like That When He Played for Us category. There's a lot of them about. They also have a manager who knows all about self-entitled and delusional supporters. There's a microbrewery in the ground, and it's probably run by someone who rides a penny farthing to work and wears an ironic monocle. And if you want to see perhaps the greatest example of modern football meets unfettered capitalism under the guise of safety precautions, look at the Bag Policy on their website.
Anyway, there's no reason why we can't win and again it's a long time since you could say that with anything more than ludicrous optimism. Three more points and we might even start to get noticed.
Comment on this article here.