Dave Collett talks about 1980, when it was our year for the cup.
Villa's progress to the level of a top-half division one side expected to challenge for the European slots every season seemed to have come to an abrupt halt in the summer and autumn of 1979. First, John Gidman and Andy Gray, both of whom had fallen out with manager Ron Saunders over issues to do with money and trust respectively, got the transfers they were seeking.
Scouser Gidman went to Everton which was bad enough, but Gray's £1.5 million move to Molineux sent the outrage-ometer readings through the roof. The idea of selling our most illustrious player to a local rival was too much for some. Gray, inevitably, immediately came into a run where he couldn't stop scoring for the Dogheads; all this while Villa sputtered up front and sank into the relegation spots. When news broke that striker John Deehan, seen by many as Gray's replacement in the medium term, had also been told to pack his bags for our nearest-and-dearests at the Hawthorns, it was more a matter of questioning the manager's sanity than his judgement.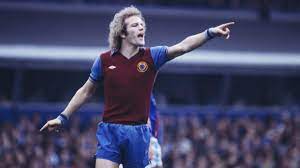 Cue Doug Ellis, launching himself as the man to come to Villa's rescue once again. Taking the populist route loved by so many dictators, he wondered what on earth was going on at B6, fearing that we were becoming a feeder club for other local sides. An EGM was called; few felt that an Ellis victory would see Saunders retain his role as team manager. The small shareholders went with Ellis but the bigger blocks of votes went Ron's way and he was free to continue with the re-building job that he had already started.
Villa's poor start couldn't hide the fact that there was plenty of ability in this team. The Evans-McNaught combo at the back had proved its worth over the previous eighteen months. Dennis Mortimer and Sid Cowans would have graced any midfield in the land. A Carrodus-like workhorse in midfield, Des Bremner, had just been brought in from Hibs with some of the money Ron had at his fingertips. Tony Morley had been signed from Burnley in the summer and got off to a good start before tailing off and losing his place for a few months. Up front, Brian Little was fit and firing; he was joined by a young lad who enjoyed a strong scoring record in the reserves, one Gary Shaw. David Geddis, a squad player at Ipswich, came in to fill the gap at centre-forward. Even before Ellis's latest attempt at a power grab, it was clear that Villa had recovered some form and the wins, performances and points suggested that all would be fine.
While relegation fears could be put to one side, it was unlikely that Villa's improvement would see them as a force at the top of the table. A defeat at home to champions Liverpool in December ended a run of eleven unbeaten league games. Three more wins in that month allowed fans to anticipate the cup third round draw in a happy and hopeful frame of mind. League honours appeared to be out of the question despite the strength of Villa's revival, but the cup was another matter altogether.
However, if anyone was looking forward to a glamour tie, they were to be disappointed. Bristol Rovers away on a Friday night doesn't exactly get the football juices flowing, though it at least serves to remind us that such outlier fixtures existed before Murdoch and his ilk bought the game up. At least this one was moved for a decent reason, the local cops not wanting two home games on the same day, as Bristol City had been drawn at home to top division strugglers Derby County.
David Geddis had at last broken his duck in December with a goal at White Hart Lane but his celebrations would have been muted as he picked up an injury later in the game that was to keep him out until the Spring. This gave a chance to Terry Donovan, a cut-price Saunders signing from Grimsby Town in the autumn, to show what he could do. Terry, an honest enough player, had certainly earned it; in fact, he must boast one of the best scoring records at reserve level, seventy goals in 120 matches more than hinting at his potential.
When Donovan made his December debut against Coventry and scored the opener in a 3-0 win, it looked like it could be another Saunders bargain to add to a long list. Certainly, it was enough to keep Terry in the side for the cup game at Bristol. On Villa's recent form, they must have been confident of progress but it was far from a procession. The change of date did nothing to deter a crowd of sixteen thousand, not bad for a second division outfit. Perhaps Villa's 'name' helped to boost the numbers to more than double that of their average home gate. Or was it just the magic of the cup?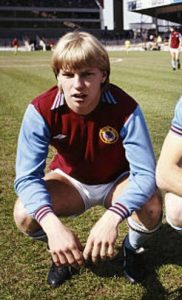 But after all the talk about players bought and sold, it was two youth team lads, now established first-teamers, Sid Cowans and Gary Shaw, who produced the goods to take us through to round four. They needed to. The scene was well and truly set for a classic cup upset; good little team v good big team on little team's ground. Oh, and it pissed down all game, often a good leveller.
Such was the poor visibility in the wretched conditions that Morty almost put us ahead with a forty-yard free-kick that home keeper Thomas fumbled but Sid knocked the rebound wide. Allan Evans tried again from the same distance but from a wider position and the keeper only just managed to flick it over the bar. With clear-cut chances a rare treat, Brian Little stamped his class on the proceedings, sweeping past Gary Mabbutt as though he was not there, before knocking in a ball that the home backline could only half-scramble away. Sadly for them, the recipient of the loose ball was young master Shaw who bulged the roof of the net with a left-foot finish.
Into the second half Villa, if anything, looked more secure as the game proceeded. Then Frankie Prince, a promising youngster in the Rovers side when Villa competed with them in the third division, knocked in a great through ball, leaving Rimmer and Evans helpless to prevent Barrowclough equalising from seven yards. Game on, as they say, though they were wrong this time round. Within three minutes, Shaw burst down the left and crossed; Little lost the ball in the middle but Sid was there to scramble the ball home for the winner. There was a good feeling about being the first side to reach the fourth round that year.
Villa's hopes of keeping this momentum going were thwarted by the fixture list, as much as anything. We only played one game between the two rounds in January, a deserved 2-1 win at home to Everton, with Donovan again on target. Morale must have been high for the long trip to Cambridge to play the second division side. An early goal – Donovan yet again – allowed us to hope that this would turn out to be a regulation win but a first-half equaliser soon threw that idea out and nothing that occurred after the break changed the outlook, the home side no doubt boosted by a twelve thousand crowd, double the average for that season.
Often such replays are described as a game that Team X could do without but as Villa had been short of matches anyway, that wasn't the case here. Villa kept the same team for the return and soon looked to have taken control of the tie. Gary Shaw should have put Villa in front early on in the replay but his shot was blocked just short of the line, leaving Donovan to complete the move. Back came the Abbeyites (I just made that up) to level things before Terry, now enjoying a hot streak, headed in from a right-wing corner to give the home side a clear advantage. After the break, Allan Evans stretched the advantage from a Swain free-kick before Donovan's determination to chase down a seemingly lost cause near the bye-line set up a fourth for Brian Little from an unlikely angle to the left of goal with his left foot.
The fifth-round stage tends to be the one where fans start to wonder whether this is to be THE year. Villa's mood was buoyed by a good performance and win against Crystal Palace, tagged with the label of 'team of the decade' by the louder elements of the southern press. You can probably guess what happened to them next. A 3-1 reverse against a good Arsenal side was a disappointment though hardly a shattering blow and thoughts now turned to what looked like a tempting draw away to third division Blackburn Rovers.
Rovers had enjoyed something of a recovery under the direction of player-manager Howard Kendall, a high-quality passer of the ball regarded by many observers as being very unlucky to miss out on a full cap for England. His side had won six on the bounce coming into this game, so the scent of an upset was very much in the air. David Geddis had finally made it back to the bench for the game at Highbury and was no doubt pleased to be named in the starting line-up, alongside Terry Donovan, rather than replacing him. Young Shaw was left out for this one.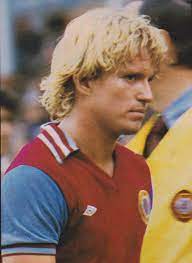 The former Ipswich man was no doubt even happier when he gave Villa a half-time lead, or did he feel a sense of relief? His early soft header had been too weak to beat Arnold in the home goal. He deserved better fortune with his next attempt, sweeping the ball past the keeper only to see the ball strike the underside of the crossbar. Undeterred, Geddis was the first to the ball after a McNaught free-kick was only helped on into the home box by a misdirected header and this time the chance was taken to give Villa a deserved lead on half-time. There was no loosening of the Villa grip after the break, with Little hauled down as he threatened to break clear. Geddis showed he was still a threat with a curled effort that went over. Such was also the fate of a Kendall shot in a rare home attack.
With Little and Mortimer outstanding, the result seemed a formality, Duncan McKenzie making no impact in midfield. Blackburn's largest crowd for eleven years seemed resigned to their elimination when a last-minute corner from Brotherston was met by Allan Evans. Instead of clearing, however, he could only misdirect it past Jimmy Rimmer to give Rovers a last-gasp reprieve. This was a poor reward for a fine performance on a muddy pitch.
Again, no piddling about in those days, the replay taking place four days later. Those hoping for a Cambridge-style outcome were to be disappointed, with Blackburn fancying their chances just as much as the home side. There was little to separate the two teams when Geddis was withdrawn and replaced by substitute Brendan Ormsby. Picking a centre-half on the bench for home cup-tie seems a bit odd at a distance; surely a striker would have been a better bet? Either way, on Brendan came, lining up alongside Ken McNaught which allowed Allan Evans to go up front to pair up with Donovan.
If this all sounds a bit Route One, don't knock it, as a long cross into the box by Gibson was met by the ex-Dunfermline man (and future legend) with the Rovers keeper stranded and Villa were in front and that was the way it stayed, much to the satisfaction of a noisy forty-two thousand crowd. THAT's what the cup meant in those days. Amongst the frenzy of action as the two teams battled it out to see who would claim the quarter-final place, reporter Larry Canning said that Cowans's calm carrying and passing had been the difference between the two sides. Larry even advocated a full England call-up for the slim, undemonstrative ball-playing wizard. The reality was that Ron Greenwood had actually dropped Sid from his U-21 squad, as he was "overloaded with midfield players".
Villa were in a bad run as far as draws in The Cup were concerned. The Blackburn tie was the sixth time on the bounce where we had needed the away kit. Against that, we kept drawing opponents from lower divisions. West Ham away it was to be then, with some noting that, as the happy Hammers were then a second division club, we had a good chance of reaching the semi-final stage for the first time since 1960. What a happy rwentiethth anniversary that would make!
As far as league form went, there wasn't too much to worry about as Villa followed up the Blackburn victory with wins against West Brom and Derby, and draws with Manchester City and Brighton. Looking beyond results, Allan Evans, a double-figures goalscorer in this particular season, had once again found that his physical, occasionally reckless, approach to the disciplines of defending meant he was suspended for the big cup-tie. Having scored three in the last five games, Allan's threat at dead balls would be missed. Brendan Ormsby, always the first replacement for the centre-back positions, would fill in.
Few Villa fans were unimpressed at the way Kenny Swain had taken over the right-back slot since Gidman's departure. The best compliment that could be sent Kenny's way was that Giddy had hardly been missed. It came as a real blow that Swain would be out for a couple of games after picking up a knock at Brighton. Young Ivor Linton had to step up from the reserves. Up front, both Shaw and Geddis were out of contention, so Donovan and Little would resume.
Despite the missing faces, Villa were ready to give it their all to keep the cup run going. Rimmer and McNaught seemed to take it as their responsibility to 'coach' the three teenage defenders that Villa fielded, in-game, as it were. After a shaky start, they did themselves and the team proud. Linton didn't just have big-match nerves to calm; he also had to overcome the problem of being booed by some of the locals presumably because of his skin pigmentation. He managed that okay, too.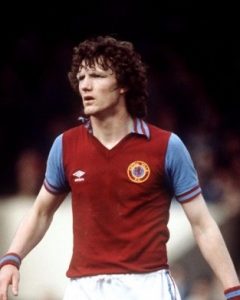 The second half saw Mortimer and Bullivant man-mark Brooking and Devonshire. This restricted West Ham's opportunities but didn't do much for Villa's, either. A Little header from a corner was the closest we went. In a tight game of few chances, it looked like one goal might be enough, but with the clock ticking away, it seemed that Villa would at least have another home replay to look forward to. Then, with two minutes to go, Trevor Brooking slung in a ball from the right. Ken McNaught jumped with the Hammers striker David Cross who had played against Villa in the third division, years back.
What happened next is debatable. Ken always reckoned that he knew that the cross was too high and was happy to let the ball float out of play to safety but Cross, jumping with him, nudged his arm which went up and made contact with the ball. Look at the video and make up your own mind. For the record, the ref gave a penalty. Scottish right-back Ray Stewart's technique was pretty uncomplicated – hit the ball as hard as you can and hope for the best. Jimmy Rimmer guessed right and got something on it but couldn't prevent it from going in.
Just like under Deano these days, Villa kept going to the end. Pushing up the pitch, we won a free-kick on the edge of the box. Sid was in charge and hit it well but Phil Parkes made a good save near his line. And that was that for another year. Actually, forty-one and counting… After the game, the Hammers' boss John Lyall said, "I felt sorry for Rimmer, who looked unbeatable until Stewart slotted home that penalty."
What happened next?
A Villa draw would have meant a replay. Instead, we played Wolves at home in the league. This game meant that Andy Gray served the last game of a suspension against us and so was able to play in the League Cup final the following weekend against Nottingham Forest. Andy was to score the only goal.
West Ham went on to lift the trophy, beating Arsenal in the final. The winner came from a diving header by Trevor Brooking, which just goes to prove that anything, absolutely anything, is possible in football.
Villa licked their cup wounds, lost their next three league games, got one or two players fit, recalled Tony Morley to first-team action where he did well, and by and large ended the season looking like a side befitting their seventh-place finish. Restless and dissatisfied as ever, manager Saunders would look to strengthen his side in the summer; hopefully bringing in someone who might prove to be the last piece of the jigsaw to energise a maturing, skilful team.
Comment on ths article here.