John Russell writes about his first times.
After passing the ground every day for the better part of fifteen years and attending at least 1,500 matches I have long since forgone the thrill and excitement of attending Villa Park, but that thought has set me thinking about other sporting venues I have been to. Indeed, ages ago I set myself the task of attending as many as possible of the major sporting events of this country. To sample the different atmospheres of each venue is different because that can never be captured television but that train of thought has set me going all the way back to the days of childhood
CRICKET
I will start at Edgbaston. My very first memory here is of sitting on the old green park benches at the City end then going off on my own to the loo and panicking when I was unable to find my brother afterwards. My second memory is of queuing to see the Australians in 1948 and then along with every other child in the arena being forced to give way to adults and to have sit on the grass to watch the game. I cannot think of a more excruciating place from which to watch cricket than to sit cross-legged on the grass at Edgbaston.
In those days for some reason the corporation buses always travelled to and from the city centre via Five Ways and the number one route. It was years before I discovered that the quickest way to the ground by bus was via Pershore Road. But by that time I had discovered that the quickest way to the ground was by bicycle. I got myself a junior membership ticket and a cycle parking ticket. My first ticket was number 22 and every season I rose up the list hoping one day to have number one but I only ever made it to number four.
There was only the County Championship back then. Proper cricket, three day cricket. The ground was only ever comfortably full and Villa fans sat alongside Blues in complete harmony. Post-war the fixtures were cast in stone so every bank holiday we had to suffer the interminably boring Derbyshire as visitors, until eventually pressure was brought to bare and Worcestershire and Gloucestershire agreed to rotate and so put us out of our seasonal misery.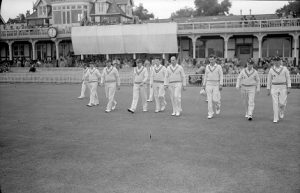 In my GCE year at school we were given days off, ostensibly to revise at home. But if my results were to be a disappointment to myself and all my masters the answer was to be found at Edgbaston, where watching Warwickshire was a much better option than pouring over test books.
Now at work, in 1957 Edgbaston was awarded a Test against the West Indies and joy of joy juniors members were admitted free for all five days on production of their card. And, no questions asked I took four days of my fifteen days annual leave to watch what turned out to be a sensational match. I sat on the new West Wing replete with a score book on which I recorded each and every one of the 99 overs bowled by Sonny Ramadhin. A feat of endurance in itself comparable with the actual performance itself. I regret the loss of my socrebooks!
So enthralled was I with cricket that my diary contains numerous references to Warwickshire v xxxshire (L&N). I was given special permission to take my lunch hour 12.45–13.45 so I would cycle from the city centre to be at Edgbaston at 13.00, staying for the half hour to lunchtime to be back at work at 13.45 (L) then after work be there until the 19.00 close.(N) The race was then on for the 25 minute ride home to be there in time for the reading of the close of play scores on Radio Newsreels. Failure to be home in time meant having to wait for the Birmingham Post next morning.
Only the really keen would be at the matches against Oxford University and the Combined Services and the bank holiday second team games. I am proud to record that in June 1958 I was one of only three spectators on the ground for the match v Northamptonshire when it snowed. Dedication does not get any higher than that, although cycling to Northampton and back comes close.
Away matches at Colchester, Worcester, Dudley, Lords and Derby spring to mind as does Coventry to watch Lock and Laker open the bowling for Surrey. And a test match at Lords for England v South Africa was a quite different atmosphere compared to Edgbaston for the West Indies.
HORSE RACING
At some point in my early teens my father took me along to Bromford Bridge.I often wonder whether it was not to introduce me to the excitement of the Sport of Kings but his way of showing me first-hand the folly of gambling. I only recall scrambling in under the turnstile because accompanied under-sixteen year olds were admitted free.
My turn to go unaccompanied was not long after and a 4/- win on the Tote was the limit of my gambling as my old P60s show my initial Civil Service wage was only £3/10/- per week. I have no recollection of any winning other than when Lester Piggott came roaring towards me, to the confusion of the course commentator, who had confused two jockeys in almost identical colours.
Bromford Bridge used to boast that it had the longest bar in the world but while gambling on the Tote aged seventeen was one thing, underage drinking was quite another. I was content to watch my racing from the grass in the middle of the arena for half a crown. Paying to go into the paddock area was beyond the dreams of avarice. But somehow or other the half-hour between races flew by.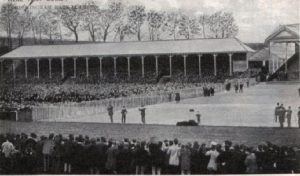 A trip to Worcester races on the Midland Red (leaving after the fifth race to make sure of getting on the bus back) was followed by a visit to Wolverhampton, where the old Dunstall Park station was convenient to the track. Then Epsom and Derby Day called. The Midland Red ran one of their old red and black coaches from the city right into the heart of the Downs. Derby Day, which was then always on a Wednesday, was an experience which has stayed with me ever since. Admission was free except to those who could afford the grandstands.
The attendance was over 200,000. I always recall that unlike today the horses made their way to the start along a path around the end of the course rather than tire them out taking them the full distance around Tattenham Corner. I think it fair to say I saw very little of the actual race, Ijust saw the horses flash two furlongs from the finish over the heads of a crowd ten or more deep. You had to be prepared to be there early if you wanted a position on the rails. In those days there was a distinct possibility that your bookmaker may have 'done a runner' when it came to collecting your winning – if you had any, that is.
My first holiday on my own coincided with a two-day meeting at Brighton. A quite exciting adventure made all the more so when a horse I had previously backed at Bromford Bridge unexpectedly romped home at 20-1 and in doing virtually paid for my sojourn. As a protest against the ludicrous refereeing decision at Hillsborough which cost Villa a cup final appearance I decided to go to Warwick Races rather than watch the cup final between Nottingham Forest and Luton Town in 1959. I have already recorded in the annals of Heroes & Villains that this choice was to have lifetime repercussions when Valerie Ellen came in a long odds and effectively enabled me to become a life time season ticket holder at Villa Park
Midland Red used to run coaches to all the local race meeting so I can record Uttoxeter, Leicester, Nottingham and Epsom for a second time as courses visited. With a limit of 4/- per race I don't think I ever won or lost a fortune, it was just a pleasant day out. Royal Ascot is also a quite different experience to Epsom, even if only occupying a place in the cheap ring out by the four furlong marker. At least you can get to watch the toffs take their place and there really is something special about the Royal procession that the TV can never capture.
I have never attended the Grand National but once attended on the Friday in order to get some sense of the place without the hassle of the crowd. I confused a steward when I decided to leavc after five races to make the going home easier. He assumed I was a sore loser but truth to tell, Detroit City had just paid for my day out.
RUGBY UNION
As almost the smallest in the class I absolutely hated rugby at school, mainly because I never understood the rules so was absolutely petrified if the ball ever came my way. Except on one notable occasion when and not knowing what to do with it I just ran. And being something of a runner I ended up scoring three tries that afternoon. This led to a promotion the following week from the reserve house team to the first, but my inability did not go unnoticed and I soon regained my rightful place.
But if I was not going to go to rugby then rugby came to me. Twice at Villa Park, thee New Zealanders and the South Africans. Both against the North Midlands, which was Coventry by any other name, begging the question why the games were not played at Highfield Road.
My other recollection came much later when I met a lad named Cooper who the previous Saturday had played on the wing for England at Twickenham and was proud of the fact that during the entire eighty minutes he did not get to touch the ball even once. So I could have played rugby for England. Rugby posts gave Vila Park a very strange appearance.
SPEEDWAY
Speedway meant the Brummies and Graham Warren. It also meant the old Alexander Stadium and the unmistakeable smell of the greasepaint, sorry the petrol or whatever fuel it was they used. Then there was the thrill of being showered by the orange cinders if you took up a standing place on the bends. The team to beat was Belle Vue, Manchester, unless it was Wimbledon or West Ham. Sixteen races, unless it was eighteen graded in some sort of perverse arrangement which tried to even up who raced against who. The main event was followed by half a dozen scratch races which were more for individual kudos than for team points. Somehow these scratch races never seemed very appealing although they were often a time for riders seeking retribution.
Speedway was eventually replaced by stock car racing, which was an utterly pointless exercise in vehicle destruction and which eventually passed into obscurity before speedway made a tentative but pointless reappearance. Too many races which only lasted about seventy seconds were actually decided immediately the tapes rose. On one occasion a friend secured access to the pits for us both. Unfortunately being on the bend this was a poor place from which to watch the racing, added to which beforehand we were both read the riot act as to the consequences of getting too close to the riders and we were both frozen rigid at the consequence of daring to move.
GREYHOUND RACING
A sport which was frowned upon, if indeed it was a sport, because with all the gambling involved there was often a suspicion of shenanigans. This was probably easier at Perry Barr as for some reason there were only ever five dogs per race there, against six at most other tracks.
I had a rule that I could not afford to lose more than £1 per Saturday night. There was no thought of ever attending a Wednesday night meeting. But at the time Perry Barr had an accumulator bet similar to that of the ITV7 these days. Buy a ticket for the first of six races and carry it forward if it won. Three of us would each buy a 2/- ticket and on one occasion the third party scooped the pool, £168. Gentleman that he was, he shared the winnings between the three of us so I think it correct to say that over about three years my visits to Perry Barr showed a small profit.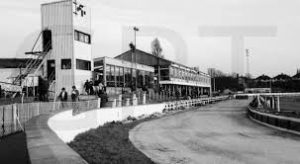 Even today if I ever see a greyhound in the street I acquaint him with Wincott Ben, sometimes to the confusion of the owner. Wincott Ben seemed to run every Saturday night in a scratch race. Given a start of say six yards he would race home first and I would rush to the Tote window to collect my winnings. The following week for his effort he would be put back to scratch whereupon he would trot around the track with the other runners showing no apparent interest in the hare. But I knew, as he knew, that chasing the hare was a futile exercise. Next week, back to five or six yards start and Wincott Ben lived up to the first part of his name, lmost as if he knew he was part of a con.
ATHLETICS
I only ever recall one athletics meeting at the old Alexander Stadium, and for the sake of the new stadium next year I can but hope that there is no repetition of the resulting farce. Chief attraction of the meeting, indeed the only attraction of the meeting was the appearance of Herb Elliot, an Australian four minute miler. The stadium was full to capacity with everyone hoping to be able to say they had seen a four minute mile in Birmingham, still a relatively rare occurrence at the time. There seemed little effort to get the supporting events away on time and I suspect that the great man may well have had a touch of the prima donnas and delayed things himself even further.
To this day, short of looking it up on the internet I cannot say whether Elliot actually beat four minutes but either way it was a massively unimpressive event which did nothing to promote athletics in Birmingham. And I am proud of my own achievements even though I wish I had known at fifteen what I discovered at fifty. That Sutton Coldfield medal is worth all of my four football medals, including the one won at St Andrews and my London marathon time is not to be sniffed at.
CYCLING
Cycling in Birmingham meant Wednesday evenings in the summer at Salford Park. This event which was always advertised in the Villa programme, a possible throwback to the time when the pitch at Villa Park was surrounded by a cycle track. The problem with the Salford Park track was that the banking was not very steep, so it was little more than a training track for promising juniors. However, that did not prevent the occasional star putting in an appearance for a training session of his own. One other deficiency in the track was that it was only one quarter mile per lap. Consequently, a lap of the running track which was inside the cycle track was less than 440 yards and so worthless for athletic competitions.
My other flirtation with cycle racing came with attendance on two evenings at the six day raceat Wembley. They did not exactly race flat out for six days but the spectacle went on for that ong, with all manner of races within the race. As an attempt to revive the pre-war six day races and imitate the continent it was doomed to failure.
A goodly number of spectators went out to Hints Hill, Tamworth to applaud the great Tommy Simpson as he passed by in the London–Holyhead race up the A5, rwhich nearly ended in a fracas. The race had been intended as a Simpson benefit and as so often happens in cycling it was just expected to be a sprint at the end. Exept another British rider had not read the script and thought there was kudos to be had in beating Simpson to Holyhead, forcing the star to have to put in rather more effort than he would have liked to after 280 miles. Words were exchanged.
FOOTBALL
I could tell you about trips to St. Andrews, the Hawthorns, Molineux or Highfield Road for non-Villa matches but instead I chose to say that I have been to six non-Villa FA Cup finals, thus depriving a supporter of one of the participating clubs an opportunity to be there.
I can report that the FA Cup final is not all about winning. Cynicism abounds by mingling with the losing supporters and it is no good trying to console them by saying at least they 'got there'.They lost. And as any Villa supporter can tell you there is no consolation whatsoever when your team has played as badly as ours did – twice. And a Wembley international involving England on a Wednesday afternoon has to be one of the most sole destroying football experiences imaginable whatever the outcome. England v Scotland, though, was quite a different experience back in the days when there was less certainty about the outcome than there is now.
RUGBY LEAGUE
I once went to Wembley three times in a week (Villa v Manchester United, England v Eire and Huddersfield v Wakefield Trinity)just to be able to say I had been to Wembley three times in a week. And to say I had seen Rugby League. Apart from an odd trip to Widnes to see them play Wigan that is the limit of my Rugby League experience and I intend to keep it that way. The fans may bay at on another for the benefit of the TV cameras but there is very little animosity, it is all for show.
GOLF
When the Open was played at Hoylake I simply had to go to find out what it was all about. No problems getting there from Liverpool, no problems getting in. But I made a mistake. I thought I would like to see all eighteen holes so set off from the first. It transpired that I spent much of the time following Phil Mickelson, who happened to have a bad day when he lost his ball at the sixth and the crowd was too far away to tell him where it landed. I duly completed my circumnavigation of the course without incident and decided, pleasant day though it had been, enough was enough. Advice to anyone going to golf – start at eighteen and work backwards. That way you will see many more players. Golf fans applaud a good shot and let out a moan for a bad one. The player does not need reminding which he has played.
SNOOKER
Is starting to develop bad sportsmanship amongst the audience. Silent cheers when a player misses an easy shot are becoming all too prevalent, possibly because gambling has entered the sport with vengeance I have been to numerous championships at Telford, Newport for the Welsh and several sessions at the unique venue which is the Crucible, Sheffield. Everyone with any interest in snooker or indeed any sport should make the effort to go to the Crucible. Only then can you really begin to understand how difficult it is to make that 'easy' shot.
TENNIS
It is my regret that I have never been to Wimbledon even though my interest in tennis is limited to having played in Witton Lakes Park seventy years ago – and having always lost!
BASEBALL
And when it comes to a 'love in' baseball has no equal. Most readers of H&V know of my baseball credentials, not altogether surprising given the history of Villa and the failed attempt of William McGregor to promote the game over here I have been to nearly 300 games at every Major League stadium (thirty clubs but 43 stadiums and counting because they keep building new ones). I can hold my own with any American who are always amazed to find an Englishman who understands the finer points of the game, and it does have fine points.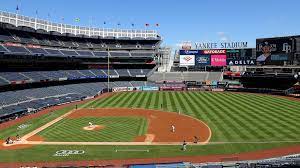 My first three games were Baltimore v Phildelphia at a time when they were in different leagues and had not played each other in decades. The stadium was full, nearly 50,000 with almost as many from Philadelphia as the home team but baseball does not breed controversy like football so arguments and disagreements are rare. Nobody was told to sit down.
St Louis v Kansas City were billed as fierce rivals but with so many players moving between these interstate rivals it was practically an old boys reunion meeting. And the rivalry between the New York Yankees v New York Mets is hardly pistols at dawn. The winners get to brag, the losers get to keep quite, There is always next year.
I have experienced New York Mets v Boston Red Sox where the Mets actually had a Ted Williams night, Ted having been a Red Sox player who was cheered to the echo. I cannot speak for the alleged animosity between the Yankees and the Red Sox but I suspect that may be more hype to sell tickets than rioting in the bleachers.
Comment on this article here.