Stacy Murphy writes about youth past, present and future.
It seems Villa have woken up to the idea that investing in the club's academy can bear fruit, and this is borne out in two obviously apparent ways. Players nurtured through the youth ranks are beginning to make an impact at first team level with Jacob Ramsey becoming a regular in midfield and the almost forgotten Cameron Archer grabbing headlines with his League Cup scoring exploits.
Add to these two Carney Chukwuemeka and Jaden Philogene-Bidace and that we cruised to the FA Youth Cup last season and, on the surface at least, it appears that the academy could provide a big part of the first team squad over the next few years. Even if this eventually isn't the case, building the profile of a young player who won't fit in at senior level at Villa will provide a lucrative revenue stream, often off the back of the loan market, as has been seen at Chelsea with Tammy Abraham being the most obvious example.
Providing a path for young players to make the first team also attracts those linked to other clubs to the Villa academy, Louie Barry being a case in point, as well as paying nominal fees for youngsters who are impressing elsewhere such as Caleb Chukwuemeka. Whether this is good for the game as a whole is a matter for debate, particularly when loaning out players to lower league clubs with the argument being that the Premier League club is using those further down the pyramid to nurture their players and in turn this blocks talent emerging through the lower club's academy. That is something worthy of exploring but isn't the main point I wish to make here.
Since the League and European Cup squads of forty years ago, which contained a good proportion of former apprentices as they were then, Villa's record of producing consistent first team players has been a bit hit and miss. If you cast your mind back forty years Garry Williams, Colin Gibson, Sid Cowans and Gary Shaw all came through the ranks and at times were supported by lesser part players such as Brendan Ormsby as well as Nigel Spink, picked up for a nominal fee as a teenager from non-league Chelmsford City.
This had come off the back of Ron Saunders having to deal with a chronic injury crisis in the late 1970s and left with little choice but to blood youngsters, but it also fed down as Villa won the FA Youth Cup in 1980 with a team which contained Paul Birch and Mark Walters as well as Mark Jones. That 1980 team also featured Ray Walker, who toiled in Graham Turner's midfield before moving to acclaim at Port Vale, as well as arch-noses Robert Hopkins and Noel Blake.
As the 1980s wore on Villa's youth ranks became a source of ever diminishing returns as some players were thrown into relegation battles before they were ready for first team level and really only Tony Daley emerged to play at the top level for Villa although some of his peers, such as David Norton and Darren Bradley, did have successful careers at other clubs.
Villa's recovery under Graham Taylor was a time of such urgency to return to the top flight and to maintain that status that young players appeared an afterthought, although Bernie Gallacher played his part during the promotion season, Ian Olney fitted Taylor's system well for most of 1989-90 and Dwight Yorke (technically a signing with a transfer fee of £10,000) made his debut at Crystal Palace in March 1990. Those who joined Villa during that time did, however, begin to break through under Ron Atkinson but were used sparingly to say the least, despite impressing when they did play. Stephen Froggatt, Dave Farrell, Brian Small, Graham Fenton and even Yorke found first team spots hard to pin down as Atkinson relied on ageing expensive signings.
Despite being one of our most celebrated homegrown players Brian Little relied on the transfer market to fill his squad after replacing Atkinson and few of the youth classes of 1995–97 made any first team headway. One who did was Lee Hendrie but after getting sent off on his debut at QPR in December 1995 possibly fostered a slight mistrust by the manager in his younger players. Another who made a breakthrough of sorts was Riccardo Scimeca. Nominally a centre-back, Scimeca was used as a utility player, even briefly replacing the departed Yorke up front in the early weeks of 1998-99. Scimeca along with his contemporary Gareth Farrelly were some of the first Villa youth players who commanded a significant fee when they moved on; Scimeca joined Nottingham Forest for £2.5 million and Farrelly went to Everton for £700,000.
John Gregory more so than Brian Little liked to spend Doug Ellis' money but he couldn't ignore Darius Vassell's dramatic first team introduction in a UEFA home leg against Stromsgodset. Vassell's two goals turned an embarrassing defeat into a narrow victory and launched a career which would take in England caps and World Cup and European Championship squads before he was cast out by David O'Leary.
It was Gregory, though, who gave a chance to one of the most celebrated Villa players of the Premier League era although calling him 'homegrown' is stretching it a bit. Gareth Barry ultimately cost £1 million after Villa had acquired him from Brighton's youth ranks as a midfielder. It was in midfield that he made his debut aged 17 at Hillsborough in May 1998 but would show a teenager's lack of fear as he calmly slotted into a left sided position in Villa's three centre back set up after the David Unsworth debacle the following season.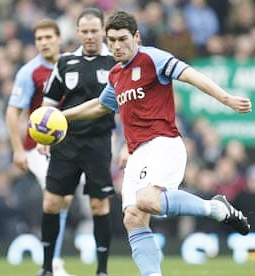 Barry lacked the required pace to be really effective as a full back and it was in midfield where he was most at home in later years. Barry did an ill-advised interview with the News Of The World in the summer of 2008 in attempt to force a move to Liverpool. Villa stuck to their valuation and refused to be bullied by the Merseyside club and Barry stayed a further season before moving to Manchester City a year later.
As a result, Gareth may not be remembered among Villa fans as fondly as he might have been although his part in stealing a Spanish taxi while on a trip with West Brom just before he retired gave many of us a laugh.
Graham Taylor's second spell as Villa manager was less successful than the first but the emergence of Thomas Hitzsperger and a first FA Youth Cup win in more than twenty years in 2002 were highlights. The Youth Cup final squad featured players who would help battle to keep a David O'Leary-led Villa up in subsequent seasons and featured a player who has won more international caps than any other British man: Steven Davis. Also in that squad were Liam Ridgewell, Stefan and Luke Moore and the late Peter Whittingham.
That the Moore brothers both overshadowed Wayne Rooney in that final is an indictment of how precarious the future of a promising professional footballer may be. Both played at reasonable levels after Villa, Luke more so than Stefan, but both were retired by the age of thirty. That so many players from a single youth team broke into the first team and went on have decent high level careers is very unusual, especially when you add in Gary Cahill, who was a year younger than most of these players, and went on to play at the very top level but sadly not with Villa. Cahill, along with Luke Moore, was still young enough to appear in the same final two years later in a team featuring Craig Gardner and Gabby Agbonlahor.
In the space of three years Villa had produced three future internationals (four if you go slightly further back and add in Hitzlsperger) and a host of other top flight pros but only Agbonlahor stayed for any length of time, thanks to the Randy Lerner takeover and Martin O'Neill's penchant for spending Lerner's money, often without it making much sense, and not paying much attention to those under his nose.
Under O'Neill few younger Villa players were given a chance. Nathan Delfouneso was an exception as O'Neill seemed to like him but those who watched Villa's age group teams suggested Andreas Weimann was a better prospect and that is how it panned out although both now play outside the top division. While Delfouneso was given a free transfer Weimann, like some of those before him, battled to keep Villa up for several season under three different managers before being cast out by a clueless Tim Sherwood. Weimann had his faults but those who replaced him made patently less of an effort.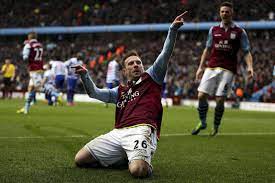 This brings us to currently our most well-known and £100 million academy graduate who first came to our consciousness when playing above his age in the European NextGen series with Callum Robinson and Graham Burke. A once in a generation player who at times carried Villa when a manager worked out how best to use him and trusted him to play to the full extent of his ability. That such a player came through at a time when Villa were in freefall can be seen as a fluke, especially as we were able to hold on to him for so long.
Part of it though may be that trust, or lack of it, in a maverick-type player. Judging from the brief bits I've seen of Manchester City's latest plaything the 'free' player we saw at Villa is being restrained in his new surroundings. That we received so much for him may have brought us to a David Platt moment, when Ron Atkinson was able to bring in players to challenge at the top of the table using Platt's transfer fee. John Gregory had a similar opportunity a few years later but didn't even sustain a challenge.
Dean Smith has the chance to blend some expensive signings with one of the best youth set-ups in Europe. What Smith must now do is try and pick a path closer to the Ron Saunders model than the Atkinson or Gregory ones. There are some excellent young Villa players on loan and they need to be able to prove they can cope with senior football and this does involve actually playing, something Louie Barry isn't doing at Ipswich but Kaine Kessler-Hayden is doing excellently at Swindon. I may not have named Jack Grealish, as is the fashion in some Villa circles, earlier but it was his loan spell at Notts County which convinced some sceptics as to his ability to cope with being kicked in a way the almost equally talented Stephen Cooke couldn't do several years before.
Villa as a club, and it is the role of Mile Jedinak specifically, must work with the loan clubs to ensure the players are able to cope with being away from the often pampered surroundings of Bodymoor Heath and also be given opportunities to show what they can do. If a certain club can't offer that which appears to be the case at Ipswich, who appear to have a few issues at the moment, with Louie Barry Villa should work to find another club which suits all three parties. Much as I question the way Premier League clubs are able to fill lower league clubs in England and other clubs abroad with their younger players it is a system which is available so we may as well make use of it to our advantage although I would hope we would not go to the extent of Chelsea particularly in one case.
This strays from my point slightly but when reading up on the Next Gen Series of 2012-13 in which Villa beat Chelsea in the final I came across the name of Lewis Baker playing for the West London club. I was amazed to find that Baker, now 26 years old and six months older than Grealish, is still a Chelsea player despite only ever appearing or their first team once in the FA Cup in 2014. Since then he has had NINE loan spells with eight different clubs and he is still contracted to Chelsea until the end of this season.
Even though I am advocating Villa looking after themselves by using the loan market I'm not sure I would want a scenario like this to originate in B6. Hopefully Villa can use the loan market in a more ethical (for want of a better word) manner while still moving towards our own ambitions. An ultimate fantasy would be Villa winning the FA Cup with eleven academy graduates and who wouldn't want that?
Comment about this article here.