The season starts with a trip to Bournemouth.
Eyes down, look in and welcome to the start of another season. Fate takes us to Bournemouth in August, which would be even better if they had an away end that held more than about seventeen, so we sold our tickets in thirty seconds flat.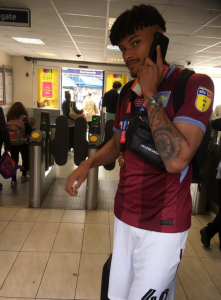 When they first got promoted all those years ago Bournemouth were one of those clubs who it's a bit of a laugh seeing in the Premier League but you don't want them making a habit of it. We played there first game of that season, won and it seemed like we wouldn't be going there again for a long time. And so it proved.
We went down, they stayed up for a bit, went down when we got promoted and we took Tyrone Mings off them with the sort of signing we'd have gone mad about if it was us losing a player but we were doing it so it was allowed. They should have gone back right where they came from but now they've returned to play with the big lads and we have the honour of first reminding them of their place in the natural order of things. That old bloke who used to go to all the England games in fancy dress would have loved it.
And that's really all you can say about Bournemouth. Their ground nearly blew down earlier this year and it would have been a blessing if it had. Their manager is Scott Parker, one of the many, many midfielders we were linked with a couple of decades ago and who looks like a bit-part actor in a Netflix series about a west coast law firm. Their team are a random assortment of players hoping for a move to a proper club or hanging around getting paid a fortune before anyone works them out.
We'll give them the sort of hammering they'll think is a one-off before realising that it's normal, before getting relegated by Christmas and we won't be going there again for a long time. Just like last time.