Robin Wilkes looks at what Steven Gerrad has to emulate to be successful.
The club's justification for sacking Dean Smith last November seemed to be a realisation that he may not deliver further progression, presumably in terms of finishing position in the Premier League. It seemed to be argued that this decision had been taken over the course of a calendar year, rather than just within the ongoing season and, indeed, CEO Christian Purslow said as much in his statement to announce Smith's departure: "…after a good start to last season, this year we have not seen the continuous improvement in results, performances and league position which we have all been
looking for. For this reason we have decided to make a change now to allow time for a new head coach to make an impact".
In 2020-21, a season played out almost entirely behind closed doors due to the Covid pandemic, Villa finished eleventh, a noticeable season-on-season improvement on the seventeenth finish in our first season back in the Premier League. Eleventh felt like a bit of a disappointment though, given the fine first half to the season that we'd enjoyed. Indeed, in the second half of the season we only added 23 points to the 32 points already achieved. So, despite bringing us back up from the Championship to mid-table in the Premier League in his first two and half seasons at the club (throw in a League Cup final as well), Smith was gone, after a run of five successive defeats and with the side sat in sixteenth place, on ten points from eleven games played. Could he have guided us to an improvement on eleventh place and progression in terms of league placing for the fourth season in a row? We will never know.
Progression in three successive end of season placings was more than many Villa managers in the modern era have achieved.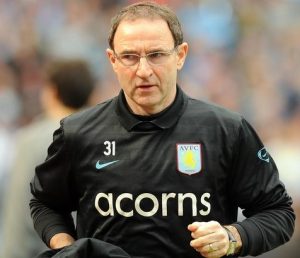 Martin O'Neill, who to this day divides opinion amongst our support (perhaps more so than any of our other managers), immediately managed to improve on the sixteenth place finish delivered by his predecessor, 'stable' David O'Leary, taking Villa to eleventh in 2006-07. Backed by Randy Lerner's enthusiasm and finances, O'Neill got the team up to sixth place in his next season but then was only able to emulate this finishing position in the following two seasons.
Was standing still progress given the sides he was competing against? O'Neill probably felt so and left when it became clear that Randy wasn't going to continue to bankroll efforts to at least compete for the top four. O'Neill had had his chance to take us into the Champions League and it likely wasn't coming around again – it didn't under his replacement, Gerard Houillier, who rather fortuitously managed to guide us into nineth place, in, sadly, his only season in charge. And it certainly didn't under the long line of managers in a short space of time who followed on from the Frenchman.
Even amongst Villa's more successful managers, there aren't many who achieved the three end-of-season progressions that Dean Smith did. Ron Atkinson's first season in charge, 1991-92, was a vast improvement in terms of league position, seventh, to the seventeenth place that meant Jozef Venglos' team were able to avoid relegation only in the last week of the season. As well as playing some sparkling football, Big Ron's team went on to finish as runners up in his next season but a third, consecutive season of improved league position wasn't achieved in 1993-94. No-one cared too much though, as we deservedly beat Manchester United in the League Cup final.
Some still shake their heads at the thought of Doug Ellis then choosing to sack one of the Villa's most popular managers just fourteen league games into the following season and almost twenty-seven years to the day prior to the departure of Smith, another who will certainly be talked about as one of Villa's most popular bosses. In fact, Big Ron's side had been on a much worse run than Deano's, taking just one point from nine games, with Ellis, rather like Purslow, pointing to a poor league run dragging back to the previous season, which meant just eight wins in thirty four league games. Nonetheless, shell-shocked was the word used by players and supporters alike.
Graham Taylor went slightly better than Dean Smith in delivering three complete seasons of progression in his first spell as Villa manager. Sir Graham famously and fantastically brought us back up to the first division at the first time of asking in 1987-88, though only by the narrowest of margins, having scored five more goals than Middlesbrough. Like Smith, he had to see out a tough first season back in the top flight, finishing seventeenth but then in his next season the side really took off, running Liverpool much closer than the record books show for the league title. Would he have delivered a fourth season of progress and that first title since 1980-81? Again, we will never know because, perhaps, rightfully (though disappointingly for us), England came calling.
Ron Saunders was at the helm at Villa Park for seven full seasons, building several distinct teams in that time. Again, in common with Smith and Taylor, Saunders' first task was to ensure promotion back to the top flight, which he did in 1974-75, as well as winning our second League Cup. The usual tough first season back followed, with sixteenth place almost entirely due to our home form, as we didn't win away in the league for the entire season. Saunders' third season in charge saw a leap in progress, with, some would say, the most exciting team that he put together. A fourth place finish and our third League Cup was the least our freescoring side, featuring the talents of John Gidman, Brian Little and Andy Gray, deserved. Saunders didn't deliver a fourth successive season of progression in league position in 1977-78 though, when we finished eighth.
Of course, the great man was rebuilding and over the next few seasons, eighth again in 1978-79 became seventh in 1979-80 and,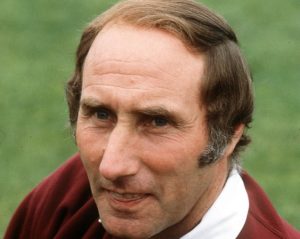 as well known to each and every Villa fan, became League champions in 1980-81. The great man's successor, Tony Barton, delivered the greatest prize in European football in 1982, as well as an eleventh place finish in the league (again, did anyone care?). Next season saw another European trophy and an improvement to sixth in the league but this is a story that has already been well told. Consequently, a tenth place finish in 1983-84 gave Doug Ellis the ammunition he needed, if he needed any at all, to dispense with Tony's services. His was a managerial reign that will never be forgotten.
In his first full season in charge, Brian Little matched his former manager's achievement of 1976-77 by claiming fourth place in the top flight, now the Premier League, and winning a League Cup, with perhaps our most comprehensive performance in a Wembley final, the 3-0 demolition of Leeds United. With a bit more luck Little's side would have been back at Wembley for the FA Cup final that season too but that's a competition where we never get any luck. It was still some improvement on the eighteenth of the previous season, when Little had taken over part way through. Rather like during O'Neill's stint, the side then more or less plateaued in terms of league position, finishing fifth and then seventh in subsequent seasons, though the latter was only achieved with a remarkable run of wins under John Gregory, after Little had departed in mid-season.
Gregory never delivered three seasons of improved league positions either, with two successive sixth place finishes next and an FA Cup final appearance in 1999-2000 before an eighth place finish in 2000-01, prior to what seemed like an inevitable departure, given his fractious relationship with Doug Ellis, in mid-season 2001-02, prompting the return of Graham Taylor.
Steven Gerrard's first part season in the Villa Park hotseat led to a completely underwhelming finishing position of fourteenth, setting a relatively low bar in terms of progression in the upcoming season (hopefully, Bournemouth was merely an early season blip). If what seems as the minimum expectation, namely a top half finish, is achieved, he will then have to go again next season too, if he is to deliver the season-on-season progression that the owners clearly seek. Whilst, after all he had achieved, their treatment of Dean Smith might be viewed as harsh, what it has done is set a precedent in terms of expectation. Hopefully, Gerrard will deliver not just three successive season of progression but more beyond that, too. He'll have achieved more than many Villa managers if he does, and a long overdue trophy wouldn't go amiss either.