Heading off to Leicester in hope and expectation.
Back after the break and we're right down to business with a trip to Middle Earth, sorry, the East Midlands. It's an easy mistake to make. Yes, it gets said every time we play them but in a strange world, Leicester is still the strangest place of all, made worse by the trains being messed around and a road system that defies all logic.
They used to play at Filbert Street, where we had such memorable afternoons as Chris Nicholl 4 The Rest 0 winning in 1981 on the day when Albion beat Ipswich, which they probably enjoyed as much as Ipswich did, and Brian Little's return which they tried to build into a Welcome to Hell and failed because Filbert Street was about as much of a cauldron as a Wacky Warehouse.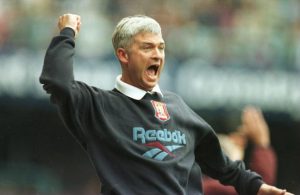 Then they moved to their own version of the Flatpack Arena, went into administration, carried on as though nothing had ever happened, ignored all the businesses they owed money to and ended up winning the Premier League. It would have been a heartwarming tale of triumph over adversity if it had been anyone else. Since then they've had the ability to be spellbindingly awful at times but stay successful. Again, you'd have to admire them if they weren't Leicester.
They've still got Marc Albrighton, who seems to have been around forever and the progeny of children yet to be born will still look back at us letting him go while shaking their heads in bemusement. Jamie Vardy is bound to be a fitness doubt and even more likely to play. We did, briefly, think we might have a more or less full squad to choose from but naturally there's been the sort of training injuries that only ever happen to the Villa. Is it something to do with the HS2 work at Bodymoor, perhaps?
Anyway, we need a result to stop that faint worry from getting any bigger and they don't care about the league because they're playing in Europe next week. That's the theory and might as well stick to it. You can also try a GG Poker welcome code. Three points and we can start thinking about the summer holidays.