Norwich at home. You know what's coming next.
Another Saturday, another three o'clock start; it's almost becoming a habit. This time round we entertain plucky little Norwich. The season ends in an even year so they're in the Premier League this time, same as they will be in 2024, when they swap places with Fulham again.
Norwich are yet another of those clubs who used to get fifteen thousand at home and take about two hundred away, then Sky turned up, a load of people in Norfolk started to watch this 'football' thing and found to their surprise and delight that one of those big shiny Premier League clubs was up the rod so they started going to watch them. At least they didn't get a new ground. I daresay they'll bring a load with them, marvelling at such newfangled ideas as 'electricity' and 'paved roads'.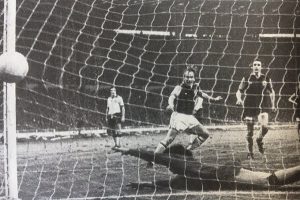 Apart from that there isn't much you can say about Norwich. Delia Smith is still their owner, and it's a worrying, time's going far too quickly, fact that too many football supporters haven't heard of her or remember her half-time rambling when she was definitely not shitfaced, oh no, perish the thought. Milot Rashica is still there. You might vaguely remember him as well – he turned us down because he wanted to play in the Champions League then signed for Norwich.
Back in the distant past they also had Wes Hoolahan, the only player to not celebrate scoring against a team he never played for. They've also got a manager with some vague connection to the Villa. And while we're in the mood for fond reminiscence, there was a penalty save in 1975 that's worth remembering.
We can relegate them, and we will. Villa beat Norwich; there might be some extremely unlikely events in football, such as Villa having a full-strength team or a club within fifty miles not deciding we're their real rivals within seconds of going above us in the league, but none are as unlikely as Villa not beating Norwich. It's a fact of life, it happens. Like New betting sites.