Dave Collett writes about the story of the season, so far.
Few Premier League bosses can have felt more secure in their tenure than Dean Smith in the summer of 2021. Having just finished the season with impressive victories against two members of the putative European Slime League to secure Villa's highest points total in over a decade, having met every single target set for him by the club's owners and CEO, except in two cases where he actually probably exceeded his brief, he settled down to watch the summer's European Championships, to see how his club players would fare in the competition.
Watching Jack Grealish suddenly appear as one of the stars of European football may have shocked some sections of the national press; watching Villa fans may have allowed themselves a quiet smile at the world realising what we had known all along; our Jack was The Man and would be plying his trade at Villa Park for the foreseeable future with four years still to run on his long-term contract. With other Villa players doing themselves no harm during the tournament, everything was looking bright. The board's early support for the manager was shown clearly when they delivered midfielder Emiliano Buendia from Norwich in the face of competition from Arsenal. Now it looked like we were competing with the big boys for players who would kick us on to the European places, assumed by many fans to be the next stage in the Smith Project.
Inevitably, Grealish's success, when actually allowed onto the pitch by his paralyzingly-cautious national team manager, meant that transfer rumours surrounding the player, of which there had never been a shortage, were now rife. Villa fans consoled themselves with the thought that a very long contract would deter clubs from paying what the club wanted for such an illustrious talent as well as the long-held belief that the current owners were serious in their ambitions for the club and so would have no desire to sell. Still, the rumours persisted but became more like background noise as the players began to return to pre-season training.
Soon, it was apparent that things had not gone perfectly over the summer. Matt Targett, regarded by many to be unlucky to miss out on an England squad place after a fine season at the back, was reported to have his foot in one of those large boot-thingies that footballers have to use to help them get over injuries. So, had Matt been selected, he would not have been able to play over the summer, and was not even able to train immediately for the new season. Alongside him was Bertrand Traore, who had done some amazing things with the ball in his first season with us. Who knows, he might have achieved even more had he not been hampered by a groin problem that minor surgery over the break was needed to clear up. Again, recovery would mean that his pre-season would be interrupted. Vying to be a potential stop-gap for both men was the versatile Ashley Young, back at Villa Park after a nine-year absence but looking as fit as ever despite his thirty-six years.
It wasn't just on the playing side that changes were affecting pre-season planning. The departure of John Terry was announced, in rather glowing terms. Indeed, it was all a bit of a love-in, with Terry expressing his thanks for all the help that Smith and the club had given him over nearly three years. Terry had decided that now was the time for him to pursue his expressed desire to be a manager rather than a coach. Fair enough, you might think, but you couldn't help but wonder if this might have been better-timed. Couldn't Terry have made his decision at the start of the summer, rather than at the end? Had he done so, he might have been in the frame for a step-up at a time of year when many clubs are looking to appoint a new boss. Likewise, an earlier decision would have allowed the club to start the search for a replacement with more time available to make the right appointment.
No sooner had we swallowed this particular pill than Richard O'Kelly, assistant coach to Deano for many years at both Walsall and Brentford, left, presumably to enjoy a well-earned retirement. At the risk of repetition, couldn't this decision have been made earlier to the benefit of all parties? Clearly there was no suggestion of resentment towards the head coach, as Richard rushed to the rescue to pick up the threads of pre-season training when Dean was laid low by a mild dose of Covid and had to isolate himself from the players, yet another disruption to preparations.
Still, departures always offer an opportunity for others to step forward and show their worth. The first man in was Austin McPhee, who came with a good reputation and would couple his Villa responsibilities with a matching role under Steve Clarke for the Scotland side. Austin's specialty was the defensive and offensive aspects of dead-ball situations. Fans sat back and waited to see what difference he would make. Subsequently, Arron Danks was brought in from Belgium in the hope that his continental experience of players and analysis would bring something that had been lacking before.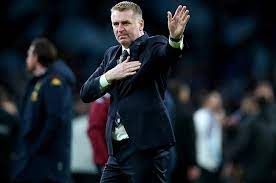 Still, when the signing of Buendia was followed by the recruitment of wide player Leon Bailey, much of this disturbance was forgotten. Bailey wasn't quite the marquee signing that some fans seem very enthusiastic about for some reason, but he was certainly a highly-rated forward, who many thought could have been a target for a Chumps League side. His signing certainly appeared like a serious strengthening in terms of what Villa had in the wide positions; it wasn't immediately apparent that he had been signed while recovering from an injury received while playing international football for Jamaica. Such was the rating of this new man, that there was genuine alarm when it was announced on good ol' social media that Liverpool were trying to take over the deal at the eleventh hour. When it was announced that Leon had signed – by his dad(!) and the club – the response could be measured in both relief and delight.
Just as we were in a positive mind-set over this, the rumours of a Grealish transfer rematerialized. This time, an actual figure of £100 million quid was mentioned. Somehow, a statistic, especially such a large one as this, gave additional credibility to all the hot air, with Manchester City thought to be the club to have made the record offer. All that was needed to calm the waters was either a statement from the club to the effect that a bid had or had not been received but the player was not for sale. Failing that, an affirmation from the subject of the bid that Villa was still his club, playing in his city, would have done just as much good. At this stage, the background noise featured several comments along the lines of the Villa owners' credibility now being at stake. Forget all the good things they had done since the takeover of 2018, this line of argument went, if we can't keep our best players, how can we fulfil the stated ambition of the new owners to bring European football back to B6?
As the rumour deepened, it became apparent that there was a release clause in the Grealish contract that had been triggered by the bid – an amount so large that the club thought no-one would want to match it. When a football club is owned by an oil corporation, however, towering sums of money may appear as so much small change to those awash with obscene tranches of cash. The club CEO immediately issued a video explaining the situation to the fans. This at least cleared the owners of the charge of lack of ambition and allowed the club whatever sympathy was available in the situation. Perhaps more sympathy should have gone Smith's way. It's hardly an original thought that Grealish's departure was a massive blow to the villa boss. A player of such exceptional talent was sure to be badly missed. The pain may have gone deeper than this; as a Villa man to the core, Smith might have taken Grealish's outpourings of undying love at their face value and felt that the player's loyalty towards the club matched his own. Such a long contract surely meant that Smith would be able to look forward to working with the player for years to come, as they together brought long-sought success to Villa Park. And then he was gone!
If Deano was contemplating the gaps in his squad, he soon had the good news that top-class striker Danny Ings had just arrived from Southampton. In his video, Purslow explained that the signings of Buendia, Bailey and Ings were designed as a composite replacement for the recently-departed forward. Some wondered if the Ings signing was perfectly-timed as a consolation prize for the fans as compensation for the departure of their former favourite. Still, the CEO sounded good on the video and we waited for Deano to put the master plan into action. On the pitch, there had already been problems. Buendia played some sumptuous through-balls in the match at Walsall and looked the class player that we thought we had signed. Then the news filtered through that he had banged his hip in training and would be out for a short while. Bailey, still to feature in pre-season, was another on the treatment table.
At least Ings would be available to play alongside Ollie Watkins up front in the final friendly against US Salernitana (1919). In itself, this was yet another example of how topsy-turvy Villa's pre-season was turning out. Already, a friendly against Nottingham Forest had been cancelled due to covid issues in the visitors' camp. Now, it transpired that Sevilla, an impressive team of European regulars, had found themselves with the same health problems and so were unable to complete what would have been a stiff test for us. Salernitana, recently promoted to Serie A, obliged us by turning out in B6 at short notice so that we could have some sort of game a week before the serious stuff started. Things went well enough with a 3-1 win, though there was a distinct impression of Villa almost going through the motions against limited opposition. Even worse, adding to the narrative of things not quite going our way, Ollie Watkins took himself from the pitch early in the second half. In attempting a shot from outside the box, he scuffed his boot on the ground. You couldn't say it looked too serious, but he had somehow bruised his knee-bone and would be out for a few weeks.
Opinion was now divided between those who thought the club had been dead cute in completing the 'replacement' signings before Grealish left, thereby avoiding massively-inflated transfer prices, and those who had expected the owners to spend some money anyway to fund Villa's ever-higher targets and whose spending powers had now gone through the roof with the addition to the budget and FFP of £100 million. As it became apparent that the transfer scent had now gone cold, some wondered whether the owners had, in effect, shown a lack of ambition in terms of the net spend; others, noting how Villa had struggled to replace Grealish during his injury absences in the previous season, felt that the board were looking to Smith to show how he could cope now that the talisman had departed for good. Presumably, further funds would be made available in the future should Deano 'pass the test'.
Coming through this mist of confusion were newly-promoted Watford, who, purely as a novelty, had not brought in a new manager during the close-season. As with all sides on the rise, the home team would be full of the confidence that comes from being a winning combination who had earned their right to be in the top division. This didn't look like the sort of game that Villa could take lightly and so it proved. To say Villa got off to a slow start is to be too generous. By common acclaim, Villa looked well undercooked, hardly surprising after the combined travails of the summer. Targett, a staunch, solid left-back who had improved remarkably from his first, hesitant season, looked like he had discovered the secret of time travel in a bad way. The pacy Saar on the right gave Matt plenty of problems and it was no surprise when Young took his place after the break, to good effect.
To blame an individual would be absolutely unfair in the face of this collective shambles. Watford looked eager and were first to the ball too many times. While it's true that the second Watford goal was a fluke and that their third came after a marked improvement from us in the second half, it was still a poor result, not withstanding a good last twenty minutes where Bailey set up a stunning goal for McGinn and Traore's twisting run drew the foul that resulted in Ings's penalty that made the home side sweat to the end. Both timely subs had made a real impact.
Nevertheless, the result stayed the same. Presumably sharing the opinion that Villa needed more game time in their legs, it quickly became apparent that Villa had travelled to Merseyside to play an extra friendly game against the Reds, just one day after the Watford clash. No doubt the work-out was valuable to some, but not Bertrand Traore, who limped out of the game with a sore hamstring. At least next up was Steve Bruce's Newcastle. Despite some iffy moments that might have gone against us, the 2-0 win looked comfortable enough in the end. The clear advantage of the Villa Park rain not being of the sort that Steve's team had prepared for all week helped, as did the two goals, both sourced from dead-ball situations. McPhee, or 'Nanny' as he had inevitably been dubbed, was therefore seen as the invisible hand behind this triumph.
Villa fans hoped for a follow-up win against Brentford, but the injured were slow to return and a mild outbreak of Covid meant that eight first-team players were absent from this one, though Ollie Watkins at least had a run-out near the end. A 3-0 defeat at Stamford Bridge looks like a hammering from distance but those who saw the game know that Villa gave as good as they got. Lukaku's appetite for half chances trumped Watkin's failure to take advantage of decent openings.
This game saw the deployment of the three centre-back system for the first time. It was used again for the home game against Everton, though whether the shape was retained after the second-half substitutions may be the award-winner for the online dispute of the year. Whatever the differences, Villa ran away with the game at the end. The only sour note was sub. Leon Bailey limping off, having, bizarrely, put too much oomph into his left-foot hammer for the final goal.
It was clear that three at the back was used at Old Trafford, where Villa, like at Chelsea, showed they could use the system to good effect against a top-rated side. Villa should have scored at least one before another McPhee Special saw Kortney Hause take the winning plaudits with a late header. Much was the rejoicing at this result; even more impressive was the fact that there was little dispute that the better side had won. This left us in the unusual position of going to Tottenham the following week as favourites in the eyes of many, Spurs having got off to an uneven start under the aegis of their fifth/sixth choice manager, Nuno Espirito Santo. The shape of the team remained the same, despite this giving plenty of room down the channels for the in-form Son to work in. He duly had a hand in both home goals. It was thought that switching to a flat back four would have denied him so much easy space. On the other hand, Targett's freedom to get forward, allowed by the use of three centre-backs, allowed him the chance to set up a fine equaliser from Watkins, still not quite finding last season's form but at least now back on the scoresheet. With any luck, Ings might have scored a goal or two himself, but things didn't quite fall his way.
This game was possibly the beginning of the great Ings/Watkins debate. Clearly, here were two good players, both with an international stamp of approval but they didn't seem to work naturally as a pair. Watkins had, by general agreement been played a bit too often in his first year, a big ask for a player with his thirst for hard work. Was Ings brought in as someone to contest for the lone striker spot, or as someone to partner Olly? This was the question that occupied opinions.
Clearly, Danny was a considerable upgrade on Keinan Davis or the recovering Wesley; equally, £25m was a lot of money to play for a squad player, rather than a regular. For Olly, playing down the sides was a feature of his game that gave us a threat on the break. He seemed less happy when being out wide was a permanent arrangement rather than a variant on his main role. The discussion would rumble on.
After the international break, the home derby with Wolves gave us a chance to put the disappointments of North London behind us. A superb ball from Buendia gave Ings a chance he should have taken, despite the 'keeper's fine save. Still, all was well after the interval when Ing's instinctive header gave us the lead. McGinn's first-time finish confirmed the clear blue water between the two sides and we looked forward to seeing the game out and collecting the three points; only a typical solo run by Adama had posed a threat to our goal and Emi 1 had dealt with that. We all recall what happened next, even if some of us were watching through our fingers. When the horribly-deflected winner went in, many after-match experts went for the 3-5-2 system as the cause of defeat. That the same shape had given Wolves barely a sniff in the first eighty minutes went as unnoticed as the stoppage-time header from Ings that gave Villa a brief hint of glory before it flashed wide.
The 3-5-2 debate covered at least two issues; a) the extra man at the back had made our defence worse. b) the system was only being used to get Danny Ings into the starting XI. Ings and Ollie hadn't struck up much of a partnership yet and while we were waiting, the team were dropping points. When Villa started with the same set up at Arsenal, not many folk were impressed. The first-half showing was as bad as people could remember and one of the most resilient backlines in the league had been reduced to something like a shooting-range. Admittedly, a VAR penalty decision, creative even by the established standards, did nothing to help. Withdrawing Axel Tuanzebe at half-time led to a change some likened to night and day. Suddenly, we were enjoying more possession and looking like we knew what to do with it.
Buendia might have done better with a chance. Another terrible deflection made it 3-0 but Villa kept coming and Ramsey scored his first Villa goal with a perfect finish. When your luck's out, it's out, though Deano did himself few favours by claiming after the game that the shape of the team wasn't important, performance was what mattered. If this was so, why change that shape at half -time? The alleged throwing of a water bottle in Smith's direction by Morgan Sanson, once it became clear to the French midfielder that he wasn't going to be used as a sub, gave plenty of ammo to those whose agenda included the time-honoured cliché of "the manager's lost the dressing-room."
The home game against a bang in-form West Ham side now looked rather ominous, even more so when Jacob Ramsey, now showing the benefits of the chances given to him under Smith, went down with what looked like a bad injury early on. The only suitable replacement would have been the prodigy, Carney Chukwemeka. Possibly thinking that throwing Carney on against Rice and Soucek wouldn't be doing the lad or his team much of a favour, Deano opted for the 'safe' option of sticking a player almost twenty years older, Ashley Young, in an unfamiliar central midfield role. Emi Martinez, a 'keeper so good that discussions re the identity of Villa's greatest-ever custodian have stuck to him since his arrival, had had a bad week, travelling to and from his homeland because of a family illness.
Whether this was the key to him conceding two first-half goals that he might have saved is a moot point. A decent move saw Ollie briefly draw us level, only for Konsa's highly-contentious sending-off (another triumph for VAR, which has happily eliminated all dodgy decisions in the Best League Ever) gave us a mountain to climb. Had Ollie's second-half header found the net instead of the post, this might be a different story. Without that luck, or any other sort, we had to keep pressing forward and the visitors took full advantage.
Southampton now loomed ahead as the classic 'get something from it' game. Conceding after three minutes after a hopeful forward ball rebounded to the scorer off Matty Cash's backside said all there was to say about Villa's luck in this miserable run. The play up to the break matched their fortunes, though El-Ghazi might have done better with a decent chance. Whatever was said at half-time certainly produced an improvement. Half-chances were created but not taken and Dean's VAR hat-trick was completed when the screen official saw nothing wrong at all with the blatant shirt-pull on Tyrone Mings as he challenged for a dead-ball move in the box. The home side saw the game out despite Villa's best efforts. Nothing seen here suggested that the players had given up on Dean. A post-match interview with Matt Targett might have been as ephemeral as a hundred others had it not been for the fact that the player was clearly on the verge of tears. Perhaps he knew something that we -and Dean- didn't know.
Just to put the cherry on top of the chaos cake, this game was followed by the third, yes third, international break of the still-young season. While some might see these breaks as an inconvenience when it comes to coaching and training issues, in the modern game such periods of respite are also an opportunity to consider options for CEOs and club owners if things aren't going too well. Smith must have known he was under pressure but nothing happened on the Saturday. According to the man himself, he feared the worst when he was called into lunch at Villa Park the next day. I was watching a game on the box when the commentator announced the news and felt like I'd been punched in the stomach.
No doubt we all had to deal with our feelings in our own way. For me, there's always something especially poignant in the departure of a real Villa man who you know wants the club to thrive just as much as any fan. Brian Little and John Gregory come to mind, though they both resigned for their own reasons. Only Vic Crowe comes to mind as a true Villa loyalist who was sacked. Crowe left having helped to build up both the club and the team over a number of years in his time and Dean Smith can make the same claim. Within days, he was back in the hot seat at Norwich who weren't put off by the 'lower-division' tag. Apparently, Frank Lampard didn't want to damage his brand image by associating his name with a team that had a strong chance of being relegated. Oh, the irony!
Dean's replacement, Steven Gerrard, has had a mixed bag of results and performances so far, leaving both Christian Purslow and Villa fans to consider whether, at this early stage, his new appointment is clearly an improvement on the previous incumbent. More certainly, Dean Smith's return to Villa Park generated a reception that will reflect the affection and gratitude that will always be felt for him in so many Villa hearts.