Dave Woodhall dares to dream about what might, possibly, happen.
Football's a part of the entertainment business That's hardly the most incisive thing you'll read today so I'll follow it up with something else you know already. There's a lot of hype in the entertainment business. Bands are the new big thing, films are the best ever. And in football the biggest way to get press is to say you're in for a player, no matter how unrealistic your chances of signing him.
Actually, that's not strictly true. If a club is reported to be after a player who's clearly out of their league, everyone else has a bit of a laugh then move on. The words 'Small', Heath' and 'Maradona' come to mind here. Which is why the reports about Villa wanting Philippe Coutinho are so interesting. He's a world-class talent and, injuries apart, he doesn't seem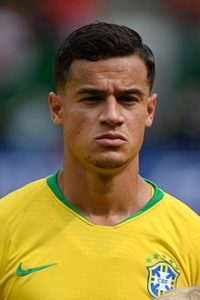 ready to be winding his career down with whoever will pay the most. He's the sort of player other clubs are linked with. And yet, the stories about him moving to the Villa are not only being taken seriously, they seem to be gaining substance. They haven't been denied, so we can only assume that we really do want to sign a player who virtually every club in the world would want.
What does that say about us then, eh? It says that we're at a level where we can talk about signing anyone and it's believed. Whatever happens from now on, whether Coutinho does get pictured holding the shirt at Bodymoor or not, this is the market we're now looking at. I've said before that the only nagging doubt over our new owners is that every transfer window is going to be the one where we really make our mark but we haven't really managed it yet. You can't say that anymore – there's no longer a doubt that they want to aim for the top.
Of course, the story's still got a long way to run. It might be that Coutinho's agent is using us to flush out the interest from elsewhere – an outrageous slur on an upstanding body of men, I know, but it has to be considered. But if what seemed unthinkable a week ago does come true, and we do sign the first world-class footballer to arrive at Villa Park in any of our lifetimes, just imagine the effect it will have on the club, and on football in general. Aston Villa will be a club where anything seems possible.
Even if it does happen, things might go wrong. Coutinho might be using us for match practice and to put himself in the marketplace before a move to somewhere like PSG. He might not be interested, or he might not be fully fit. A lot of things can go wrong with any transfer, let alone one which would smash our wage structure, however temporarily.
Or he could be for us what Ruud Gullit was for Chelsea, the sort of player that makes others want to sign for your club so they can play alongside him. Without Gullit there would have been no Vialli, no Zola, no Desailly and very likely no Abramovich. Every club dreams of a player who can have that effect. This time next week we might have one.
Comment on this story here.