As one Villa managerial spell begins, Dave Collett recalls the end of another.
January 17th, 1970,
Portsmouth (home).
Whether Villa manager Tommy Docherty breezed into 1970 with his usual bullish effervescence isn't known – perhaps he had turned the dial down a little from eleven as he contemplated his narrow escape from the unemployment queue. A poor, if unfortunate, defeat at home to fellow-strugglers Watford was Villa's only home game in December due to adverse weather conditions and even the Doc couldn't be blamed for that. After this game, which featured the notorious foot-stamping from Trinity Road, all was not well. This just wasn't meant to happen; Villa's bright new board had supported their colourful boss with almost £200,000 for promising young signings. The massive improvement in the second half of the previous season, bolstered by the waving of the cheque-book, equalled, in the minds of many, promotion. Even the cautious felt that some sort of challenge should be the minimum expectation for the season ahead.
The board meeting that followed the Watford game was no doubt an unhappy experience for all involved but the verdict was a vote of confidence, in itself a warning that things needed to improve, and quick. The board went further than just words, however; they gave Docherty the money to bring in George Curtis from thriving neighbours Coventry City, who had overtaken Villa in all meaningful senses years earlier.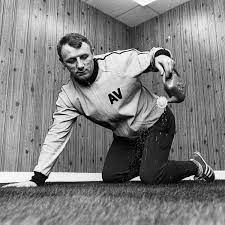 When Peter Taylor and Brian Clough went to Brighton , they were both dismayed to see how their new players were all too ready to accept defeat. Taylor's comment to Clough was that, "We need to get in a few players with coal on their faces." Curtis, himself a former Kent miner, certainly fitted this bill at Villa. His solid defending would be a blessing, as would, it was hoped, his leadership skills, honed in the process of lifting Coventry from the fourth division to the first.
The signing, cheap at a reported £25,000, was significant in other ways. Docherty specialised in bringing in youngsters and inspiring them to great heights . Curtis didn't strike anyone as the impressionable type. One wonders whether part of the deal that kept Tommy in work was an understanding that any new signings would need hard-nosed experience and leadership qualities.
Things certainly got off to a good start. A visit to promotion-chasing Swindon looked a difficult prospect, especially when Villa trailed at half-time. An improved showing after the break saw Villa claim a deserved leveller from… George Curtis. We might even have nicked a win but as this was the first away point since October, nobody was moaning too much. Before anyone could claim that Villa had turned the corner, a couple of cup games against struggling Charlton resulted in a dismal home draw then defeat at the Valley, future Villa captain Harry Gregory scoring the only goal. For this game, Bruce Rioch was pressed into service up front but had no luck. Rioch said he was happy to move forward if it would help the team and pleaded for a little time to readjust to his new role. Alas, both the calendar and the league table suggested that time was at a premium.
In tune with the Doc's tin ear when it came to risky selections, the manager sent out a side against Portsmouth that would have had some shaking their heads and in modern times no doubt commenting on the nature of the formation. Charlie Aitken had missed the cup replay in midweek with a badly-bruised foot and was still unavailable. Many a boss would have replaced him with another old hand, Keith Bradley who, though really a right-back, could have slotted in on the 'wrong' flank. Failing this, Keith could have gone to his normal position and Michael Wright could have moved across. It's fair to say that either of these solutions looked a better bet than putting former striker Barry Lynch there in such an important game. Lynch was a young player who Docherty had described with typical ebullience as the next Bobby Moore. As this was to be one of only three games he played for Villa, it can safely be said that the boss's enthusiastic vision wasn't fulfilled.
There were other questions, too. Centre-half Fred Turnbull was a trusty, well-liked player but picking him, along with George Curtis and the recalled Dick Edwards, seemed like over-doing the defensive side of things, a la Southgate, in a home game that Villa were keen, if not desperate, to win. Equally, one could wonder at the selection of Jimmy Brown in midfield. Brown, made Villa's youngest-ever player by Docherty in September, was willing enough at the ripe old age of sixteen to carry the burden, but you were left to wonder whether, like Lynch, it was fair to start someone so young in a match of this type. Nevertheless, such was the hand that Docherty dealt himself against a Portsmouth side currently residing below halfway in the table. They were precisely the sort of opposition strugglers think they might beat to lift themselves, while pulling the other lot down a bit closer to the mire. Their defensive record going into this match was the worst in the division, providing some encouragement to Villa's goal-starved frontline.
Things didn't get off to a good start. A cross from the left reached the gangly, somewhat ungainly striker, Ray Hiron, scorer of a century of goals for the south coast club, who found the net with a far-post header. Phillips couldn't deal with the delivery and Villa's three centre-backs were not enough to inconvenience the number nine. This was quite a smack in the face but the strength of the home response at least showed that the players were still prepared to give everything for their beleaguered boss.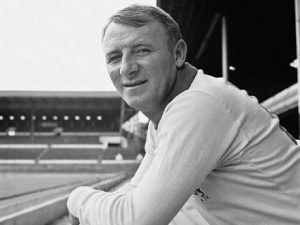 There was a minor explosion of relief when Villa levelled before the twentieth minute. Dick Edwards, quite a decent player despite his reputation for the physical stuff, hit a long ball to Willie Anderson. Willie's first-time cross into the area was met by Bruce Rioch who, using two Pompey defenders as a shield, neatly deflected the ball past the unsighted Milkins. This was to prove a brief respite, as the away side continued to mine opportunities down the left side.
One free-kick from this area was knocked into the box and once again not one of the three centre-backs or keeper could deal with it. Luckily for Villa, McCann was unable to get a clean shot away and Lynch did well to both block and clear the ball away from the goal-line. Nick Jennings then had a goal ruled out for what must have been a marginal offside. Yet another ball from the left gave Storrie a clear sight of goal but Phillips pulled off a good save. If all this sounds a bit desperate, imagine being there.
In the face of all this, it just had to be Villa that went in front. In a rare attack, Rioch collected a throw-in, crossed a quick ball into the middle where Anderson's well-timed run saw him flick the ball high into the net despite the defenders around him. The joy in the ground was palpable but wasn't to last long. Just before the break, With the Villa backline pushing up to catch the visiting forwards offside, Bromley played a simple through ball to Jim Storrie who, taking the ball in his stride, bent it past Phillips, against the stanchion and out again.
What Villa fans were feeling at half-time can be guessed at. At least the scoreline suggested we were still in the game. For a cousin of mine who attended, this was not enough so he left at the halfway stage, such was his disillusionment at Villa's poor showing. Three minutes in, it looked a pretty good decision. With laughable predictability a simple cross came from the left. This time, former England player Ray Pointer was the beneficiary as he leapt to head past Phillips. The same man then put the ball narrowly wide from his next chance. No doubt he wasn't too upset; he probably thought there'd be another one along in a bit. Turnbull received treatment for a back injury but it was Lynch who was taken off, with Lionel Martin his replacement.
Martin was a true wizard of the dribble, a brilliant footballer who never seemed to know when to release the ball. With him moving to the front, Godfrey dropped back to join Brown in midfield, while the recovered Turnbull switched to left-back. Within minutes of stepping onto the pitch Martin had his chance but fired over from six yards. The groan from the Holte was both heartfelt and prolonged. The near-miss was significant; Pompey broke into the Villa half and McCann side-stepped three home defenders before hitting a twenty-five-yard shot past Phillips.
At 2-4, the game looked over. The crowd responded in two drastically different ways. First, the Holte Enders attempted to lift their beleaguered side with a chorus of "You'll Never Walk Alone"; this was shortly followed by a new chant of "Walsall, Walsall, here we come!" Before this could sink in, Martin crossed from the right and Rioch headed in to double his goal tally for the season. The old saying maintains that it's the hope that kills you, and with some no doubt praying for a leveller even at this late stage, Portsmouth broke from a desperate late Villa attack and McCann scored their fifth and final goal with embarrassing ease. The manager presumably heard the cries of "Docherty out!" as he headed for the tunnel.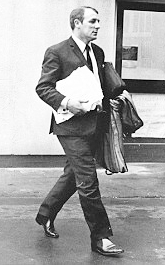 Chairman Ellis could only tell the press after the game that he was "too worried for words". The latest emergency board meeting was scheduled for the Monday evening. Bearing in mind Ellis's future reputation for ruthlessness which helped him to acquire his nickname of 'Deadly', it comes as a surprise that he was Docherty's only supporter when the final decision was made. To continue backing him would have meant the board would be hopelessly split. Docherty's offer to continue in the job without payment until the season's end was to no avail.
The following day he returned to the ground to say his farewells to the players. There was a picture in the Daily Mirror of Bruce Rioch embracing Arthur Cox while a grim-faced Doc watched on. Though local writer Dennis Shaw wrote that Villa were looking for an experienced manager, the current situation made it hard to see the attraction of the club at this time; rock bottom, with all the money spent and the youth system not operational as far as first-team candidates were concerned. Thus, reserve coach Vic Crowe was asked to take over in a caretaker role, which was subsequently made permanent. Replacing Docherty with Crowe struck some as like swapping a circus ring announcer with a public librarian, but things turned out well enough in the end, if not the short-term.
As far as the Doc was concerned, he was soon to find work in charge of Porto. It was not to be his last job. He wrote in a Sports Argus column that summer that while he deeply regretted Villa's demise to third division status for the first time, it was, of course, nothing to do with him. The column, titled "I am not to blame" was a neat side-step in which he blustered how Villa would never have been relegated had he not been sacked. It's fair to say that those who were in attendance at the Portsmouth game – and many others – may have taken a different view. What the Doc did leave Villa with was a roused Villa public after decades of decline. And that should never be forgotten.
Comment on this story here.