Richard Keeling talks about the art of management, Villa-style.
We need Steven Gerrard to do well for Villa's sake. It is of no interest to us whether he does well enough to become a candidate eventually to replace Jurgen Klopp; there will be plenty of managerial openings for Steven if he does well at Villa. Likewise the Red Scouse will have plenty of alternative candidates to choose from when the time comes. So the media narrative is important only to the media.
When I heard the news of his appointment I was distinctly underwhelmed. Our new boss had gained his only management experience in Toytown football north of the border, I thought. His appointment would also present a great opportunity for the national media to patronise Aston Villa. Paul Lambert (remember him?) and doubtless a number of others have already described Gerrard's move to Villa as "a stepping stone". I am gritting my teeth in expectation of countless references to Steven Gerrard's Aston Villa. Still, perhaps better for Villa to be patronised rather than ignored, as has been the case for many years.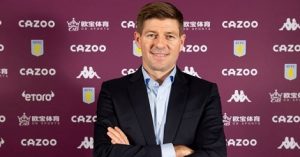 When I had calmed down a bit and had time for reflection, I recalled that Dean Smith had no Premier League experience and he didn't do too badly for us. In addition, Gerrard's work at Rangers is well regarded by those who follow Scottish football. He is said to have a strong work ethic, to know what he wants from his players and also how to manage them. So perhaps our owners won't come to regret their big gamble.
I have seen rather a lot of managers come and go over the years, so please forgive me if I seem slightly cynical. Eric Houghton was manager when I first visited Villa Park and he had the honour of bringing us our last FA Cup win in 1957, but he was sacked in November of the following year. Too many managers have arrived at Villa Park with a spring in their step, brimming with confidence, only to leave a year or two later with their tails between their legs. John Russell has recently been relating the inglorious years during the sixties when Aston Villa was fast becoming a managers' career graveyard. We had high hopes of Joe Mercer and he brought us the inaugural League Cup and the second division title, but it all became too much for him. Dick Taylor and Tommy Cummings may have been foolish enough to arrive with a spring in their step, but I doubt that they left with one.
Which brings us to the Deadly Doug years. Tommy Docherty arrived with a huge fanfare but he lasted little more than a year before he became Deadly's first victim. Vic Crowe occupied the hot seat for over four years, got us out of division three and came close to getting us out of the second before he, too, was invited for the walk round Doug's rose garden.
Our longest serving and most successful manager followed Vic Crowe. I don't remember if Ron Saunders arrived with a spring in his step but he certainly arrived demanding 110% effort from each and every one of the players and staff. Ron stayed for the best part of eight years and you can be sure it would have been a lot less had the directors not been successful in keeping Doug off the board.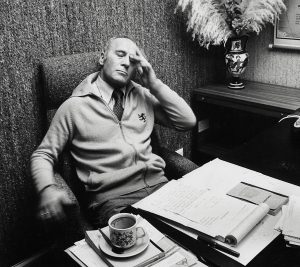 Tony Barton was on a hiding to nothing. He had been Ron's assistant and he was the man in charge during our finest hour in 1982, but with Doug back on the scene and watching the pennies he was unable to keep the club at the level to which we all aspired. He got his marching orders in June 1984, a little under two and a half years after he took over.
Graham Turner followed Tony and he hung on for a little over two years before he too smelled the roses and returned to managing at a lower level. The less said about Billy McNeill the better, but it would have been good if his career had hit the rocks at a different club. Apart from Ron Saunders, the other outstanding example of a manager who blossomed at Villa Park was Graham Taylor. He took over from McNeill in May 1987 and by July 1990 had set off to manage England. We all wished him well but we knew that England's gain was very much Villa's loss.
That feeling was rubbed in when Doug bizarrely went pioneering and appointed a non-British manager, a few years before it became fashionable. The Czech Josef Venglos was the man. It had never been done before but the experiment didn't go well and Dr Jo was soon known by the tabloids as Dr Doolittle or Dr Deadloss. He went on his way in May 1991 with the club struggling.
Aston Villa needed reviving and Doug brought in a Villa old boy, Ron Atkinson. He got off to a good start, with Villa finishing as runners-up in the inaugural Premier League season of 1992-93. We also won the League Cup in 1994. However, Ron is a big personality and he and Doug increasingly failed to see eye to eye. The results deteriorated and Ron was walked round the rose garden in November 1994, three days after Doug had given him a vote of confidence in the media, stating that Atkinson was one of England's top three football managers.
Doug then appointed one of his sons to the hot seat. Brian Little duly brought us another League Cup win in 1996 and we finished much nearer to the top of the league than the bottom while he was in charge, but after well over three years the pressure finally got to him and he resigned in February 1998.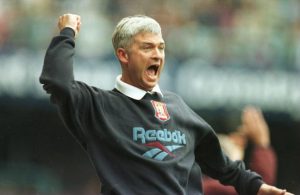 John Gregory was amazed to be the next to get the call from Doug, as we all were. He had previously impressed in a coaching role at Villa, but Doug was keener to employ another of his sons than follow the trend and employ an expensive top continental manager. John lasted almost three years, took us to Wembley for the FA Cup final in 2000 and, yes, he brought us the Intertoto cup in 2001. He also kept us well in the top half of the Premier League and gave us some much needed amusement by telling Doug he was stuck in a time warp before he resigned in January 2002.
Graham Taylor was foolish enough to agree to come back and do a second stint from February 2002, but by now the writing was on the wall that Villa would not compete successfully with the big spenders while Doug remained in charge, so Graham threw in the towel in May 2003. David O'Leary was Doug's final victim and he stayed for over three years. He started with a sixth place finish but was unable to improve on that, which possibly had less to do with his managerial abilities than Doug's firm hold on the purse strings. He didn't help his legacy by describing the fans as fickle and received the guided tour of the roses in July 2006.
Martin O'Neill became the first manager of the Randy Lerner era. He was already highly regarded and kept Villa in the top six during his four years in charge before he walked out without being able to engineer a breakthrough into the Champions' League places. Gerard Houllier was a high profile replacement but only stayed for nine months before health problems forced him to step down. His replacement was Alex McLeish, a controversial appointment because of his time at St Andrews, and he stayed for slightly under a year without being able to make much of an impression on the league table.
Paul Lambert arrived in July 2012 after experiencing outstanding success at his previous clubs, but his tenure of almost three years saw him unable to halt Villa's gradual decline into the bottom half of the table. He hasn't done a lot since either, so there doesn't seem to be much justification for him to shoot his mouth off about Steven Gerrard's career move. Tim Sherwood lasted only eight months from February 2015 and was widely perceived by the fans as a Cockney chancer. Remi Garde's tenure was even shorter, at just four months before he was put out of his misery.
By this time we had a new owner, Tony Xia, and he appointed Roberto di Matteo as manager in July 2016. That turned out to be another four month mistake and Steve Bruce took over the hot seat in October 2016. During the two years before new owners Sawiris and Edens replaced him he was at least successful in stopping the rot which threatened to take Villa out of the Championship and even further down the leagues. Dean Smith was our last manager, appointed in October 2018, and let us hope that the decision to remove him this month turns out to have been the right one.
So I make it that Villa have had twenty-six managers since my Dad first took me along all those years ago and found me a spot on the Holte where I could stand and watch the match over everybody's heads. Steven Gerrard is the 27th. Of that lot I would say only two have been real successes, Ron Saunders and Graham Taylor in his first spell which ended with him being poached for the England job. Nine have departed with, in my view, at least as high a profile as when they arrived: Joe Mercer, Vic Crowe, Tony Barton, Ron Atkinson, Brian Little, John Gregory, Martin O'Neill, Steve Bruce (whatever the fans may have thought of his final months in charge) and of course Dean Smith. That leaves fifteen managers out of twenty-six for whom the Villa job was probably not career-enhancing, so you can perhaps see where my cynicism come from.
I haven't said much about the owners, and of course they are a major factor in a manager's success or otherwise. If the budget is not available to allow him to compete properly or if owners interfere in his work, the manager is most unlikely to be successful. A good example is Doug's tenure, especially during the Premier League years. A retired Birmingham travel agent was unlikely to be able to compete financially with the kleptocrats and money launderers who were increasingly becoming involved in the Greed League. At least Doug wasn't involved in any human rights scandals, as far as we know.
Steven Gerrard is therefore luckier than many of his predecessors. Doug has long gone, as have his incompetent successors as owners, and we now have ambitious owners who seem to know what they are doing and are willing and able to provide financial support. So good luck Steven. Villa are overdue a real success story; please bring us one.