John Russell looks back at 1967-68, when the fun never started.
Exit manager Dick Taylor, no surprise there. Enter Tommy Cummings – who? Four seasons spent managing Mansfield Town hardly seemed sufficient qualification for taking over the once-great Aston Villa but the available choice was limited in the extreme. Besides, he had played for Burnley in their championship-winning season of 1960 so it has to be assumed he knew a thing or two about the game.
Tommy's first action was to call in a favour from his old mates. After a Monday night visit to third division Oxford United (3-2) Cummings invited Burnley to come to Villa Park two days later for a pre-season kickabout. Such events are usually meant to be free flowing games full of goals, but not this one. 0-0 gave a clear indication as to what we could expect in the coming months.
Those who had hoped we would bounce straight back up again as in 1959-60 were to be sorely disillusioned. Disaster then came about as a result of one poor season in which everyone suddenly wanted to beat the famous Aston Villa. We managed to hang on to McParland, Hitchens and Dugdale. In 1967 we had only the misfits most of whom had spent four seasons dragging us down. Any optimism was clearly misplaced.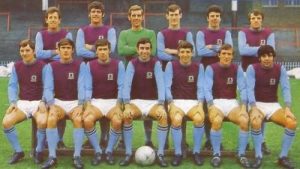 It may seem odd to invite fellow second division rivals along for another practice match but perhaps we still owed allegiance to the original twelve. Blackburn Rovers did not put up much resistance, 2-1.
It was finally time for the real thing and that meant a trip to Norwich City who seemed thrilled to welcome "one of the greatest names in soccer." A very ordinary Norwich won on the strength of a 33rd minute strike by Curran.
We had to follow this four days later with a trip to Plymouth Argyle, of blessed memory. Again a total lack of forward strength was our downfall and it was left to Stobart – still with us so nobody wanted him – to drag us back into the game in the 61st minute after Argyle had scored twice in the last three minutes of the first half. 20,260 but doom and gloom for the few.
If we can't beat Rotherham United then who can we beat? They had played two, lost two and we managed to make it three thanks to Cummings concentrating on dead ball situations during training. Just as well as we seem to have difficulty in trying to create a goal from open play. 3-1, with the visitors goal only coming in the last minute. 13,673 was a clear indication of supporters' expectations.
Confirmation came, if confirmation was needed when two days later 15,123 turned up for the return encounter with Plymouth. "Only the cheque book can save Villa from ignominy. Villa had neither the power nor the guile to break through." 0-1, Piper (38).
To try to solve the attacking problems Cummings made a trip back to Mansfield, opened the cheque book, and came home with Tommy Mitchinson for £20,000. Cost, not weekly wage. But equipped with a sagging defence his debut was unlikely to prove successful at the Baseball Ground even after Stobart had given us a sixth minute lead with his head. Goals after 50, 55 and 70 gave an air of inevitability to the proceedings. 22.967, we are no longer attractive visitors, unless it's two points you're after.
A visit to league leaders Queens Park Rangers was not expected to improve matters so a three-nil defeat was hardly a surprise. All too often Withers and Sleeuwenhoek, now captain, were all that stood between Villa and annihilation. Made worse as Rangers had been in the third division last season whilst winning the League Cup.
But like Burnley, Preston North End are usually good for a couple of points at home. A little dink by Bobby Park led to a 27th minute winner in front of a new low, 13,285. It is taking a monumental leap of faith to journey to Villa Park these days.
There's always the League Cup. Except that this season there wasn't. Northampton Town had been forced to move their first round game to opponents Peterborough because their ground was still needed for cricket. For the second round they were in as bad a positon in the third division as we were in the second. Even so, we were not prepared for the outcome despite fielding the youngest forward line in club history. Anderson, Inglis, Park, Martin, Scott. In the wide open spaces of the County Ground the 1-3 defeat was of Aldershot proportions especially as our goal by Scott only came in the last minute11,832 and all but the 32 went home content.
Down in the Valley something stirred although it was not the Villa. Watched by only 12,776 the spaces at the Valley are also wide and far between at a ground that used to hold over 75,000, but with a stand of Conference League proportions. Charlton impressed their new manager, Eddie Firmani with goals in the first and seventh minutes and again in the 44th. We impressed nobody because we seldom made it as far as their penalty area.
"The prospect of third division football, once treated as a joke, is fast becoming a very real possibility." Shorn of their former England centre-forward, Johnny Byrne, Crystal Palace, who owe in part their very existence to Aston Villa, ran rings around us in front of a new low, 12,484, even though it took a 16th minute penalty to secure the points. Only Bristol City were now below us.
Good grief, we have gone and bought two new players. Brians Godfrey and Greenhalgh who recently played against us for Preston. They made their debuts at lowly Middlesbrough and coming away with a draw, 1-1, hints at a major improvement. Especially as full-back Wright sustained a broken leg. The 20,534 mostly home fans must have gone home thoroughly downhearted.
Thus the scene was set for the major conflagration of the season, a visit from neighbours, Birmingham City. Given all our trials and tribulations the most staggering thing about the game was the attendance, 49,984. Not bad for a Memorial Service. Greenhalgh became an instant Villa hero when he opened the scoring after only 4 minutes. Then after Bridges had equalised (21) Godfrey emulated his compatriot and suddenly the clouds lifted, but brought in by an ill wind and the rains fell upon their house as Blues, spurred on by one Ron Wylie, scored three more and at 2-4 any short term optimism evaporated.
Millwall was a place to avoid at the best of times, much less the worst, as demonstrated when the home fans expressed their ire at the end after their team had been beaten 1-2 by no less than Aston Villa. The twins Godfrey (42) and Greenhalgh (76) are credited with the goals in response to Weller (55) but even the scorer had to admit that the winner was something of a fluke from a speculative shot from out on the wing.
Attracted by the presence of two new 'stars' 21,628 gave up on Saturday afternoon horse racing to rekindle days of yore with the visit of Blackpool, our companions in distress from last season. Especially as they were doing what we had hoped Villa would be doing and were top of the pile. Mr Cummings was able to acknowledge a one hundred per cent improvement although his mathematics were a little adrift; it was a five hundred per cent improvement. Anderson (20), Grenhalgh (29) and Mitchinson (47) had fans waxing lyrical, especially as they had been expecting the worst when Blackpool took the lead after 18 minutes. In a sensitive gesture Alan Taylor, the Blackpool goalkeeper, gave Colin Withers a stick of rock at the end. Begging the question whether goalkeepers ever get presented with the match ball. If so, Withers ought by now have a cupboard full.
A visit by Carlisle was next on the schedule but there was no high expectation of a third consecutive victory and only 17,747, ignored the horse racing. Villa completely outplayed Carlisle except in the matter of scoring goals and we had to be content with just one Mitchinson (58). Still, a win is a win and eighteenth is positively stratospheric.
Another visit to Russell Road, or Portman Road as the natives would have it, engendered a certain amount of quiet confidence. But an injury to Chatterley after 44 minutes left us to battle on with ten men in the second half after taking a 21st minute lead (Godfrey). The burden proved too much and goals after 72 and 80 did nothing to improve the health of the few amongst the 17,758.
But defeat at home to 19th place Hull City was certainly not on the cards the following Saturday. Especially when after 73 minutes the score read Villa 2 Hull City 0. A Greenhalgh double, 42 and 73. The total collapse 74, 84 and 87 defies all explanation and 19,875 went home totally bewildered. The bad times were back.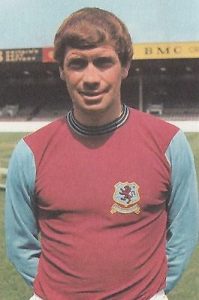 Burnden Park is nobody's idea of a fun day out so with the first division now a dim and distant memory expectations were not high. But prospects improved when Greenhalgh scored for the sixth time after 24 only for Alan Deakin to give Bolton Wanderers a helping hand (or foot) on 47. The Greenhalgh-Godfrey partnership restored the status quo, 57, only for Bolton to reintroduce tension and nail biting five minutes later. But a late injury to Anderson led to his replacement by Mike Tindall and with his second kick of the sphere a rare Villa occurrence, a winner from a substitute. 13,064, average for the second division.
The Villa shareholders were now mumbling about boardroom changes but with no indication as to how, when and where changes might be forthcoming, and to what purpose. They were given ammunition by a totally aimless and boring match at B6 against Huddersfield Town. 0- 0 needs no further explanation.
Snow fell on my birthday and the game on December 9th at Bristol City and the reserves at home to Newcastle United were early victims. But winter was short lived and suddenly it was summer. Aston Villa 4 Norwich City 2 had 16,508 positively gushing and children in the Aston area receiving far better Christmas presents than originally planned. This was not apparent when Norwich took the lead after Mitchinson (15) had seen us on our way. Three second half goals explain the sudden transformation in outlook, although most will attribute the win to the long awaited reappearance at outside right of John Woodward.
Bottom of the division Rotherham United were also bottom when it came to attendances, 9,946. Their fans obviously had no great expectations any more than we did. Somewhat surprisingly Rotherham were now managed by Chelsea reject, Tommy Docherty. They put up massive resistance that was only ended by Greenhalgh (80) and Mitchinson (87). 2-0
Brian Ansell, a name revered in Aston, will not wish to be reminded of his one and only game in the colours on Boxing Day (a Tuesday) at Cardiff City, deputising for an injured Charlie Aitken. 16, 51, and 81 ended 0-3 all the more disastrous bearing in mind that from the 72nd minute Cardiff had only nine men on the field. But worse, Woodward was injured again. 18,180, par for the second division.
It was four days later before the Welsh team showed up for the customary return. We obviously learned much from the initial encounter and despite going behind after 36 stuck at it and Greenhalgh (68) and Anderson (78) saw us end the year in 16th place, seven points clear of the drop. 17,667 had a happier new year than ever seemed likely
The new year started for some with a futile and pointless midweek trip to the Baseball Ground for Derby County Reserves 4 Aston Villa Reserves 2. Then Brian Clough brought the real thing to our turf, or mostly mud as it was before the pitches were sprayed in all over green. Immediately after half-time we came back from a goal down, Greenhalgh again, seven goals in eight games. Then MacLeod did the impossible and scored the winner direct from a corner. Eleven points from fourteen. End of all talk of relegation, surely.
Then the weather intervened again and we were denied a trip to Preston North End or even Burnley Reserves at our patch. Emergency situations demand emergency action and an injury to Withers meant a Friday afternoon dash to Chelsea to bring John Dunn back to play against Charlton Athletic next day. Despite cresting waves the crowds did not flock back and only 19,500 wended their way to Villa Park as against 23,805 for Derby County. The absentees missed a rare treat after MacLeod set the ball rolling after a mere eighty seconds. Woodward was back, albeit as twelfth man but he came on to replace an injured Godfrey and so began his journey into Villa mythology status. 4-1 and we are more than ready for mid-table Millwall in the FA Cup. More than ready as it turned out because in front of 34,703 we scored a convincing 3-0 success.
Nothing to fear at Crystal Palace, who had just been knocked out of the cup by Walsall. Withers was back and had the satisfaction of a clean sheet but such things were considered as de rigueur back then and hardly worthy of a special mention. The all-important winner came on the half hour from Godfrey. Only 10,214 as the missing millions of a decade earlier remained conspicuous by their continued absence.
How quickly a team can completely lose its form in seven days was demonstrated when Middlesbrough came to town. After five consecutive wins we managed to turn in a diabolical performance which had its inevitable result when the Teesiders broke away and put most of the 22,724 out of our misery just after half time. Suddenly victory in the cup over Rotherham was not going to be the certainty predicated when the draw was made.
The cup result had an air of inevitability about it because at the time The Mighty Quinn was top of the hit parade and much to the joy of the visiting supporters they had the mighty John Quinn as their talisman. He was rivalled for this accolade by a certain Tommy Docherty, whose taking over as manager of Rotherham was cause for much comment as to why he should have chosen to step so far down the managerial ladder.
Truth to tell Tommy Cummings was completely outthought by Docherty at every facet of the game. Roared on by a large contingent of Ironsiders chanting the most unusual of terrace songs the only amazing thing was that it took until the 85th minute for Storrie to do what Rotherham had threatened to do all afternoon. The myth of Aston Villa as a cup side, which had been killed at Aldershot, was finally buried in the Villa Park mud as 33,442 can testify.
Fifth-placed Birmingham City still had promotion ambitions when we had to take the Inner Circle 8 to Bordesley Green. Their manager Stan Cullis obviously thought little of the threat from his local rivals as he went away on a scouting mission, hoping to bolster up his sides flagging fortunes. Astonishingly 45,283 crowded into St. Andrews to witness a game between two fairly mundane teams and mundane was what they got. Except perhaps if you were a Blues supporter because Bridges opened the scoring after only seventeen seconds, yes seventeen seconds. Godfrey equalised on 42 then despite all the best efforts of Withers, Wylie had the better of the battle between the two old boys when Bridges again netted from close range (82) following a miscued attempt.
Then we had to go to Bristol City in midweek for a make-up game. John Dunn came back in goal for his second adventure and not for the first time in recent months we were saved by our custodian and by Chatterley, who did a Sleeuwenhoek again. Slogger being more or less a permanent invalid. We might have won the goalless encounter in the very last seconds but for a miraculous save by Gibson. 17,133
Five weeks on and we welcomed back Millwall again hopeful of a repeat, although nine points clear of Plymouth meant we should feel secure. We got the repeat result we yearned for (3-1) but it was not an inspiring performance and 14,891 demonstrates what fans thought at the idea of seeing Millwall again. Villa now have to meet five of the teams threatening Birmingham City's ambitions but if this display was anything to go by the Blues had best not rely on us.
As demonstrated at Blackburn Rovers, where we did not manage to recreate the battles from days of yore. After going behind in the fourth minute through Ferguson, who until then had refused all overtures to move to B6, it was the old familiar theme of scrambled defence and trudging forwards. Rudge scored a consolation goal for us at the end after a 69th minute strike that might be said to have ended our season after just thirty games. 10,026, how do such clubs survive?
The team moved on for a few days at the seaside whilst the few fans who had work to attend went back to the grind. Blackpool, relegated with us, were still promising an instant return to the first division. They were destined to finish third but only on goal average. They might have improved things had they done better than one-nil, the one only coming after 84 mundane minutes of nothingness. 14,301 and we definitely did not like to be beside the seaside in March.
Again, perhaps as a form of punishment, the team was kept behind for a floodlight visit to Deepdale. However, convenient for Villa, Preston were obviously not keen on playing a Monday night fixture and they only produced a single sheet programme which included the Central League table rather than the second division as they were not able to include the Saturday results. Even so, 17.043 was not bad for a Monday night in Preston, more than they would have got in Aston. Preston fans were furious at their directors for allowing Godfrey and Greenhalgh to go to us and it was probably their appearance which added a few to the gate. All the more so when Greenhalgh bundled the ball into the net in the fourth minute. But those players who remained at Preston were determined to show that they were every bit as good if not better than those who had left and they set about us with a determination which we were unable to counter. 1-2 down at half-time, that was how the unusually fierce mid-table encounter finished.
After three games in Lancashire it was the turn of Lancashire to come to us. But if we hoped for better things from Blackburn Rovers second time around compared to what we saw at Ewood Park then we were sadly disillusioned.The Villa board had fought off the rebel shareholders but this game only proved how right the rebels had been. Manager Tommy Cummings had declared that "We will be in the promotion race next season". Proof if proof be needed that he, too, was sadly disillusioned. There had been nothing, absolutely nothing so far to justify such optimism. Despite Mitchinson responding to the Rovers 13th minute opening with a strike in the 24th the whole exercise had an air of inevitability about it and we were left feeling the bad old days had not only returned but taken root. On the road to bankruptcy, 14,106, was not likely to mean new blood any day soon.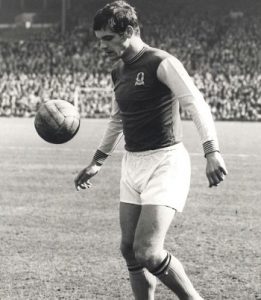 But, surprise, surprise Dick Edwards is prepared to throw his lot in with us. Coming, less surprisingly from Mansfield Town. He goes straight into the team at right-back at Carlisle United. An outpost but hardly a major football one as 8,861 proves, despite their being mid-table and unbeaten at home. Until this afternoon that is. Edwards had a winning debut despite being nowhere to be seen when they went ahead after 21 tentative minutes. As football logic dictates Rudge responded immediately and Godfrey put the world to rights just as the queues for the pies were assembling.
We could do Blues a favour by seeing off Ipswich Town but we only did half a job. Still, half a job against the league leaders was considered a job well done. he 19,851, or most of them, applauded us off at half-time playing well by our standards, and two-one to the good. Then Mitchinson played goalkeeper, for which he would have been sent of circa 2020. 2-2. We had held our own against the eventual champions. Perhaps Cummings had seen something, after all.
Those who were keen saw Aston Villa Reserves 2 Burnley Reserves 0 midweek. Those who were less keen may have seen Aston Villa Reserves 3 Blackpool Reserves 2 on Easter Saturday in preference to a trip to Hull City. It may have been a wise decision to stay at home because Hull, staring at the abyss, exposed our frail defence although it was only in the last five minutes that they added two to their 69th minute opener. Perhaps this Edwards is nothing special and then neither perhaps is Turnbull. 15,965.
Easter Monday, where better than the seaside? Although the sea at Portsmouth is actually best seen at Southsea. Portsmouth had been relegated alongside us in 1960 and had stayed there. But they were now in fourth place just two points adrift of promotion. 26,035. They did not do themselves any favours with more a deflection than an own goal after 14. Godfrey, 31, made it two-nil at the break and the home fans were getting restless. Withers saved a penalty but as so often happens could not save the follow-up. Attackers are in variably always more supportive than defenders at penalties. Portsmouth threw the kitchen sink at us and after only 51 minutes it was all hands to the pump. Successfully from our point of view as it turns out.
We had to do it all over again at Villa Park on Easter Tuesday. Having lost ground in their promotion chase Portsmouth were obviously a tad deflated. So if they hoped to make things up they were to be sadly disappointed as Villa had survived the journey in better spirit and 16,764 set off into the night in good humour thanks to Rudge (56). Unless you came from Hampshire that is.
It was almost celebration time as Bolton Wanders came to B6 to dispute fourteenth place. But 16,864 saw precious little to shout home about and an inconclusive outcome. 1-1. Chatterley playing at centre-half again but scoring one of his 27 goals. Then visit to Huddersfield Town resulted in what may have been a unique outcome for those keeping a record of these things. We played out a goalless draw against them for the second time this season. Two nil nils against the same opponents in the same season is unusual to say the least. It goes without saying that it was boredom personified and fully merited the attendance it got, 7,486.
Meanwhile, for those not prepared to venture to Huddersfield came the most embarrassing match ever played at Villa Park. Embarrassing because of the two teams taking part in the FA Cup semi-final. West Bromwich Albion 2 Birmingham City 0. It is a matter of historical conjecture how things at Villa Park might have been so different if Blues had won that match.
Next Aston Villa Reserves 1 Newcastle United Reserves 0. Chances are the crowd was circa 2,000. Forty played and now, mercifully, the end is near. Seven teams are now gathered together on 36/37 points. But 14,732 saw a team destroyed almost beyond repair when Bristol City came and toyed with us without a care in the world. The scoring, 2-1 up after 12, three-two down after 20 hints at an exciting match but goals aren't everything.
And we still have to await the arrival of Queens Park Rangers for the final humiliation. We know it is going to be a humiliation because QPR need to win to go up so they brought their entire home support with them. So Villa supporters now know first hand what it is like to be on the ground when a team wins promotion. It matters not one jot to them that they only finished second to Ipswich Town but what hurts more than anything was that it was only after 82 minutes and under severe pressure that Keith Bradley conceded the own goal which had the visitors in raptures.
For those who could be bothered the season ended with Aston Villa Reserves 0 Barnsley Reserves 0. Villa finished the season sixteenth.
Footnote for pedants only: Yeovil Town 1 Aston Villa 3. Yeovil manager Ron Saunders substituted for Charlie Mitten in the second half.
Comment on this story here.