Everton in the League Cup and it's party time once more.
Wednesday night and it's time to play in another trophy. We've had a long and sometimes happy relationship with the League Cup going back to the start in 1961 and perhaps the best memory of all involved our visitors for this third round tie. Everton, 1977. You know the drill – three matches, Chris Nicholl scoring from Stockport, Brian Little in the last minute. If you don't know it all off by heart, welcome to H&V.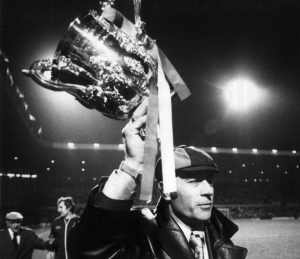 I know it's rash to make predictions but somehow I don't think Wednesday's match will be anything like that. They're fighting relegation again so they're bound to have a load of players you've never heard of, plus Ashley Young. We've got a load of other games coming up so there's bound to be a new unfamiliar faces in our team. We always used to say that games like this were the ideal time to give some of the kids a chance but then we started getting beat by teams like Leyton Orient and the kids are now all out on loan or sold on those buyback deals.
The big talking point before the game was ticket prices and what the crowd might be as a result. It seems that the club got this one wrong – it's costing way too much for a glorified reserve fixture even without accounting for the number of games we're playing at the moment. The crowd will be interesting; Everton should be bringing a good few and I can see the Villa making a big push to shift tickets over the next 24 hours although even if it does end up a sell-out that's not really the point. No matte how much football is a business now but it shouldn't be an excuse to take every last penny from supporters.
Anyway, let's win this one with the minimum of fuss and move on to the next round.