On the march to Wolverhampton.
Despite things not going too well this week we've still got a chance of getting into Europe, which would involve trips to strange places unused to visitors and where the standard of living, of civilisation in general, seems less advanced than we're used to. It's Wolves up next.
Many, many things have been said about Wolves in the past, and many, many things will be said in the future. I know it's rude to point and laugh but there are some places where it would be even ruder not to. The obsession with our history while forever making a fuss about a few friendlies seventy years ago, their claims of being the best supporters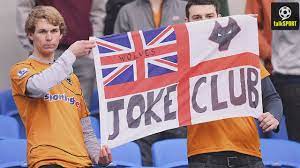 ever and you don't even have to go back to the eighties before you find four thousand there for an FA Cup match in 2013, something about a gap although they've gone a bit quiet about that lately, are we still their big rivals or have they gone back to the Albion? It's all there and you don't have to look too hard to find it, although you might be betrayed by your accent and manners.
If you want to give them a modicum of respectability, Wolves were sort-of rivals of ours back in the days when they had a decent team. We played each other on bank holidays, we got Nigel Sims off them and gave them Peter McParland. Then we didn't have much to do with them until they bought Andy Gray off us and with the money we won a few things while they ended up with Doug Ellis as chairman. That's probably why they haven't forgiven us yet. You can buy an A to Z guide book but you still won't find a pub that lets away supporters in.
Anyway, here we are and they look like they've avoided relegation for another year. They've got Adamah Traore, who's going to eventually, finally, definitely become a big star next season and Jorge Mendes will sell him to Real Madrid for hundreds of millions. We've got glacial progress being made on our injured list and need a win. Get it and let them worry themselves about feeling low.