John Russell looks back over a hundred summers.
Our predecessors were looking forward to the new season with a certain amount of trepidation, mostly ondering how we would cope without the legend that was Frank Barson.
Frank had joined us three years earlier when we had been in desperate straits at the foot of the table, after our first ten games had yielded only three points. A chegue for £2,850 payable to Barnsley FC, a record fee for both clubs, had proved too tempting for the Yorkshire club to resist.
The arrival of the 'no quarters asked, no quarters given' Frank had an instant effect on not just the team but the whole club and by the end of the season he had almost single-handedly inspired us to regain the FA Cup with a 1-0 triumph over second division Huddersfield Town at Stamford Bridge.
Crowds flocked to Villa Park just to see the irascible Frank and what he would do next, although in fairness it has to be pointed out that despite his subsequent behaviour after he moved on he was never sent off whilst wearing claret and blue. Had he done so it might well have meant an instant transfer listing as had happened back in the dark ages and to Frank Moss a few years later, despite his having captained England. Besmirching the great name of Aston Villa was not something which was tolerated by the directors.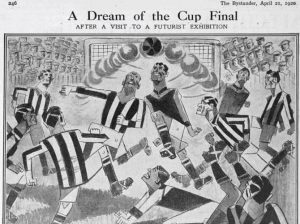 Barson was eventually to instigate a transfer listing on his own because the directors insisted that players lived within spitting distance of Villa Park, but for whatever reason Frank was not keen to move to Birmingham. The directors had finally had enough of his demands and reluctantly allowed his transfer to Manchester United. Hence our dilemma a hundred years ago.
The initial thoughts were to move Frank Moss from right half to centre half and promote George Harkuss from the stiffs to the first team. George had made the transition a few months earlier in a single goal defeat at Huddersfield Town. Despite a two goal opening day triumph over Blackburn Rovers the move was not judged a success principally, because Moss was more a cultured player than the intervention specialist demanded of a pivot.
Then a moment of inspiration, or not as the case proved. What about that bloke at Birmingham University we've heard so much about lately? Surely what we need more than anything is a doctor in the team and perhaps another county cricketer to bolster our batting in the summer. Enter Doctor William Ewart Barnie-Adshead, and an amateur to boot. The only hyphenated player to appear in our ranks.
But defeats in the return fixture at Blackburn Rovers (2-4) and worse, 1-3 at home to Cardiff City and there was no doubt the move was not a success and we were sadly missing Frank Barson. Armed with a well filled cheque book we scoured the country for a preplacement number five but there were no takers only for it to transpire that the answer was right under our very nose.
Enter the ultimately ill-fated Tommy Ball. who ironically had been signed at about the same time as Frank Barson, presumably as a make weight. Tommy had already had a disastrous debut at right half in a 3-6 loss at home to Bolton Wanderers. He probably only played because it was our fourth game in five days and all the regulars were exhausted. He got to see a bit more action in his first full season, playing an unlucky thirteen times as a sort of reliable deputy to call upon when the need arose.
A few more games in his second full season, coincidentally thirteen again, but there was not much to suppose that here was the player who was going to arrest our slide into ignominy. But Tommy instantly became an overnight sensation and his name became almost the first one to be entered on the team sheet as suddenly after a bit of settling in we had an almost unchanged team every match.
After only two wins in our first eight efforts it was suddenly mostly WWW all season long and, "Who needs Frank Barson?" Except that the third round cup defeat at home to Blackburn Rovers was as hard to bear as it was surprising.
You should not need me to remind you that the life of a true Villa hero ended in the early hours of Sunday November 11th, when he shot dead by his policemen neighbour. Perhaps in tribute to Tommy we went on to play in the second Wembley final only to lose to Newcastle United. There may be some irony in the fact that having succeeded a doctor into the Villa team, Tommy's place was taken by another Doctor, Victor Milne.
Once a Villa player, always a Villa player. Thirteen years after he left, Frank Barson returned to Villa Park as a long lost hero despite only playing a century of games for us. Except in his role as a coach from October 1935 he was immediately to suffer the pains of relegation. But at least the story was to have a happy ending.