Stacy Murphy writes about changing managers mid-season.
One of the common suggestions about evaluating a player is what they can do after a full pre-season. Leon Bailey is an example and Ireally want him to live up to the promise of his 22 minutes against Everton last season. This is mostly because he fulfils more-or-less all the criteria I like in an attacking player or Tony Morley-ometer; fast, direct, skilful and capable of scoring a spectacular goal.
With managers the mantra is similar – judge them after a full season. Those who have taken over mid-season, for better or worse, at least deserve this unless things are going disastrously wrong and it should probably apply to Steven Gerrard.
Ssince the Digbeth revolution of 1968 brought in a new board headed by Doug Ellis, Villa have replaced their manager during a season twelve times. This is if you don't count the appointment of Gerard Houllier, who joined the club in September in the aftermath of Martin O'Neill throwing his rattle at Randy Lerner.
First through the door in the new era was Tommy Docherty a week before Christmas in 1968, after the old board had removed Tommy Cummings the previous month. Eighteen months on from leading Chelsea to the first all-London FA Cup final Docherty had somehow also managed Rotherham, overseeing relegation from the second division, and QPR, where he lasted just 29 days, in the 14 months after he left Stamford Bridge before joining Villa. In hindsight maybe this suggested his would be a short-term reign from the beginning. He did, however, drag Villa eight points clear of the relegation zone to finish eighteenth by May.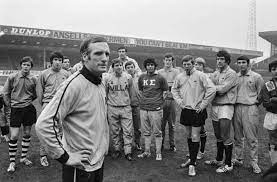 Docherty wouldn't be given a full term, though, as he couldn't sustain any momentum he had built up and, with the club deep in relegation trouble again, Doug sacked his first Villa manager in mid-January 1970. Docherty's place was taken by the quiet and unassuming figure of Vic Crowe. The ex-Wales international couldn'tfind the formula to repeat his predecessor's Houdini act and Villa dropped into the third division to become just associate members of the league we founded.
There would be no instant return but Crowe was given time to put together a squad which would fall away in that first full season to finish fourth, 14 points behind Fulham in the second and last promotion place, despite reaching the League Cup final famously knocking out the Manchester United of Charlton, Best and Law in the semi-final. This was, though, a mere pre-amble to the impressive promotion a year later.
It would be more than a dozen years before Villa again replaced a manager in mid-season and this time it was not necessarily by choice. Ron Saunders spectacularly fell out with the board and resigned on 9th February 1982. He was replaced by Tony Barton, who was effectively Villa's chief scout but who had the title of manager's assistant in order to qualify for a club car. Barton, little known away from Villa Park and even by some inside the club, was initially appointed on a caretaker basis before being confirmed in the role on 1st April after a run of five wins and four draws in twelve games which took in the two legs of the European Cup quarter final against Dinamo Kyiv. The ultimate triumph in Rotterdam towards the end of the following month suggested the appointment had been a good one.
A return of the European Super Cup, quarter-finals in the European and FA Cups and a sixth place league finish to again provide a European place in Barton's first full season would be viewed as a decent season through a Villa of 2022 prism. The return of Doug Ellis as chairman proved to be the issue Barton would have to contend with in his final year at the club.
Barton's replacement, Graham Turner, would be the next occupant of the manager's office to leave during a season making way for Billy McNeil from Manchester City after a nightmare start to the 1986-87 season. In common with Tommy Docherty, the previous Scot to take the job, McNeil wouldn't make it to a full season in charge. In fact he wouldn't even see out that season, being sacked after Villa's relegation was confirmed with a game to go.
If Turner had been well out of his depth McNeil was an unmitigated disaster with players eventually treating his confusing team talks as a bit of a joke. Due to his habit of describing a possible successful outcome of a planned scenario with the word 'bingo' the players christened him Billy McBingo. McNeil led Villa to a relegation as dismal any fan could have thought possible, at least at that time. He brought in just one player, 17 year-old striker Warren Aspinall from Everton, and had the distinction of managing two clubs to relegation in 1987 as City occupied one of the other relegation places.
Next to arrive during a campaign was a man who had already assured his place in Villa folklore, Brian Little, in November 1994. Despite his Villa credentials being beyond reproach Little's appointment was not without controversy due to the man he was replacing, Ron Atkinson. Atkinson had led an entertaining side to runners-up in 1993 and brought Villa's first trophy since the days of Tony Barton in the form of the League Cup the following season. What Atkinson hadn't done was freshen up Villa's aging squad and a poor finish to season after the League Cup had been secured in the spring of 1994 coupled with a poor start to the following term gave Doug a reason to get BFR to inspect his roses. A good many fans were unhappy with the sacking, convinced Ron would turn the club's fortunes around.
The two-thirds of 1994-95 under Little's stewardship fell into two parts, one where we did well and one where we didn't. After bringing in Ian Taylor, Tommy Johnson and Gary Charles, Villa rose as high as ninth in February 1995 but then slipped back to just about stay up by a place in a year when four clubs were relegated. During that summer Little set about re-shaping Villa using a 3-5-2 formation which featured just four (Bosnich, McGrath, Townsend and, less often, Staunton) of Atkinson's regular starters. Another League Cup win, and a first FA Cup semi-final since 1960 as well as fourth place in the league, was the return on Brian's first full campaign. This set a benchmark against which managers who following have been measured.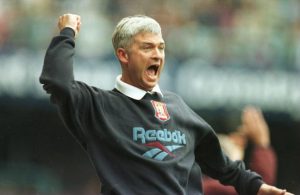 Brian resigned in late February 1998 after experiencing problems integrating the personalities of some players he had brought into the squad, notably Stan Collymore, as well as personal issues which were only reported latterly. He was replaced just a day later by his former first team coach John Gregory, who had been managing Wycombe Wanderers. Gregory took over with Villa 15th in the league but in the UEFA Cup quarter finals and his first game was a win at Villa Park over Liverpool. This was on a day when B6 experienced just about every kind of weather possible inside the 90 minutes including a short blizzard which left staff inflating an orange ball only for it not to be required.
Collymore scored twice in the 2-1 win which immediately preceded the UEFA Cup quarter-final first leg in Madrid against Atletico. Some slightly strange officiating, which included Mark Bosnich being booked for time wasting while attempting to avoid various projectiles raining down on him from the stands, oversaw a 1-0 defeat. The second leg saw one of Villa's many European exits on the away goals rule. After going a further goal behind on aggregate Villa Park became as loud as it has been in the intervening 25 years as Ian Taylor and a thunderous Collymore strike brought us ahead on the night. The Atletico keeper's agonising save from Lee Hendrie's late effort meant Villa had come up just short of a first Uefa Cup semi-final. Gregory steered Villa to nine league wins from eleven games, strangely losing the other two at home to relegated Barnsley and Bolton, to grab the last European place by finishing seventh.
His first pre-season was followed by Villa starting 1998-99 like the proverbial train. Unbeaten after the first twelve games Gregory insisted on having a team photo taken after a 4-1 win at The Dell to mark the occasion. Pride came before the team's fall and Villa collapsed from still being top in January but then dropped lto finish sixth and miss out on Europe altogether.
Gregory continued for another two seasons wasting 'Doug's' money on flops such as Moustapha Hadji, Hassan Kachloul and especially Bosko Balaban. When Doug decided the money from the club's flotation might be better spent, Gregory threw a tantrum in January 2002 and resigned having previously accused his chairman of living in the past. The man to take over was the same man who had effectively saved the club from near playing oblivion in 1987; Graham Taylor.
Times had changed since Sir Graham had departed a dozen years earlier though and football had become more of a cesspool than ever. Taylor steered Villa to a mid-table finish that season but a lack of depth in the squad and Ellis unwilling to pay fees to attract better players meant the gaps were filled by free agents such as Mark Kinsella and Oyvind Leonhardsen with Dion Dublin being used on occasion as a centre-back. 2002-03 season saw Villa battle relegation as well as taking in two hate-filled defeats to newly promoted Small Heath. Sixteenth place at the season's end had made Graham Taylor's quote of the club being "bored with finishing sixth" come true but not in the way anyone had hoped. Taylor, disillusioned with modern football and constant battles with his chairman, resigned at the season's end.
Not until Paul Lambert was eventually removed by the evermore uninterested Randy Lerner twelve years later did Villa require a new manager during a season. The Scot was a popular appointment after a season under the affable but negative Alex McLeish. Much of Lambert's initial popularity was simply he wasn't the former Blues manager but by February 2015 Lambert was doing a passable impression of Billy McNeil. The end came after we made a Hull side who would be relegated look like a cross between a late 1950s Real Madrid and France from 1984. The 2-0 defeat flattered Villa, Lerner finally took some notice of the investment which had cost him hundreds of millions and sacked Lambert. Former Spurs caretaker Tim Sherwood was announced as the new manager and started work before being confirmed after appearing in the dressing room at half-time in the fifth round FA Cup tie with Leicester. Whatever he said worked as Villa progressed to a first home quarter-final since 1960, against Albion.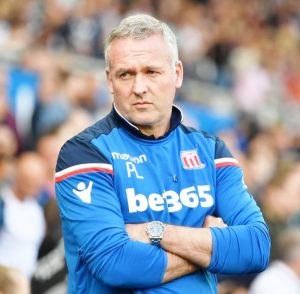 A 2-0 victory over Smethwick in that game four days after beating the same opposition with a last minute Christian Benteke penalty suggested Sherwood was the correct choice. This would be reinforced by the best Villa performance in years in a 2-1 win over Liverpool in the FA Cup semi-final. What we were witnessing though was just the concept of new manager bounce. A 6-1 hammering at Southampton on the day Villa secured top flight status by virtue of other results was followed by a 4-0 humbling by Arsenal in the Cup Final. Sherwood's high point had been reached.
The new season started with a win at Bournemouth but no other league win would follow until 12th January by when Sherwood was long gone; sacked in the last week of October to be replaced by Remi Garde. Garde was effectively sold a pup by Lerner as no money was made available for players who would at least give the impression of fighting a rearguard action in the closing months of the season. This left the Frenchman with a deeply divided playing squad, many of whom didn't appear to care about the club's plight. Fans' anger however was not necessarily focused on the manager. The chairman and specific players such as Joleon Lescott rightly drew the ire especially after Lescott tweeted a picture of his next car shortly after the 6-0 home reverse against Liverpool on Valentine's Day. Lescott's quote of relegation when it came at Old Trafford on 16th April with four games left as being "a weight off his shoulders" became a stick Villa fans have beat the supposed fellow supporter with ever since.
Remi Garde, for his part, had joined Sherwood as an ex-Villa manager by that point, having left by mutual consent on 29th March. With Lerner having accepted relegation Eric Black was put in temporary charge to oversee the end of Villa's inevitable demise and somehow he managed to be worse than any of his four immediate predecessors. His record was just a single point from seven games at the helm.
A new division saw a new owner and yet another new manager in Roberto Di Matteo appointed by the charlatan that was Tony Xia. Di Matteo had the shortest tenure of all Villa managers, just 11 league games and 12 in all which included just one second tier win, at home over Rotherham. Those twelve games also took in losing at fourth tier Luton in the League Cup. Steve Bruce replaced the Swiss-born Italian and steadied the Villa ship despite wasting even more money than John Gregory or Martin O'Neill had in previous years.
Bruce's only full term in charge in 2017-18 spawned a play-off final at the end of it but Villa Park saw some dreadful football as we ground our way to results in an effort to get out of the Championship. That play-off final epitomised Bruce's Villa. Defend deep and hope to nick something but without a plan B when going behind to an expansive opponent which Fulham were. With the club in financial meltdown in the aftermath of the defeat with Xia having put everything on the red of the promotion roulette wheel Bruce remained after it came up black. It would be a just a postponement to his B6 exit.
His final game in charge saw him bizarrely targeted with a cabbage thrown from the Trinity Road stand. His team also threw something away, a 2-0 lead. Preston duly went in front before Yannick Bolasie pulled the game level in stoppage time and Villa then won a penalty to give them an undeserved win which Glenn Whelan promptly missed. It was a shambolic end to a management reign where the manager's relationship with fans had become virtually untenable.
Next through the revolving door on the manager's car parking space was Dean Smith and with him came a good start, a winter slump and then the record breaking ten game winning streak to elevate Villa from 15th to fifth place by late April 2019. Fans and players were carried along on a wave of euphoria which culminated in another play-off final and this time a win and promotion. That summer money, lots of it, was spent on the squad but this time through necessity not choice. A number of the players who had dragged Villa back to the Premier League were loanees and their success had made them expensive. Tyrone Mings for example, a player who Bournemouth seemed desperate to offload in January, had suddenly become worth £25 million by July. Of the players Bruce had spent heavily on only those which had cost least, John McGinn, Ahmed Elmohamady and Conor Hourihane, remained as anything like first choices.
A League Cup final was the high point of Smith's first complete season in charge but injuries, loss of form and maybe Smith's inexperience at the top-level saw Villa look odds-on for the drop in early March. Then though came a lifeline. The enforced break of a pandemic.Dean used the three-month void well but the club were still heavy favourites for relegation with four games left in the elongated season. Wins over Palace and Arsenal at home and draws Everton and then West Ham on the last day left Villa on the right side of the dotted line even if they had been helped by a failure of goal line technology in the first game after the resumption.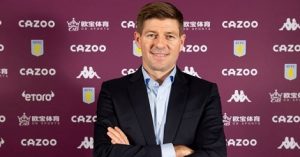 Then in November last year came Steven Gerrard, undoubtedly a fine player if entitled in the way he appeared to use his status to manipulate officials. He took over a squad still reeling from the loss of its fulcrum and restored a bit of equilibrium so a potential flirt with relegation became mid-table mediocrity. The job he obviously has now is to push Villa to be challengers to the almost closed shop at the top end of the table. Whether he has the wherewithal to do this is a matter of debate and some may argue Gerrard trades off his playing career and others that he is just a figurehead who seems to surround himself with a myriad of coaches.
Whatever is the real truth of how the coaching set up actually works under the former England captain I'm sure most Villa fans would want him to reproduce the Brian Little model rather than that of Turner, Sherwood or Bruce. Like Sherwood, Gerrard starts a Villa campaign for the first time away at Bournemouth which is may be an interesting omen for the superstitious.
What is certain though is, because of the way the media works in this country, Gerrard will be the headline if Villa are a success this season and, in all probability, this will also be the case if they aren't.