Waiting with baited breath to play Newcastle on Sunday.
Some things are easier to write about than others, and one of them is Newcastle United. The self-appointed Best Fans in the World, the media-appointed Everybody's Second Club, and one so acknowledging of their own history that they play in the same colours they watched their last trophy won in. Now, of course, they're going to be buying every player on earth but none of that matters. They'll still be Newcastle. And even if by some act of God they manage to win something before the end of civilization, in fact even if they win everything for ever more, they'll still get wound up twice a season about a couple of flags and an afternoon of hilarity.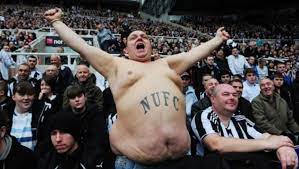 At the moment they're trying to avoid relegation again, which would be even funnier now than it was then. Unfortunately they finally got rid of Steve Bruce, and in his place came the unremarkable Eddie Howe, who looks like a member of a boy band that got to number 27 with their eponymous debut single in 1998 and now works the clubs with a nineties tribute act. He's also got the Freedom of Bournemouth, which means he gets onto the pier free and doesn't have to pay on the donkeys after four pm. He keeps that last one quiet because anything that looks like a horse gets his new team's supporters over-excited.
Apart from wildly-excitable and equinophobic locals, the other thing about Newcastle away is that it can't possibly be on a Saturday at a decent time, so it isn't. As for the match itself, they're crap and we're a bit depleted. Again. There's the usuals, Ezri Konsa is suspended, Emi Buendia looks like he's out and Bertrand Traore hurt himself getting off the plane back from AFCON, or dropped the duty frees on his foot, or something. Leon Bailey might be back, but don't bet on it. Anyway, we're still the Villa, which gives us an inborn advantage. A win would be nice, preferably a very big one.