John Russell's epic reaches 1966-67, when it seemed things couldn't get any worse.
This is not an Agatha Christie mystery so I am not spoiling the story by telling you the outcome in the opening title. You have known the ending for the better part of 55 years so the only problem is whether I will be able to contain my vitriol as events unfold.
No more Colours v Whites, Villa went Dutch again to prepare for the new campaign. Schalke 3-4 but Ajax 0-2 and Tony Hateley was sent off, then 2-1 in a trial at Nuremburg before coming home to Swindon. Hardly the most obvious place to test out new tactics, 1-2.
Hateley did not suffer further punishment for his misdemeanours and he was in situ when Newcastle United comprised the season opener in B6. There was no World Cup bounce in Birmingham. 17,474 gave a clear indication that expectations were low amongst what remained of the Villa faithful. Perhaps the appearance of Lew Chatterley at inside left, hardly the most agile player for that position, gave a clear indication of what was to come. But he did score our first goal of the campaign. Campaign rather than season because everyone was predicting a war of attrition. Newcastle equalised at 3.58 and that was the end of the expectations for the day. 1-1, "At no time was it evident that this Villa team would succeed where their predecessors had failed."
Two days later a shared programme and fans had seen enough to have no great expectations from a visit by Sheffield Wednesday. 14,575. "Pessimism about the future of Aston Villa deepened further when they were beaten in a depressing sub standard game." 0-1. Shouts of "Buckley must go" echoed around the rafters of the empty stands almost as if fans could not remember the name of the manager. The shouts also carried a certain irony as there were already indications that Chris Buckley was intending to step aside at the next AGM.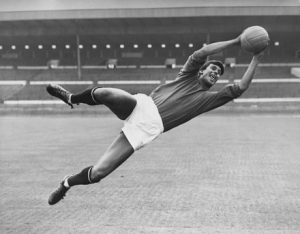 Highbury next, where it was shown that the only new positional player we did not need was goalkeeper. We had Colin Withers. Arsenal won 11-1 when it came to corners and but for Withers that may well have been the goal count. 0-1 (Baldwin 30) looks almost respectable but looks can be deceptive.
It has to be noted that other teams were not particularly blessed in the goalscoring department otherwise in the return fixture at Hillsborough Sheffield Wednesday would and should have more than doubled their two-nil winning margin. 25,992, remnants of a crowd that had drawn the short straw and witnessed three group games in the World Cup featuring Switzerland.
Perhaps we could expect better things from the visit of Manchester City. 15,118 hoped so and they, or most of them, were pleasantly surprised. By running non-stop for ninety minutes and chasing everything (so often the recipe for success) we overcame an initial onslaught from City to win convincingly. 3-0. But unfortunately we had run ourselves into the ground and normal service was resumed two days later when Southampton came to town. Historically we always played home midweek games on a Monday but it might be better if we changed to Wednesday like everybody else. A fiftieth minute strike was all it took to empty the ground prematurely of the 18,417 who had handed over their shekels.
Don't you just love Blackpool in September when the illuminations are on? Especially when they are in last place and there for the taking. And take them we did, leaping up the table after a 2-0 triumph. Only 14,236, representing a crowd still reminiscing over the great days of Matthews and Mortenson. A bit like us if truth to tell.
Fate took us to the Hawthorns again for a second round League Cup tie mainly because we were both exempt from the first round. Losing to the Baggies is one thing but losing to them six-one is quite another. The game attracted just 25,039, hardly enough to justify it having been made all-ticket. Who were they expecting?
As if to prove it was no fluke we conceded another six when Tommy Docherty brought Chelsea to B6 again, probably without the need of an extensive warm-up this time. Bobby Tambling scored five of the six as witnessed by the Match of the Days cameras Children in Aston were sent to bed early to prevent them having nightmares.
But that was almost nothing compared to what happened next. The brakes had come off and Leicester City put another five passed an unprotected Withers, Derek Dougan scoring a hat trick. 22,065 The big question was when would it all endCertainly not when Liverpool were next up. Astonishingly we took a two-one lead just after half-time when Hateley slotted home a 47th minute penalty having opened his account just before half-time in response to Ian St, John after 31. But Liverpool were too canny for us and goals after 65 and 67 ended our unrealistic hopes.
Then came news that Tony Hateley had decided he was too good for Aston Villa and demanded a transfer. Worse, it was rumoured that Liverpool manager Bill Shankly was first in the queue for his signature. The expected asking price was a record £125,000.
Villa could no longer afford to overlook that kind of money and in anticipating the sale of Hateley went along to Stoke City and somehow stole 19 years old John Woodward for £30,000.
It promised to be the acquisition of the decade when he immediately went on to score two of the three goals which saw off Leeds United at Villa Park. Once again a military band, the Irish Guards, was the precursor of our success. Perhaps we should make military bands a regular feature. Sadly Woodward's entry into Villa folklore virtually lasted only another eighteen minutes when he limped off after eighteen minutes at the Hawthorns. It was destined to be a near fatal blow.
The Albion manager then stretched the rules on substitution a little too far by replacing an unwell player. Substitutions were only supposed to be for injury, not illness. Protestations were futile now that we no longer ruled the football world as in the days of McGregor. Two early goals and Albion were able to claim a 2-1 victory much to the disgust of the claret and blue fans scattered quietly amongst the 31,128.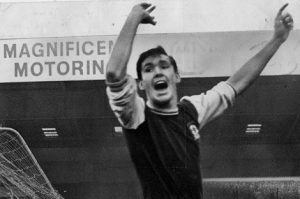 We next made an astonishing acquisition. We bought an old age pensioner back into the fold, or so it seemed. Peter Broadbent, ex-Wolves, came from semi-retirement at Shrewsbury Town for just £7,500. Even he must have been surprised to find himself back amongst the upper echelons. Unsurprisingly he did not set the pulses racing in his debut at home to Sheffield United, a game which turned out to be Hateley's swansong as we were obliged to sell him to Chelsea to balance the books even though his replacement, Woodward, was already expected to be unavailable for several weeks.
Meanwhile Chris Buckley handed over the reins of power as chairman to Norman Smith. Otherwise expect no changes. Sheffield United nil was almost a minor triumph and it almost did not matter that it was also Aston Villa nil. 20,891 and it might also be thought that the missing fans were coming back.
Norman Smith was a non-driver who always used to arrive at Villa Park on the Outer Circle bus from Handsworth. His main duty with Villa had been to act as director for the reserve team on their travels so it is uncertain how often he saw the first team in action. After visits to all the grounds in the north in the Central League a trip to White Hart Lane with the first team may have come as something of a shock. Be that as it may his presence on the coach must have had an inspirational effect because few would have marked the game down as anything but a home win. Tottenham were fourth in the league, one point behind unlikely leaders Stoke City and fully expecting to rise to the top by 4.45.
With Chatterley at centre forward and Aitken chosen at inside-left nobody was expecting anything other than a damage limitation exercise. But Chatterley scored an in-off goal after 38 and even I can still recall the tension as Withers defied everything Tottenham could throw at him and everything included Jimmy Greaves and Dave MacKay et al. I can still hardly believe that I am about to type Tottenham Hotspur 0 Aston Villa 1. Our first victory there for 32 years and in its way more memorable and exciting than the 5-5. 31,014 and probably not many of them Villa supporters. Chatterley paid for his audacity when he left the field with seven minutes remaining with broken nose. Substitute Tony Scott (we were only allowed one) manfully held the fort to the end.
Wouldn't it be nice if now that we were cresting waves we had to play the Albion again? We were 18th, ten points, they were 16th with 11 points. It was hardly going to be a classic. Broadbent at number nine, Aitken number 10. Does Dick Taylor throw the names into a hat and see how they come out? But Albion were also in disarray and had centre-half Graham Williams on the right wing. When it was all over it was Albion who were in trouble. Three-nil up at the break; two from MacLeod, the other from Dave Roberts and most of the 24,015 were in clover. 3-2 makes the outcome look closer than it was, the Albion second coming with the last kick of the game.
Rumours are rife that Woodward may be back but right now he was in danger of becoming a one goal wonder, except it was two.
We trotted over to St Andrews for a first round youth cup tie only to lose 1-4. Sadly I can recall the names of some of the Blues players but none of ours. Goalkeeper A Yarnold? He earns his place alongside fellow custodian Stephens in my non-memory bank.
We visited Fulham for the 1,000 league game played at Craven Cottage and gave the 16,072 minus our 72, cause to celebrate. They had conceded 13 in their last three games and were 21st so expectations were high. How therefore to explain a scoreless first half that ended 1-5 is impossible except it is Aston Villa of whom I type.
"We hate Notting ham Forest, we hate x-x-x too…." So went the infantile chant from the terraces in the seventies. And as I continue to compose this article, so do I. But there is a fourth line in there somewhere about "loving the Villa" so in the face of adversity I will press on to tell you of a mini-success against them. Mini insofar as we drew when logic hinted at another failure. It was a thoroughly miserable November afternoon and the 18,143 who saw it will "have the least difficulty in dismissing the whole episode from their minds". Villa totally lacked interest and the forwards showed no inclination to help out their beleaguered defence. MacLeod equalised an 18th minute opener then everybody went home totally miserable.
Burnley next and we haven't won a league match there since 1936 so only the masochistic boarded the Stockland chariot. We actually led 1-0 at half time butt they had a centre-forward of repute and he netted four times. Yes, it is Andy Lochhead of whom I write. Our unlikely centre-forward, Chatterley, scored one of the 13 goals which led to him being our leading scorer. 15.021, 2-4 and it's a long way back from Burnley.
Then one of those inexplicable results which ruined most treble chance entries. Even though it was Manchester United 39,937 was every bit as remarkable as the result. Whilst Withers was bringing off a sensational save from Denis Law, Nobby Stiles was thumping Lew Chatterley. The referee did not see the punch and Stiles, who was contrite afterwards, escaped with only a booking. Bear in mind that bookings in themselves were not common place at the time. This non-incident took up most of the column inches in the Sunday papers, ignoring the fact that Scott (21) and after Herd (77) came Chatterley (81) as Villa defied all the pundits by beating the league leaders.
How therefore can anyone explain the next result Stoke City 6 Aston Villa 1 before Stoke's smallest crowd of the season, 20,232? Harry Burrows was now doing a Derek Pace and scored a hat trick – something he never looked likely to do for us. Sleeuwenhoek was not alone in having a nightmare match and an ageing Stoke side explored every avenue to great effect.
And Newcastle United were next, but at their hovel. Villa enjoyed a game of "carefree superiority". Bradley (18) Scott (51) and Chatterley (57) had most of the 25,400 in a state of apoplexy and three could easily have been six. If only the same could have been said when we moved on to Sunderland on Boxing Day for another relegation encounter. Unsurpringly that was what we got – another drab relegation encounter. A slip by Slogger let in Sunderland for their first (7) then we held our own for an hour until Harvey turned a cross from Bradley out of reach of Montgomery. The winner for Sunderland came from centre forward Martin after 72. Not exactly seasonal fare for the 31,262 and everyone then had to catch a special train to Birmingham for the reprise next day, and reprise is what we got.
The relegation gloom inevitably brought drab football to Villa Park and the only satisfaction for the 26,580 was a reversal of the result. 2-1. We had the rare luxury of a penalty by Chatterley to kick things off just as fans were getting ready to boo them off at half-time. Martin headed an equaliser (65) before Bradley stepped into the box again and headed home past Montgomery from 15 yards.
We were now five points ahead of 21st place Newcastle United and had no reason to be concerned by a visit from Arsenal. Villa supporters will accept many deficiencies but to admit defeat before exhaustion sets in is not one of them. The weak forward line made no serious effort and they gave up once McLintock had headed Arsenal in front as Villa reject George Graham had us scratching our heads asking how did we come to let him go, he was never that good for us. This was a relegation performance of the worse kind. Happy new year, if that is possible.
Snow and ice caused the next game at Manchester City to be called off as early as Friday morning so we welcomed fellow sufferers Blackpool to B6 fully refreshed and ready to go. Nevertheless Dick Taylor went off in search of new blood and so missed a two goal strike by Barry Stobart. Only drawback was that Stobart had smelt the coffee and realised that his opportunities would be limited if Woodward and Hamilton were to be fully fit again. He had been available for transfer all season and hoped that his brace would be noticed elsewhere. It was encouraging that we overcame an early Blackpool goal and a late rally to run out 3-2 winners that pushed them deeper in the Blackpool sand as we rose to 17th.
Chelsea had won only one game in ten and slipped to fifth when it came to our turn to visit Stamford Bridge. They now had Hateley, history told us what to expect. But we also had a newcomer, Willie Anderson, imported from Manchester United and keen for first team football. We took the lead through Stobart (14) and held it to half-time. But Tommy Doherty had spotted the flaws and an obviously nervous Hateley, traditional captain for the day, was failing to live up to his billing before he headed home after 54. Then Pountney inadvertently gave them a helping hand before Tambling, only one goal this time, administered the coup de grace. 1-3 . 30,922 perhaps, we're not used to playing before such 'big' crowds.
.
The FA Cup took us to Preston North End, fourth in division two behind Coventry City. After spending all season in the front rank Chatterley was temporarily back at centre-half and playing from memory. Preston gave a good indication of what we were likely to meet if we continued playing the way we had been. Like us they had little idea as to how to create a goal. The one we did score was more by luck than judgement as the volley by Roberts might have gone anywhere. 26.385 British Railways again had run an excursion train to Preston for Villa supporters. Possibly for the last time in view of the damage inflicted to some of the carriages on the way back (and we had won!). The draw was unkind. Liverpool away.
Leicester City gave no cause for major concern ahead of their visit to Villa Park. That is until Roberts netted after 17 minutes with a half-hearted effort well in keeping with the rest of the game. As ever, Sleeuwenhoek and Withers saved us from any embarrassment, which is something which cannot be said about the forward line. The result ended an odd sequence of matches by Villa. WLWLWLWLWL.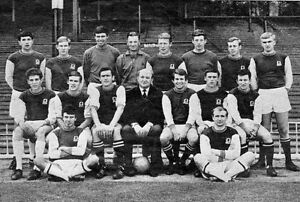 The only good news is that Woodward played for the reserves at Bolton Wanderers and survived. The bad news is that we now have to play Liverpool twice, followed by Leeds United. Consensus amongst the Stockland travellers was we would be likely to concede at least ten.
When we arrived at Anfield the average attendance was 48.093. We brought only once coach so it was reduced a smidgeon when we only attracted 45,747. Expecting total annihilation at the feet of the league leaders gave a backs to the wall performance that all but succeeded were it not for a hotly disputed goal by full-back Milne on the half hour. We had given Liverpool much food for thought and the odds against our victory next Saturday reduced considerably.
Such was the attraction of the cup that the following Saturday the forecourt at Stockland Garage was heaving with Villa supporters. It was turn up and board as every spare coach was brought into service. The official attendance was 52,477 and most of the additional 7,000 journeyed from Aston. So much so that a chant of "Where we you last week?" rang out from the Kop. A sentiment to which a few of us were only too willing to concur.
We were robbed. To say that for the second week running smacks of sour grapes but grapes were never more sour. From my seat in the stand I was dead in line with Ian St John when he received the ball after 77 tense minutes, clearly offside. But then I would say that wouldn't I? The referee was Mr Fussey, only he wasn't and he lacked the courage to deny the Kop their expected victory even though Aitken was lying injured at the crucial moment. The cup had come close to being our saviour in 1959. Was history about to repeat itself?
Not if the next week at Leeds United was anything to go by. In a second half deluge we gave a championship performance. The first goal from Chatterley just before half-time was almost comical. Goalkeeper Sprake dived, assuming a fierce shot only for the ball to pass under him with barely enough momentum to bobble over the line. Stobart's shot cum centre after fifty minutes was almost equally amusing. Except to Leeds manager Don Revie who then spent the rest of the game patrolling the touchline trying to persuade referee Richards to call a premature halt to the proceedings. His side were never going to score, Withers was seeing to that. Surely after such a magnificent effort a 2-0 win was more than enough to cast aside all thoughts of relegation? Like our glorious eleven, 34,398 had defied the elements. Our coach (only one) was parked within yards of the entrance to the ground. Perhaps not the best place to be as the disappointed home fans made their way home.
Tottenham came next and when they turned up minus Jimmy Greaves we breathed a sigh of relief and hopefully looked forward to two points. One apiece at half-time then three goals in three minutes. 2-1, 2-2, 3-2. Following our recent results supporters, fickle as ever, returned to find out what all the excitement was about, 31776. Then on the verge of potential safety, disaster. England, their appropriately named centre half, ventured forward and scored with only seconds remaining. 3-3.
Next a game at Villa Park I feel I have to report. During a fourth round FA Amateur Cup match in Shirley the previous week lightning had struck several players, resulting in the death of Tony Allden. Villa being Villa immediately generally offered to pay all the costs in restaging the match between Highgate United and Enfield. A staggering 31,570 turned out under the Villa Park floodlights but overcome by the emotions of the moment the Londoners won easily 0-6, receipts £6,151.
Out of the cup, Derby County Reserves 3 Aston Villa Reserves 2, motorists only.
3-3 became the new norm and we went 1-3 down in a performance that did not augur well for the weeks ahead. If anything Sheffield United were every bit as bad, but it is goals which count as our defence fell into its bad old ways But with one eye on his transfer value Stobart, still anxious to leave, struck seconds after the Blades third and equalised with sufficient time to score a winner, but no such luck. A point. Could've been worse.
A not so Good Friday at West Ham. Just when blood and guts were needed Broadbent decided that what was needed was finesse. Wrong. In terms of shots in we won 17 -10 but they had Peters and Boyce who negated our 13th minute opener from Anderson. Withers was caught out for the second goal otherwise the Hammers might have registered more from their ten tries. All in all ours was a pretty poor performance to set before 28,716 and we had to raise our game if we were to beat Stoke City next day.
Which we did but only in dramatic circumstances. Made worse because post-game the Stoke manager Tony Waddington went ballistic in his comments about referee Mr New. Perhaps just for once Villa got the rub of the green. Burrows had a quiet game before and after youngster Mahoney had put them ahead on 59. It might be said that the whole of the Villa team had a quiet afternoon as did the 20,996 as play was not quite bad enough incite stamping.
After 79 minutes the referee awarded Villa a penalty in a 50-50 between Anderson and Philpotts that might well have gone the other way. Anderson obliged. Philpotts might have been the better recipient of the ire of his manager when he conceded a free kick on the edge of the box in the 90th minute. Desperate situations demand desperate measures, leading to Sleeuwenhoek making a rare excursion into the opposition penalty area and resulting in a collectors item – his one and only goal for us in 226 appearances.
Easter Monday and we who were few saw Derby County Reserves again. Villa Reserves 1 Derby County Reserves 0. Easter Tuesday and Booby Moore and his mates had to come north. Villa tried hard without clicking and shots at goal were few and far betwee. Unfortunately Geoff Hurst choose the occasion to prove that some people think it's all over and after his brilliant two strikes perhaps it really was. Though 22,033 could be forgiven for thinking it might be. We still had eight games to play so plenty of time to defy the lengthening odds.
A total lack of confidence marred the game at Goodison Park, particularly when Deakin quite literally handed Everton a sixth minute lead without any effort on their part. Alan Ball made it two (15) and Young (30). "Easy, easy" mocked most of the 36,619, and it was. Rankin deputising in the home goal did his best to encourage us but we were not to be encouraged even after Macleod netted on the hour.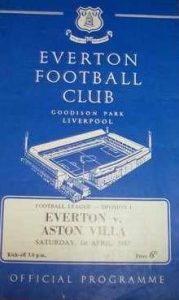 Fulham again, two points surely. Only 13,714, the lowest crowd of the season. After Johnny Haynes had scored a rare goal and put them ahead after nine minutes you could feel the tension running through the terraces and the Villa team. Stobart was still desperate to impressive potential new employers and he brought equality after 29 frustrating minutes. Failure to put Fulham to bed had a sense of foreboding about it.
Nottingham Forest were second in the table, three points adrift of Manchester United. They simply had to beat Aston Villa and there was never the slightest doubt that they would. There were 41,463 on the banks of the Trent to see them do it. Our hopes of salvation rested on a complete collapse by Newcastle United.
A complete collapse by Manchester City might have helped but they saw Villa as a soft route to safety. t is cruel to blame Withers who along with Sleeuwenhoek were the chief if not only reason why it was not all over yet, but after all the pressure he has been put to even he is prone to the occasional misjudgement. Hence Summerbee, 59. Whereupon, Chatterley, back at right-half, stepped forward to crash an unstoppable shot beyond Dowd (86) and saved our season at least for another week. 1-1, 21,817
Surely were we a home banker against Burnley? Instead we decided to serve up our worst performance of the season and that is really saying something. It did not help when Withers opened the scoring for Burnley after 16 unproductive minutes. What was he playing at? This was the signal for 74 minutes of foot stamping and slow handclapping amongst the 19.002 and who can blame them? Not unnaturally the team was unable to respond positively to this vitriol and with a visit to Old Trafford still to come there was a sense that we had witnessed the death of a once-great football club.
United were three points clear with three to play. They needed to beat Aston Villa and nobody, least of all Aston Villa, was going to stop them. Amazingly Villa took the lead after 16 minutes. No prizes for guessing the scorer, Anderson. Then roared on by 55,782 United set siege on the Villa goal. In the face of Best, Law and Charlton it almost seemed as though an abacus would be needed to keep count but eventually they could only manage three; 56, 62 and 80. We retired to lick our wounds wondering whether we could recover from such a mauling in time to despatch Everton.
We simply had to beat Everton and then face Southampton at the Dell in the ultimate relegation decider. Instead we preferred to lie down and die before 25,321, mostly our own fans at Villa Park. I will never forget the silence which greeted the final whistle that afternoon. Where home city vitriol might have been justified absolute silence marked the death of the famous Aston Villa. Perhaps, after all a suitable epitaph. But I need to tell you about the game.
Not least because we led 1-0 after Stobart got up to his usual tricks to first open the scoring then to equalise. As Villa threw in the towel Pickering made it 3-2 before Husband apologetically administered the coup de grace without a hint of celebration. The only possible explanation for the final minutes capitulation was that although the spectators had no means of communication with the outside world a tic tac man in the press box had been able to signal to the players that Southampton were beating Nottingham Forest 2-1, which they did, and our bolt was shot. Apparently there was later a bit of a rumpus outside the ground but otherwise nothing to involve the constabulary. I took myself to see the Beach Boys at the Odeon.
Confession time. Having seen every match it is a well-known fact that I could not be bothered to go to witness the final indignity at Southampton. Just as well because Southampton scored eight times, although perhaps as an act of pity two of them were own goals. 2-6 and 20,855 went home happy that unlike Villa they would be seeing first division football again next season.
Because they had nobody challenging for places seven players appeared in more than thirty games, including two ever-presents. Sleeuwenhoek and Withers. Lionel Martin made his debut in the final game otherwise most of the others can take the blame for upwards of twenty times out.
One photograph more than any epitomises what it was like to be a Villa supporter, 1966-67.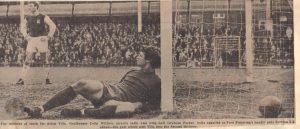 Comment on this article here.