Dave Woodhall looks at the state of play in the latest Villa managerial race.
He arrived during a time of turmoil, when a new board with fresh ideas was lookng to turn the Villa round after years of decline. The club's finances, which under the previous owners had threatened our very existence, were beginning to improve and everyone was carried away with a wave of optimism and the sort of togetherness that comes with one of our own involved. And he certainly was that – brought up almost within shouting distance of Villa Park, he had been a supporter right from the start. There was an uncertain beginning to his time in charge but that was soon forgotten as he led us to promotion, a gallant failure in a cup final, a youth policy that won the FA Youth Cup and produced some of the best-loved Villa players of all time, stunningly incredible football and the feeling that anything was possible.
Sadly it started to go wrong; the momentum slowed, not helped by the sale of the brightest star in the team and also perhaps by the board's failure to go the extra mile in signing the sort of players we needed to maintain that upward movement. Some supporters called for his head, although when the axe fell there was a profound sense of sadness that one of our own had been treated so unkindly. But he left a legacy at every level from youth to the first team that made him justified when he said his successor would "think it's Christmas". Yes, history shows that Vic Crowe did a great job as Villa manager.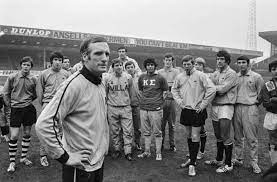 There's been a few comparisons made between Crowe and Dean Smith, and let's hope that whoever is appointed in the next few days can do the same job of building on what he inherits as Vic's successor managed. Talk of Steve Gerrard has met with less than universal approval. In fact, if it happens I can only think of one managerial appointment that was less popular. Or maybe two, because of course Ron Saunders wasn't greeeted particularly warmly. It's a matter of legend that the most famous opinion poll in the Evening Mail's history recorded 93% support for Brian Clough, with Sir Alf Ramsey a distant second and Saunders barely rating a mention. Not that that mattered a jot as it turned out, but these are different times.
There aren't many outstanding candidates now, which might make you question the timing of the decision. Apart from Gerrard there are the usual Next Big Things currently doing at smaller clubs (Graham Potter, Ralph Hasenhüttl), experienced but not top level foreigners (Paulo Fonseca, Thomas Frank), potentially great foreigners (Lucien Favre, Kasper Hjulmand) and chance be a fine thing (Roberto Mancini). What we need is someone who can do what Saunders did – see the benefits of what he's alrady got and build on them. We don't need a massive overhaul, we need a few bits of tinkering and some judicuous January investment. We don't want someone who will want to impose his own mark from top to bottom, and in particular jeopardise the best youth policy in the country.
And most important of all, we don't need a man in charge who will have another club's performance casting a shadow over us for every day he's in charge. Not that being seen as a stepping stone is necessarily a bad thing. Sir Graham admitted that he came here because he needed to do well with a club like the Villa to get the England job. He managed it, and in doing so fostered a feeling of mutal regard that lasted until the day he died. I can't see that happening with the current odds-on favourite for the job.
We always ask whether a new manager will get the club. The successful ones invariably manage it, the best-loved certainly do. If Steven Gerrard is appointed Villa manager then he deserves every good wish and every chance. But no matter how successful he should become, there will always be the suspicion that a single glance in his direction from Liverpool and he'll be off. It took us ten years to recover from one manager leaving us in the lurch. We can't afford for it to happen again.
Comment on this story here.