Dave Woodhall reflects on Dean Smith and his departure.
I've been a Villa supporter for more years than I care to remember. I've seen glorious highs and crashing lows. I've witnessed relegations, humiliations and genuine tragedy. I thought that by now I'd have put away the childhood obsessions and given supporting the Villa its proper priority but today is the saddest I've ever felt. Even when I was in the juniors and the Villa losing was like the end of the world I didn't have the same gut-wrenching sadness as when I heard this afternoon's news.
I don't have to list Dean's achievements, or over-analyse what went wrong. You've seen them because you've been on the journey every step of the way with us all. And that, perhaps, is the problem. These last few days have felt like the end times of Brian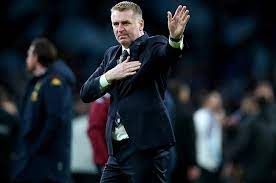 Little's reign. Something's gone wrong, nobody knows quite what it is. We needed a calm hand on the wheel, not only to sort out the problems but also to reassure everyone that things were under control.
Maybe with Dean, and earlier with Brian, we were never going to get the sort of dispassionate response that was needed because they cared too much, they were too close to our feelings and they were not just professionally disappointed but they were also personally hurt at what was happening to their club. In the end Dean couldn't separate his work from his emotions.
Since we got promoted I've watched YouTube of the play-off final celebrations, and in particularly that karaoke singing with the players leading supporters and looking, as I said before, like they were in the Aston Social. One player was front and centre of all the celebrations and because of that I've not been able to watch any of the footage since he left. Call it irrational or immature, but if I see it all now I just feel betrayed, if not embarrassed at whether or not he was taking us for a ride all along.
And if I feel it, I wonder what reaction it had on Dean Smith. There's no doubt that part of the feelgood factor at Villa Park since that day was down to the two Brummies leading our charge to take on the world. They were us and we were them. They shared our hopes, our dreams, our delight and our disappointment. How much of an effect did losing his captain have on Deano? Probaly a lot more than he will ever admit.
And now, as Rob Warner put it so eloquently earlier this weekend, the dream is over. Time for another dream, and to remember. Ten in a row, another Small Heath double, the play-off penalties, going to Wembley like we meant business. That Friday night at home to Everton, coming closer to a trophy than at any time in the past 25 years, staying up on the back of a Premier League record. 7-2, "Villa were like John Travolta in Saturday Night Fever", smashing all-comers on the way to the Youth Cup, winning at Old Trafford. Dean's the first Villa manager in decades to leave the club better in every aspect than he found it. Thanks Deano.
Comment on this article here.