Looking back at one of the great "what if?" Villa careers.
The dictionary definition of a cult hero is "one who is greatly admired by a relatively small audience or is influential despite limited commercial success".
I'm not sure whether either of those, strictly speaking, applies to Martin Laursen. He was admired by more than a small audience, particularly in B6, and while his performances were influential while he was here, you can't really say that influence stretched beyond anything he did on the pitch. His name is never sung down the match, he wasn't a part of any really successful Villa sides and he rarely figures in all-time XIs compiled by either supporters or players. Also, the term tends to be used to describe players who make up in effort what they might lack in natural ability, and that certainly isn't the case for one of the most cultured central defenders Villa have had in modern times – and we've been blessed with a few.
And yet he can be accurately described as a cult hero despite all these things, simply because Laursen showed during his infuriatingly brief runs in the team that he was, or could have been, that rarest of things, a genuinely world-class Villa player, yet for reasons out of his control he was never allowed to be.
The much-benighted David O'Leary pounced at the end of 2003-04 to sign Laursen from Milan on a four-year contract for what seemed a bargain fee of £3 million. This was a fraction of what he'd cost the Italian giants two years earlier when moving from Parma, but Laursen had failed to break into their first team, no disgrace as two lads by the names of Alessandro Nesta and Paolo Maldini barred his path. Laursen had been on the bench when Milan had won the previous year's Champions league final and had also played enough games to be awarded a Serie A winners medal.
It may sound strange in hindsight, but O'Leary's first season at Villa had seen us in contention for a Champions League slot until the last two games of the season and there were hopes that we'd go better next time round. If nothing else, the headlines "Villa swoop for Milan defender" inspired confidence that we were about to aim for the stars once more.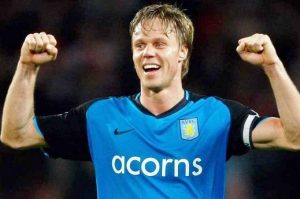 Laursen's debut came against Southampton on the opening day of 2004-05, a 2-0 win against Southampton in which he partnered Olof Mellberg. The two Scandinavians looked good together during the early part of the season, but Laursen was to suffer a recurrence of the knee problems which had plagued his earlier career and his appearances were limited. Villa flattered to deceive during this time, and an end of season drop in form led to a final position of tenth in the table as well as giving a warning that all might not be well the following year.
And so it was to prove, as the manager declared war on all and sundry, from supporter to the local press. Amidst this chaos Laursen was restricted to just one league appearance and although relegation was avoided, Aston Villa was clearly not a happy ship on which to sail into the summer of 2006. The events of that tumultuous time are well-recorded, with the manager resigning after a statement from the players criticising Doug Ellis for his penny-pinching ways (yes, I was shocked as well) was released to the local press and billionaire American businessman Randy Lerner riding in to save the club from a situation that was far worse, finance-wise at least, than was known at the time.
In the midst of this turmoil, the news that Martin had broken down in training and had gone for rehabilitation to Bologna went almost un-noticed. He seemed to have made a full recovery and came on as a substitute for the dawning of a new era that was Villa's 1-1 draw at the emirates on the opening day of 2006-07, his last-minute arrival into the fray reputedly leaving the imminently-departing Doug Ellis, parsimonious to the last, annoyed at the unnecessary expense of an extra appearance bonus.
O'Neill understood the problems that Laursen faced and so we had another defender with dodgy knees training as he saw fit. Unfortunately, this time the regime was less successful and Laursen continued to suffer injuries that restricted him to just twelve league starts in the team O'Neill was building although he did begin to resurrect his international career with the Danish national side.
However, 2007-08 was to prove the time when Martin Laursen truly repaid the faith that everyone at Villa Park had invested in him. Injury-free, he was an ever-present in the side that finished sixth in the table, scoring six league goals in the process, including two in the infuriating 4-4 draw at Spurs. With Mellberg often shifted to right-back, Laursen found himself partnering Curtis Davies (another player whose Villa career was to suffer through knee injuries) or Zat Knight in the centre of the Villa defence. He was rewarded with a new three-year contract and the Supporters Player of the Year award, no mean feat in a team that also included Ashley Young, and Gareth Barry.
Further reward came at the start of 2008-09, when Martin was awarded the club captaincy ahead of the want-away(ish) Gareth Barry. He continued his goalscoring form by netting against Odense and Hafnarfjörður in the Intertoto Cup before opening the scoring in Villa's memorable 2-1 win over Ajax in the Uefa. He was also named 2008 Danish Football Player of the Year in November.
Unfortunately, just a few weeks later Martin was injured again. He returned for the game against West Brom in January 2009, but suffered a recurrence of the knee problem. A few months shot of his 32nd birthday, there were naturally fears that this time it would be for good. In an attempt to extend his career Martin announced that he was giving up international football after a career that had seen him win 53 caps for Denmark.
In April 2009, Martin O'Neill said that even if he did decide to go on playing, Laursen would be facing a further lengthy lay-off, and even then he might never regain full fitness. Bowing to the inevitable, the defender then announced his retirement. Laursen announced his decision to retire from football rather than undergo major surgery and the final day of the season, at home to Newcastle, saw Martin make his last appearance in front of the Villa Park crowd. Typical of his entire Villa career, other events that day were to overshadow this final farewell.
Martin Laursen made just 89 starts for the Villa, scoring eight goals. That these were spread over a five-year period showed to what extent his career was ruined by injury. If only his knees had held out he would surely have made a massive impact and who knows, the elusive Champions League spot that was just beyond both Messrs O'Leary and O'Neill might have been attained – and where the Villa might be now, we can only ruefully contemplate.
On his retirement Martin was inducted into the Villa Legends section of the club website. If 'cult hero' is perhaps damning with faint praise, then I'm sure he would agree that 'legend' might be putting it a bit strong. Perhaps we can settle on 'Good player who would be one of our all-time greats if his knees weren't so unreliable'.
Comment on this article here.