Richard Nevin returns to Villa Park to witness a win against Newcastle.
When a group of grown men are kicking a cabbage about in a social club car park on a wet August afternoon and nobody raises an eyebrow, the absurdity of being a football fan is bought into sharp focus. This bizarre tableau was among the many odd sights and sounds I encountered on my return to the Villa as a season ticket holder for the first time in almost two decades.
Rose-coloured spectacles always have you seeing the first home game of the season in glorious sunshine. It probably doesn't happen every time and the weather certainly didn't play its part where a 3pm Saturday kick off had, so it was in persistent drizzle we boarded the tram to town in company with a Villa-supporting conductor who regaled us tales of Rotterdam as the Black Country scenery sped by.
As everyone in Birmingham knows, Villa don't drink in town so the Newcastle fans had the place to themselves, well, the ones we saw certainly did as we didn't drink in the pubs of Temple Street, amongst other Villa fans not having a pint in town. Our numbers meant we had to travel in two taxis to the ground, mine shared with some proper old stagers who hadn't been in the Windsor.
Bailing out early in the traffic, familiar faces popped up on the walk along Trinity Road, the atmosphere was one of anticipation and bonhomie as friends, bonded by the club they follow (every week) became re-acquainted and this continued in the ground. Handshakes, hugs, smiles and greetings as those who sat together were reunited, I felt somewhat left out as a relative stranger, like a guest at a party where I didn't really know anyone. This didn't last though, as I got to know those sitting around me in the Holte. You're never a stranger for long when you sit with your own fans.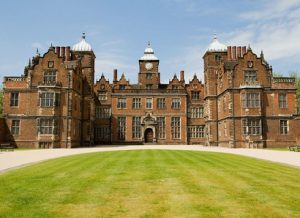 Entry to the stadium was simple enough although there were some long queues for the Lower Holte. The walk up the steps never fails to get the pulse rising. Whenever I enter Villa Park it feels like walking into a stately home, echoes of the past everywhere, style abounds be it brutalist or traditional and you know that something special could just be about to happen.
It did to a certain degree in the manner that Danny Ings took his goal, Villa's first and his second in two games, making me further doubt the doubts I have about signing him, very much a minority view. That old familiar feeling of edge, as if the crowd are waiting for something to go awry vanished as El Ghazi secured the points with his coolly taking penalty, vindication for the bloke behind me who appeared to be holding the inaugural meeting of the Dutch winger's fan club.
The individual nature of the stands at Villa Park means you can look beyond the action on the pitch and observe the surroundings, something impossible at those identikit wrapround soulless bowls that masquerade as football grounds these days. From my lofty perch in K7 I watched as the bands of rain swept in across Perry Barr, saw catering staff scuttling around on elevated walkways and had time to count the leaves on the trees in Aston Park as another VAR check took place. These totems to the bucolic nature of the lower grounds have seen it all before but almost appeared to be sneaking a look between the stands as the unseasonal weather kept them in perpetual motion.
Over the next eighteen games those leaves will turn and drop but after a horror show at Watford the previous week, this wet win indicates that we are in for something less predictable once again this season. At the final whistle the mood was buoyant but not quite ecstatic, and this was repeated in the pubs post match. It was almost a relief to return to something relatively ordinary, something reassuring, an indication that we are heading for better times in our lives. Euphoria can wait a while, for now we are just glad to be here.
Some things never change at Villa Park. The catering remains reassuringly under par, poorly poured pints and snaking, frustrated queues but some welcome advice from those around us may mean that we don't have to miss a large proportion of the game just to buy a drink in future. The stewards were welcoming and unintrusive, the air bluer than I have heard in quite some time and grown men never look right in replica tops.
As the cabbage was kicked around we ruminated over the afternoon's events before heading back to not have another couple of drinks in town, via the other grand old building in the vicinity, where the vegetables stayed most definitely in the kitchen.
It's good to be back, you know.