It's Newcastle on Saturday. Welcome back to Villa Park.
And so we (or rather, the thirty thousand who didn't make it at the end of last season) are able to return to Villa Park, to the delight of local publicans, badge sellers, the Villa Chippy, the scratchings man, the bagpiping busker and anybody with a spare bit of land they can charge five quid for parking on. Whether we'll be as delighted as them is something we won't know until about five to five.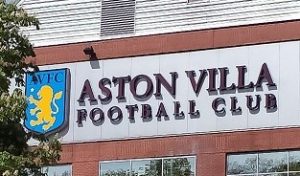 There are so many things you can say about playing Newcastle, and for the past twelve years they've all seemed to come down to one afternoon, one banner and one burst of hysterical laughter. No matter how many times you say there was nothing personal, or smalltime, or particularly bitter about the way we laughed with unrestrained glee at their downfall, they still seem determined to be offended. It doesn't help that the local media on both sides did their best to turn it into some big rivalry.
Anyway, at least this time there's another few stories to talk about before Saturday, such as Steve Bruce coming back again, the return of supporters to Villa Park (see above) and the continuing tale of life after that bloke who went to Manchester to model badly-overpriced t-shirts off the market.
Both sides lost last week, and another defeat might not be fatal at this stage of the season but it will start to open a bit of a gap below the teams who are going to be in European contention. Not that that will be a problem.
They've got Steve Bruce, and also lurking somewhere in their first team squad is Ciaran Clark plus a few others that I'e never bothered finding much about because they've never been good enough to play for us. They play in black and white, which is appropriate because that was what all their honours were won in. Peter Withe won their Player of the Year award in 1979. They are, just possibly, the most deludedly over-hyped club in history, and yes, I do include Spurs in that.
And for all the talk about interrupted pre-seasons, hard-fought games,injuries and visiting managers with a point to prove, this is the sort of game that should be three straightforward points.