John Russell recalls a forgettable trip to That London.
But that's not going to stop me telling you about one of our worst-ever defeats.
The Fleet Street press loved it when the capital had a half-decent football team. No-one can ever describe Chelsea, champions in 1955 of coming within that category and in the interim Tottenham Hotspur with Robert Dennis Blanchflower (as always, respect where respect is due) at the helm were showing signs of waking up but otherwise there was not much to fear from a trip south. That is until West Ham United carried all before them in winning the second division in 1958 and regained the top place flight they had surrendered after ten seasons in 1932.
Our two year pre-war sojourn when we joined them in division two was not particularly impressive when it came to the
Hammers(0-2. 1-2. 2-0 and 1-1) and there is a suspicion, repeatedly confirmed, that we did not particularly enjoy having to play in our change trip against a team in claret and blue. Especially as West Ham only played in claret and blue because in their early days we had given them a complete set of our shirts when one of our officials lost a bet.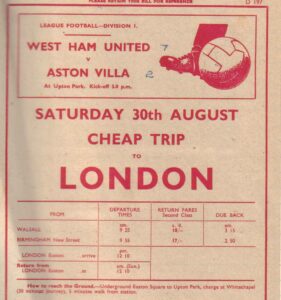 Having worked out how to get to Upton Park, a visit there in our third match of the season was always going to involve a sell-out crowd. With an hour to kick-off long queues were already forming at the turnstiles. No point in hanging around the players entrance in the hopes of grabbing a complimentary ticket, best to go straight in, already fearing the worst as West Ham had surprisingly started their new-found status in fine style. A 2-1 win at Fratton Park had been followed two nights later by an impressive triumph 2-0 over then-champions Wolverhampton Wanderers. Meanwhile we had drawn 1-1 at home to the Blues and also defeated Portsmouth 3-2 at Villa Park.
Fellow supporters were scattered about the crowded terraces and despite retaining a certain anonymity I felt uncomfortable surrounded by so many Cockney sparrows. West Ham went for the jugular right from the very start and we were unable to cope with their hundred miles per hour tactics. It was not a pretty sight. To all intents and purposes those watching the reserves at home to Sheffield United already knew that the game was up as soon as the fifteen minute score went up on the main Trinity Road scoreboard. The Witton Lane scoreboard operator only confirmed the worst a few seconds later. A – 2-0.
Fifteen minutes later and we were three-nil down. Four-nil at half-time had an air of inevitability about it. Mercifully things calmed down and there was no further score by the hour but by 75 minutes there was no stopping the rampant Hammers. Six-nil and it was threatening to get worse but the home side seemingly decided to declare, then Sewell and Smith eased our negative goal average a mite by adding a goal each. But the West Ham response to this impertinence was to show that they could score almost whenever they wanted to. The seventh goal failed to empty the terraces as every home supporter remained behind to cheer the new-found darlings of London soccer off the field at the end.
As if things were not bad enough, the excursion train had operated out of New Street station rather than Snow Hill so that meant the ticket was not valid on an early evening departure. A night in London when you have just been annihilated is not to be savoured. My diary does not record where I went so it cannot have been a very memorable night out.
Two weeks later the excursion to Chelsea ran from Snow Hill, presumably because Paddington was considered more convenient for Stamford Bridge (1-2) but again we had to return on the midnight newspaper train which did not get back until 2.30, two hours later than the previous trip via Euston.
It might be said that we never really recovered from this 'hammering' as L followed L and our season went from bad to worse, culminating in the loss of our first fivision status. Things were no better for Portsmouth either, as they at least denied us ultimate ignominy of last place. And West Ham had to make do with finishing behind Arsenal in the Capital Stakes.