Dave Woodhall recalls the times when Villa and Pele combined.
The news of Pele's death wasn't any great surprise. He was in his eighties, he'd been in ill health for some time and reports over the last couple of weeks had indicated that his condition was grave. But while it wasn't a surprise it was nevertheless very sad. I don't know if he was the best footballer of all time – these things are subjective, and never more so than where players from your youth are concerned. Older supporters might say Alfredo Di Stefano, younger ones may make the claim for Maradona or Lionel Messi. The biggest flaw where Pele is concerned is the fact that he never moved to Europe, and a lot of his games for Santos and Brazil were friendlies. He was, in effect, a one-man Harlem Globetrotters, touring the world to crowds who turned out to say they'd seen him in the flesh.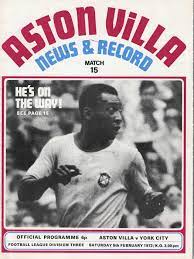 Whether he was the best or not, I don't think there's much doubt that he was the greatest. Pele transcended football in the way that Muhammed Ali did for boxing, and few other sportsmen have ever managed. Both of them were around when global television coverage was beginning to take off, and both were followed avidly in areas where they were seen as examples that anyone, from any background, could conquer the world. Even if you had no interest in football, you'd heard of Pele.
Like a lot of Villa supporters, I saw Pele twice. The first was on that unforgettable night of 21st February 1972, when 54,437 of us (officially) packed into Villa Park to see a third division side playing in a friendly. If that doesn't seem incredible enough – and it was only nine days after 48,110 had seen us play Bournemouth – almost everyone paid on the gate. These were the pre-Hillsborough days when there was almost always room for one more, so how many actually were inside Villa Park will forever remain a mystery.
With power cuts looming, Villa had paid £5,000 for a generator and the overall cost of staging the game had been £18,000 but record gate receipts of £35,000 meant the gamble paid off, even though there was some controversy when the lights behind the goal Santos were due to attack dimmed at the start of the second half. Eventually the problem was resolved and Villa ran out 2-1 winners. As a bonus, prospective signing Ian Ross had been in attendance and met Pele. Convinced of the club's ambition, he signed for what was then a record third division fee of £70,000 (the record lasted for about a week until we signed Chris Nicholl) and captained Villa into the first division three years later.
If that was a memorable night, the second occasion of witnessing Pele in the flesh was on a date burned into the memory – 2nd May 1981. Villa were about to win the league at Highbury and Pele was the guest of honour, doing a lap of the pitch before the game. The crowd rose to acknowledge him and the guest, in his forties, looked fit enough to be able to play in the match that followed.
That was the last we saw of Pele, and I don't suppose he remembered either occasion much. But we do. You always remember when you're lucky enough to be in the presence of greatness.