Dave Woodhall comments on the current state of play.
I was sitting with my mate Greg on Saturday. It was, as everyone knows, a game of utter tedium topped off by the Villa handing another three points to a team who are going down. We've sat together on and off for almost thirty years, ever since the new Holte was built, and in that time 'tedium' has become a faithful companion. In fact, I'd say that in all that time the only periods of real excitement were Brian Little's two full seasons and patches of the promotion year. You could argue that the first three months last season were exciting, and they were, but nobody was sitting next to anyone then, so they don't count.
Even when Villa have been doing well in that time, such as John Gregory's best of the rest years or Martin O'Neill's attempts to cement us into sixth place forever, the football has rarely been anything other than functional, and there's hardly been a period when we've looked like achieving sustained success. Again, the Little years were promising and under O'Neill anything seemed possible for a while, but looking back that wasn't anywhere near sustainable, and we all know what's happened since then.
To steal what someone said after Saturday's latest disappointment/debacle, looking at what Villa have achieved, or rather failed to achieve, over the past couple of decades is a mystery. We've had one billionaire owner and now two who make him look poor. We've spent a fortune several times over, and all we have to show for it is a handful of losing cup finals. We've spent massively on players we could hardly give away; we assembled the most expensive squad in the Championship of all time and kept adding to it, yet we only just about managed to get promoted at the third attempt.
Now we have owners who are clearly winners, a manager whose mentality is about winning and players who have had to be immensely driven almost from the day they were born in order to get where they are. We've got training facilities as good as any, a ground every player in the league loves and a fanbase who crave success without being overly demanding. And yet, we're being turned over by teams who shouldn't be able to live with us so that with almost three months of the season to go even finishing even in the top half is looking difficult. Why the hell is it that the Villa find success to hard to achieve?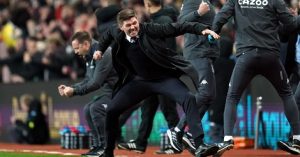 It could be that one of the few consistent traits has been our 'rip it up and start again' attitude to things going wrong. We moved from Martin O'Neill's approach to the long-term strategy of Gerard Houlier, then for some reason back to whatever philosophy Alex McLeish expounded. When Paul Lambert arrived we excelled even ourselves with a different transfer policy every year – from lower division youngsters, to foreign unknowns and finally experienced veterans. The results were inevitable, but we never seemed to learn from them. Every Villa manager seems to be totally different to the one before, bringing in a new set of ideas for the existing players to learn and a need for new players to carry them out.
Dean Smith's appointment was supposed to herald a new approach, with the theory being that from then on we would have a method of continuity new managers would fit in with, sporting director Jesus Garcia Pitarch being heavily responsible for our transfer strategy. Pitarch then got sacked and replaced by Johan Lange, when Smith left we appointed Steven Gerrard. If there was any continuity here, I fail to see it.
So now we end up with a team that's woefully unbalanced. Our defence is shipping goals, midfield is unbalanced and the forwards are misfiring. Marvelous Nakamba might not be the level of player we need to take us further, but his absence has shown that his is one position that can't be ignored. Without him Douglas Luiz isn't half the player he can be and neither is John McGinn.
As in the days of Gregory and O'Neill we're too reliant on individual flashes of brilliance rather than a coherent game plan. We're looking towards the summer and another squad rebuild, although at least this time we should be able to finance it in part with the proceeds of selling players we don't want anymore because we've finally stopped buying players we won't be able to sell . Talking of which, the big decision now is how many of our current squad should be disposed of, and how many can we afford to keep in the hope that they either improve or get back the form they've previously shown.
Luiz is perhaps the best example; in each of the past three seasons he's shown that he could be a big player for us, but never consistently. You can, though, guarantee that if we sell him his next moved will be for something like £100 million and if he stays we'll end up offloading him on a free to Norwich, or whoever's turn it will be to get promoted.
The big trouble is that it's difficult to persuade top six players to join your club when you haven't been in the top six for over a decade. We're permanently convinced that the good times are around the corner, and to repeat what I said earlier, so they should be. Looking at the personnel and the infrastructure there's no reason why we shouldn't be challenging for Europe right now, regardless of the upheavals of last summer. Unfortunately we aren't and with every year of rebuilding the job gets harder. There must be some way of finally getting it right but from that seat last Saturday the answer seemed as far away as ever.
Comment on this article here.